Eller gives back to Danish roots through hockey scholarship
Over the past few years, Lars Eller has thought about how ways he could give back to his hometown.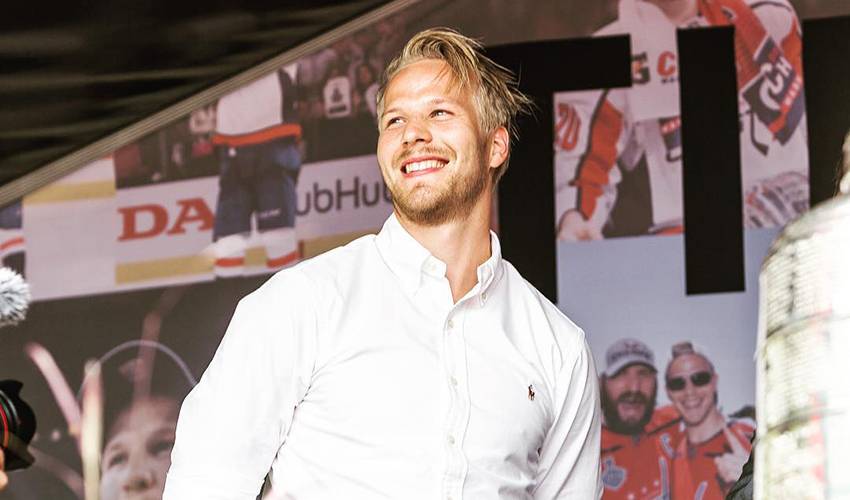 Over the past few years, Lars Eller has thought about ways he could give back to his hometown. Whatever it turned out to be, the first Dane to win a Stanley Cup knew hockey would be a big part of it.
"I had been thinking for some time about how to support my community in some sort of charitable form," started Eller, on the phone from Slovakia where he's part of the Denmark team at this year's IIHF World Championships. "I wanted it to include hockey in some way, to give back to the sport that has given me so much."
The 30-year-old recently took to Instagram to announce the new initiative that bears his name, with the following caption:
"As a way to give back to my roots, I'm proud to announce the 'Lars Eller Legatet.' A scholarship especially designated to help the underprivileged kids in my hometown club of Rodovre, Denmark. I believe all children, no matter the income status of their family, deserve a chance to find happiness, community and personal satisfaction through ice hockey. Just as I was lucky enough to do."

In a press release, Eller's hometown hockey club noted his commitment focuses on families who might not be able to afford some of the costs associated with hockey. The maximum amount a player or family can receive is 3000 Danish Kroner, or $450 U.S. dollars.
Families or individual players need to apply for the scholarship. The application process closes on August 1, 2019.
"We want to help the families that don't have the economic means to allow their kids to enjoy hockey," said Eller who won the Stanley Cup with Washington in 2018, scoring the Cup-clinching goal. "Maybe the money can be used for travel… it can be used for many reasons. I thought the way to do it was through the scholarships, especially doing it in the place where I grew up."
Eller still fondly remembers his days growing up and playing hockey in Rodovre, a town in eastern Denmark.
"Every time I come home, and I drive on the same streets and by the rink I grew up playing on, seeing the same people I've known for so many years, it makes you realize how long that road was. I spent most of my life outside of Denmark. I played in Sweden when I was 16, so the last 15 or so years have been spent away from home. Every time I come home, it reminds me of so many good things, bringing out those special feelings and reminding you of where it all started."
He's also grateful to be a role model for aspiring Danish NHL players.
"I'd like to think of that way," said Eller. "It's a long way to go for the kids to get to the NHL, but at least they can look and see that some of us [Frans Nielsen, Mikkel Boedker, Nikolaj Ehlers and Oliver Bjorkstrand] achieved that goal. When I grew up, we didn't have any Danish players in the NHL to look up to. I think having someone in your community, playing in the same rink, living on the same streets – I'd like to think it makes it more real for them."
Eller's advice for the kids…
"I would tell these kids to never stop enjoying the game, but also never stop trying to get better. Always strive for more and never be satisfied. That goes for hockey and that goes for life in general."