Playoff talk dominating McGinn brother group chat
If the way Jamie McGinn finished the season wasn't enough evidence that he's kissed his back woes goodbye, consider his reaction when brother Brock scored in double-overtime to send the Carolina Hurricanes to the second round.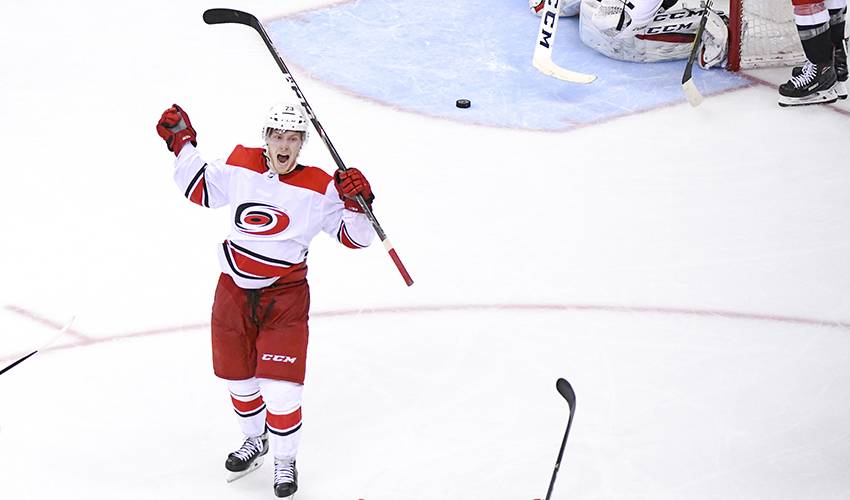 If the way Florida Panthers forward Jamie McGinn finished the season wasn't enough evidence that he's kissed his back woes goodbye, consider his reaction two weeks ago when baby brother Brock scored in double-overtime to send his Carolina Hurricanes into the second round.
"I got off the couch and I don't think I've ever jumped so high," Jamie said from his Florida home. "I called my parents right away and my dad didn't know that Brock got his stick on it.
"I could tell with the way he celebrated. It was raw emotion. I couldn't be happier for him."
Brock, 25, deflected a shot from captain Justin Williams 11:05 into the second extra period to end the third-longest Game 7 in league history to eliminate the defending-champion Washington Capitals.
The Hurricanes have since gone on to sweep the New York Islanders, and will take a six-game win streak into the Eastern Conference Final against the Boston Bruins.
---
Meanwhile, the other McGinn hockey-playing brother, 28-year-old Tye, has led the American Hockey League's Chicago Wolves in point production in their Calder Cup run with three goals and seven points in eight playoff games. The Wolves hold a 2-1 advantage in their second-round series against the Iowa Wild.
"It's been so much fun watching Brock and what they've done in Carolina and to see Tye become such an important contributor in Chicago," said 30-year-old Jamie. "I'm a little nervous watching them because I can't control anything. It's made me miss the playoffs more than ever."
The sons of Cori and Bob McGinn are a tight-knit bunch. They spent long hours playing on the backyard rink their lacrosse-playing father built each winter in Fergus, Ontario. They spent more hours playing mini-stick games in the family living room.
Together, they also own the Roanoke Rail Yard Dogs of the Southern Professional Hockey League. Bob runs the team and each summer Jamie, Tye and Brock put on a hockey school for local children.
The brothers also have an online, ongoing group chat set up. It's been busy in the playoffs. Big brother Jamie has done his best to pass on sage advice to his postseason-playing siblings.
"You keep everything positive, there are lots of good lucks," Jamie said. "Brock has been telling us how electric the rink has been.
"The biggest thing I told them was to go hard and enjoy the ride as much as possible because you never know when you're going to get another chance. I went to the conference final with the San Jose Sharks in my second year and haven't been back that far since. You're young and you think this is going to happen every year."
---
The Sharks drafted Jamie in the second round of the NHL Draft a year after he went to the 2005 Memorial Cup with the Ottawa 67's. Tye was selected by the Philadelphia Flyers in the fourth round four years later, and the Hurricanes chose Brock 47th overall in the second round of the 2012 edition.
Jamie wondered about his hockey future last September after his troublesome back flared up. As he participated in informal skates with his teammates prior to training camp, McGinn was beset by leg pain. He hoped this was a short-term situation. But he had been through back problems and subsequent surgery four years earlier. When the pain lingered from days to weeks McGinn knew he was in trouble.
The early diagnosis was he would miss the season. But the mighty McGinn hunkered down and surprised everyone by returning in February. After a four-game stint in the AHL with the Springfield Thunderbirds, McGinn played 19 games with the Panthers to finish the season.
"I was two games shy of 600 career games, that's what kept me going," said McGinn, who led all players in 2015-16 with 84 regular-season games after a trade from the Buffalo Sabres to the Anaheim Ducks.
"After surgery, I didn't know if I was going to play another hockey game. I was in pain just trying to sleep. But Florida was good to me. They gave me time. They didn't rush me back."
He was in the gym every day with the goal of playing again, but it wasn't until Jamie went for his first skate without equipment on in early December that he knew he would be able to.
"I was pain-free and felt so good," he said. "Then, I was four seconds into my first shift in Springfield and I delivered a hit. That cleared any doubt."
After scoring two goals as part of four points during his stint in Springfield, it didn't take long for McGinn to make an impact with the Panthers. He scored in his second game, which of course, was his milestone 600th game.
This week, he'll make his way back to Fergus from Florida to begin training for next season, and he hopes to be watching Tye and Brock perform in the playoffs for a few more weeks.