Pesce part of 'Canes trio doing University of New Hampshire proud
Brett Pesce's former collegiate coach can't pass up the opportunity to heap praise on the defenceman's penchant for precision passes.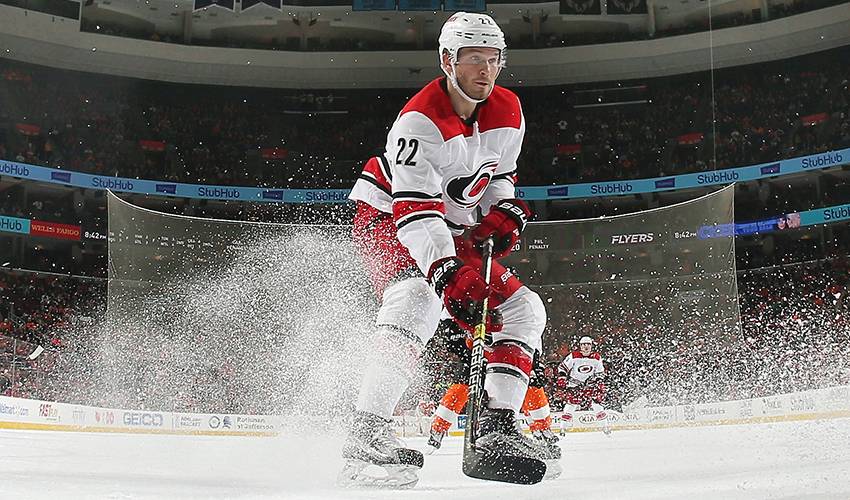 Brett Pesce's former collegiate coach can't pass up the opportunity to heap praise on the defenceman's penchant for precision passes.
Glenn Stewart, associate head coach with the University of New Hampshire (UNH) men's hockey team, admittedly never gets bored of seeing the tape-to-tape skills he witnessed hundreds of times from 2012-15.
Watching former Wildcats blueliner Pesce make his mark with the Carolina Hurricanes in this year's Stanley Cup Playoffs continues to be a big thrill for Stewart and the rest of the UNH hockey program, especially when the 24-year-old breaks out a certain part of his game.
"It didn't take us long to see what kind of talent Brett has," recalled Stewart of the Tarrytown, New York native who played 110 career games with UNH. "It was unbelievable how great a knack he had for finding sticks. When he had the puck, he never went off the glass. He always found a teammate and we were able to break out the puck so cleanly because he was so efficient in the way he did things."
On occasion, Pesce's affinity for taking the direct passing route would prompt an impassioned plea from Stewart.
"I remember begging him, 'Can you just go off the glass once in a while?'" recalled the four-year letter winner at UNH (1990-94) who works directly with the Wildcats' forwards and penalty kill. "You would get worried, but he always found a way to get it done. I remember after his junior year, I spoke with his advisor and said that Brett is the prototypical defenceman the NHL wants right now – a guy that can move the puck so well and a player who can find sticks."
Pesce, taken in the third round, 66th overall, by the Hurricanes in the 2013 NHL Draft, is still the same player Stewart remembers from those collegiate years.
"He's got an unbelievable stick on puck," praised Stewart. "You're seeing that right now in the playoffs. He deflects a lot of opportunities away with his stick and his quickness."
In 10 playoff games, Pesce is averaging 23:28 minutes of ice time for a Carolina squad that took out the Washington Capitals in seven games in the Eastern Conference First Round, and currently lead the New York Islanders 3-0 in the Second Round.
Pesce, who has five post-season assists, is also playing alongside some familiar faces, namely, former UNH Wildcats Warren Foegele and Trevor van Riemsdyk (currently sidelined with an upper-body injury).
"It's great to see them all together," said Stewart, "With Brett, I think he's shooting the puck better than he ever has. And with that, he's starting to put up some up some numbers. He's getting pucks through and he's got more behind his shot."
All of it makes Pesce's UNH cheering section extremely proud.
"There's no panic in his game," praised Stewart. "I think UNH helped him, playing on the big sheet, where there's a little more room. It gives you a little more time and space to be able to find that stick. He's gotten really good at it and he's doing it at the highest level, which is amazing. I'm just having a lot of fun watching him play."