Lehner's storybook season, leadership earns team and league's respect
Who's the most vocal player in the New York Islanders? Lehner's storybook season recently added a couple of other chapters.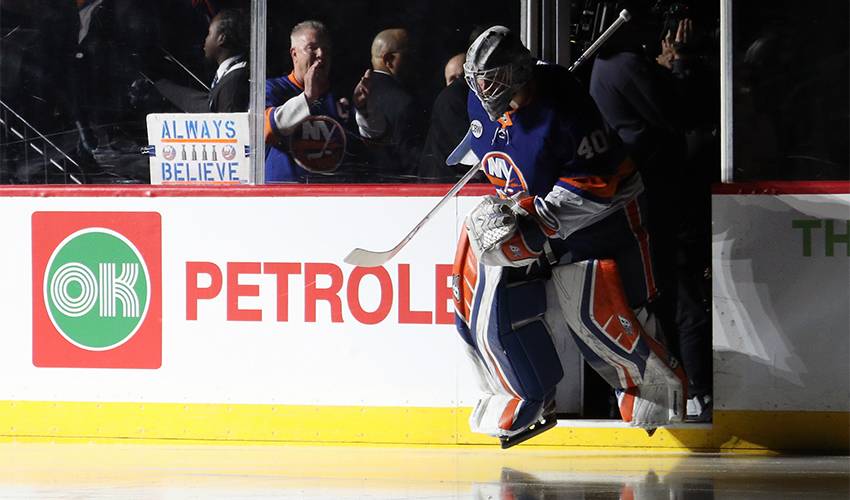 Who's the most vocal player in the New York Islanders? Jordan Eberle has the answer.
Spoiler alert: it's probably not who you think it is.
One day after the Islanders swept away the Pittsburgh Penguins in the Eastern Conference First Round, Eberle, who had an outstanding six-point series (including one game-winning goal), was asked about the contributions of goaltender Robin Lehner.
"Off the ice, he is a huge leader," started Eberle, who had four goals and two assists in the first round. "He's maybe the most vocal in our room. A lot of people don't know that."
What many people are familiar with is hockey's version of a Cinderella story.
After a tumultuous 2017-18 season, one that saw Lehner and the Buffalo Sabres part ways, and subsequently sign as a free agent with the Islanders, he made the decision to dedicate himself to his own mental health.
To say things have worked out well would be a massive understatement.
Lehner, originally drafted 46th overall in 2009 by the Ottawa Senators, teamed with Thomas Greiss to win the 2018-19 William M. Jennings Trophy (given to the goaltender[s] "having played a minimum of 25 games for the team with the fewest goals scored against it" during the regular season). He posted a .930 save percentage and recorded a 2.13 goals-against average.
In the first round of the playoffs, the Swede had 41 saves in Game 1, turned aside 32 of 33 shots in Game 2, stopped 25 of 26 shots in Game 3 and shone again in Game 4, making 32 stops in New York's series-clinching win.
The net result: a .956 save percentage and a 1.47 goals-against average.
"He's very calm off the ice, but has an edge to him too, which I think helps his game a lot," praised Eberle of his teammate who didn't put on goalie pads until he was 10. "He's very competitive."
And he's been tough to beat, both in the regular season and playoffs.
"It's not like we came in and thought we were going to win it in four games," said Lehner after eliminating Pittsburgh. "But we felt confident coming in playing against these guys. We really did."
Lehner's storybook season recently added a couple of other chapters.
On April 19, The Professional Hockey Writers Association announced that Lehner, Nick Foligno of the Columbus Blue Jackets, and Joe Thornton of the San Jose Sharks were named as the finalists for the Bill Masterton Memorial Trophy.
The trophy is awarded "to the player who best exemplifies the qualities of perseverance, sportsmanship and dedication to hockey."
One day later, Lehner, along with Dallas' Ben Bishop and Tampa Bay's Andrei Vasilevskiy, were named the finalists for the Vezina Trophy as the league's top goalie.
Win or lose, Lehner's story and his performance between the pipes has earned the respect of the hockey world, including those who play in front of him.
"In my experience, goalies are usually more quiet – or maybe it's just the ones I've played with – but he's very vocal, which is great back there," said Eberle.