Anderson doing his part for Blue Jackets along historic run
In 2018-19, his third full season with the Blue Jackets, the Anderson racked up career-high marks in goals (27), assists (20), points (47) and game-winning goals (5).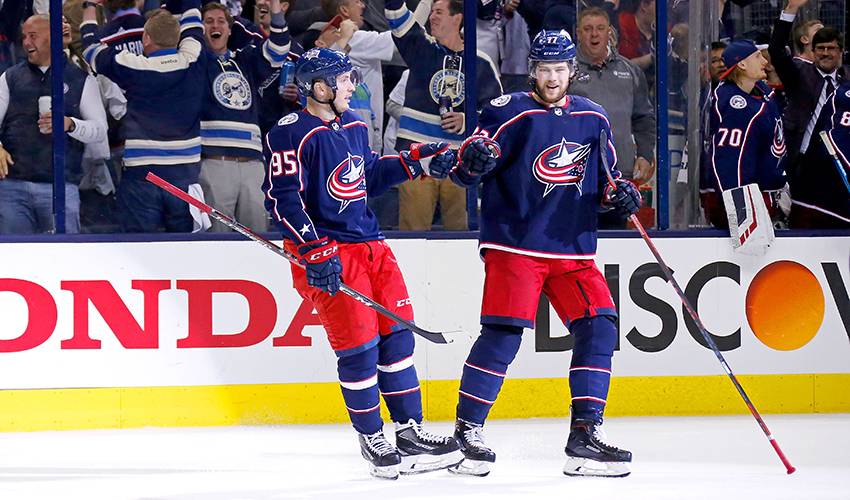 Typically, throughout the year, the teams that comprise the Burlington City Rep Hockey Club will often hear Josh Anderson's name mentioned – and for very good reason.
"Josh came to us as a Tyke in 2002, I believe," started John Tait, the Club's president. "He played with us right through the system until 2009."
And while the future NHLer didn't give early indication he was on the path to a big league career, a combination of work ethic, natural skill and dogged determination eventually changed many people's minds.
You can include Tait on that list.
"Josh developed late," he recalled. "The one thing was that he worked the hardest of anybody on the team, on every team he played on. You could tell he wasn't going to be denied. As his scoring touch and hockey IQ increased, he just became better. Now look what he's doing."
That would be carving out an impressive NHL career.
In 2018-19, his third full season with the Blue Jackets, the 24-year-old racked up career-high marks in regular-season goals (27), assists (20), points (47), and game-winning goals (5).
"He's the same hockey player he was in Midget," praised Tait. "He's not afraid of the rough stuff, outworking people… that's his claim to fame. He was that kid at Pee Wee and Minor Bantam that you wouldn't have guessed would ever make the NHL. Really, he started to shine in Bantam and Minor Midget. He put a lot of time and effort into improving his skills. He was going to skating schools and shooting schools. He was a determined young man."
It's something that Tait still sees in the forward who has two points to his name this postseason so far, including a game-tying shorthanded goal scored in Game One of the Blue Jackets' first-round series.
"He's a big part of that Columbus team," he offered of a Blue Jackets squad that swept Tampa in the first round of the Eastern Conference playoffs.
"He seems to be the typical power forward to me. He has great strength, great size and really good hands. He's not afraid to go into those dirty spots either. All of that, it's very rare. Everything that he's attained, he's had to work hard for. So, to see all this happen is something that makes you truly happy. Sometimes all that hard work doesn't work. You need that hockey IQ to fall back on. And that's what Josh has."
It's why coaches at all levels of Burlington city proudly mention Anderson's name during tryouts and throughout the hockey season.
"We use his example to teach some of our kids," said Tait. "It's not a sprint, it's a marathon, is what we tell them. As long as you improve every year and your work ethic is there, you're going to get a chance."