Canadiens and Panthers to face off at 2019 Kraft Hockeyville Canada
Renous, New Brunswick will host an NHL preseason game on September 18, 2019.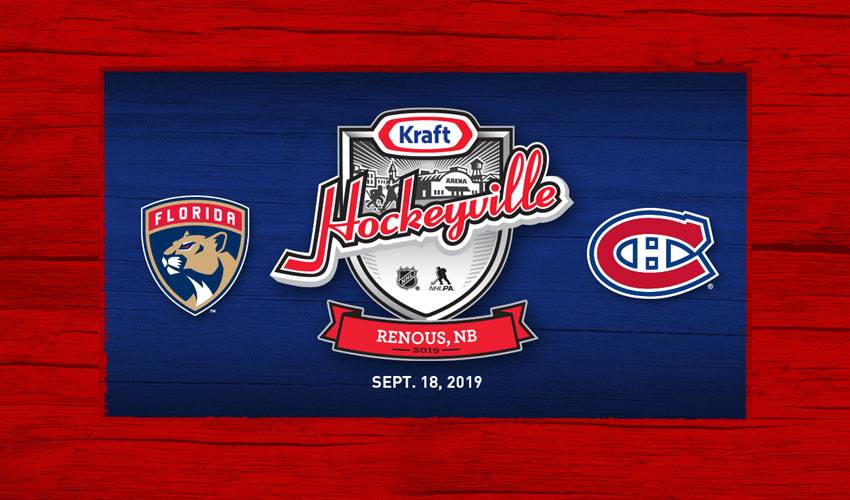 NEW YORK/TORONTO (April 17, 2019) – The community of Renous, New Brunswick, will host the 2019 Kraft Hockeyville Canada preseason festivities for winning this year's competition. Now in its thirteenth year, Kraft Hockeyville invites Canadians to rally together to nominate and vote for the most passionate hockey community in the country. Renous, New Brunswick and their beloved Tom Donovan Arena, received millions of votes, as announced by NHL Commissioner Gary Bettman during Hockey Night in Canada on March 30, 2019. The Montreal Canadiens and Florida Panthers will play a preseason matchup on September 18 in New Brunswick, the first time Kraft Hockeyville will be played in the province. The venue of the preseason game will be announced at a later date.
"All of our personnel and players are excited at the idea of going to play in New Brunswick, where we know we can count on a solid base of hockey fans who know and love the game," said Geoff Molson, Owner, President and CEO of the Canadiens.
"The Panthers are proud to participate in this year's Kraft Hockeyville game," said Dale Tallon, Florida Panthers President of Hockey Operations and General Manager. "Whether you're in Renous or South Florida, supporting the growth of our game at the grassroots level is at the heart of our mission and we're excited for Renous to watch our Panthers stars compete on the ice."
In addition to winning an opportunity to host the preseason matchup, Renous, home to approximately 700 residents, will also receive $250,000 for arena upgrades for the Tom Donovan Arena. Over the past several years, the community has rallied together and fundraised money to keep the heart of their community open. Through their own fundraising efforts the community replaced the rink boards, put in new glass, and upgraded their ice plant. With the Kraft Hockeyville award the community plans to put in a girls' locker room and upgrade the building to be accessibility-friendly.
Renous will also receive $10,000 in equipment from NHLPA Goals & Dreams. The equipment donation will be distributed through the local organizing committee to a grassroots hockey program in the community to be used in the purchase of new equipment to help deserving youth play hockey.
"Congratulations to the Renous community who rallied together behind a powerful story to become this year's Kraft Hockeyville. We're excited to celebrate with them this coming September," said Dana Somerville, CMO at Kraft Heinz Canada.
As winners of 2019 Kraft Hockeyville Canada, the town will host events such as NHL player and alumni visits, hockey clinics, and a pregame fan festival. The community will also welcome the most revered trophy in professional sports – the Stanley Cup. Details of the community events will be announced on their Facebook page closer to the event.
Kraft Hockeyville Canada is a partnership with Kraft Heinz, the National Hockey League (NHL®), and the National Hockey League Players' Association (NHLPA) to support local rinks and community centres. Since its inception in 2006, Kraft Hockeyville has awarded more than $3.5 million to 81 communities across Canada and has celebrated 12 NHL preseason games in eight different provinces. Tickets to the preseason game are free and awarded to the winning community. Details on how to get tickets will be provided to the community closer to game day. For more information, visit krafthockeyville.ca.
### (4/17/19)