No stranger to perseverance, Janmark contributes quickly
Thirty months ago, Mattias Janmark felt like his right knee was loaded with explosives. He was in pain. He was confused as to why he couldn't straighten out his leg.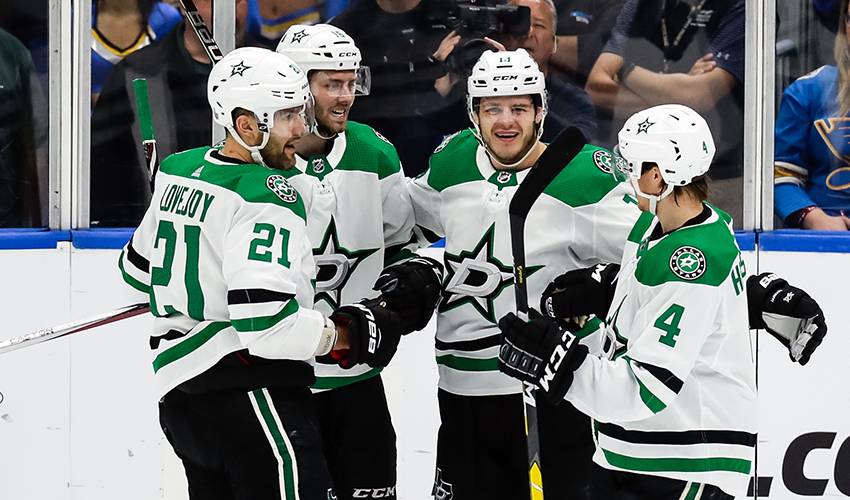 Thirty months ago, Mattias Janmark felt like his right knee was loaded with explosives. He was in pain. He was confused as to why he couldn't straighten out his leg.
Janmark was in training camp with the Dallas Stars after a successful rookie campaign. There were no warning signs. All of a sudden he turned sharply in a pregame skate before an exhibition game and he was in serious trouble.
"It was so scary, it was so painful," Janmark recalled of the day his life changed that training camp in 2016. "It was something unknown."
It turned out the young Swedish forward had a rare condition called Osteochondritis dissecans, a joint condition in which bone underneath the cartilage of a joint dies due to lack of blood flow.
He underwent reconstruction surgery and then waited. The initial diagnosis was five-to-six months on the sidelines with the possibility of a return in time for the 2017 postseason.
But the recovery was slow for the smart and speedy forward. He was confined to his apartment for most of the next three months. He had difficulty walking.
With the help of his older sister and parents, as well as a friend, he managed. There was even a family vacation at Christmas-time to Mexico. But he felt winded just walking 100 steps.
He then began to make visits to the rink for rehab. The first step was simply to put on his skates and stand there while stick-handling.
He began skating, but he wasn't ready for action. A second surgery was required.
He then returned to Sweden for the summer.
When he went back to Dallas to join some teammates for workouts later in that summer Janmark was buoyed as to how he was progressing.
"It was a long process," the 26-year-old Stockholm native said. "Things could have gone differently. I'm glad about that, of course. As more time passed I have felt better and better. The more time that passes I feel proud of how I was able to overcome the injury."
He scored a goal in his second game back. He followed up that accomplishment in his next outing with the game-winner against the team that drafted him, the Detroit Red Wings.
The Stars didn't make the playoffs, but Janmark checked in with a career-high 15-goal, 34-point season. He capped off his comeback by winning gold with Sweden at the 2018 world championship in Denmark.
"It was fun for sure," he said. "To play in front of friends and family was probably my biggest achievement team-wise. It was a great bounce-back and quite the way to end the season."
A year later, Janmark and the Stars have pushed their way into the second round against the St. Louis Blues.
Janmark had another scary incident in Game 2 of the opening round when his left leg was tangled up with Nashville Predators defenceman, Dan Hamhuis. Janmark finished the game but he sat out the rest of the series to recover. He returned for the first game of the series against St. Louis and scored the game-winner in Game 2 last Saturday, once again exhibiting his ability to persevere.
"I never had that feeling," he said when asked if he ever wanted to quit during his comeback two years ago. "I considered this to be a work in progress, a long work in progress. But I finally started to feel where I was before the injury. It felt better and better. Now I don't have to think about it anymore.
"The hardest part was probably the unknown factor. Even last year I didn't know I was going to be good to go. It was a long time to know whether or not I was going to be able to play again."