Brandon Tanev vital to Jets' postseason success
"He brings it every night," says Winnipeg Jets teammate Adam Lowry. "He's a heart-and-soul player. I think he's vital to our success."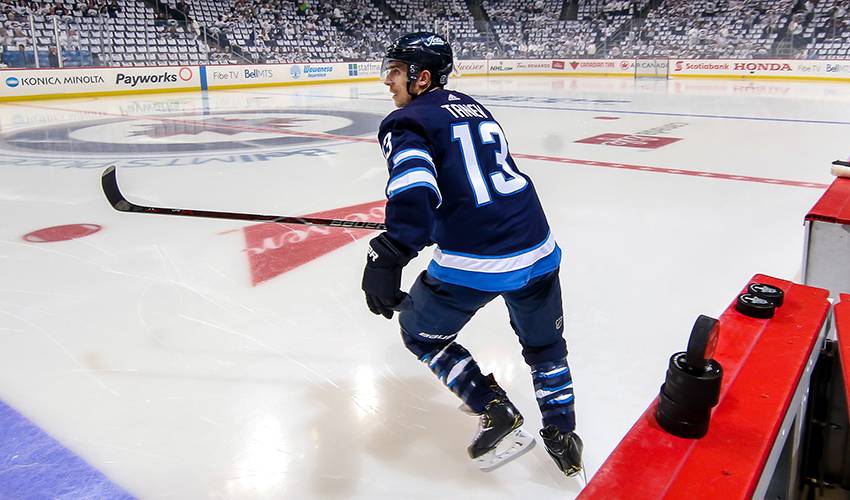 No wonder Brandon Tanev is a big hit with his Winnipeg teammates.
They didn't lay out a welcome mat for his return to action, but to a man, Jets players were thrilled to see the 27-year-old Tanev back in game action.
Out of the lineup since April 2 after suffering a hand injury against the Minnesota Wild, the team's high-energy forward returned for Game 2 of Winnipeg's first-round playoff series against St. Louis.
"It's the most exciting time of the year, playoff hockey," Tanev told reporters. "It will be fun to be back in there."
The 6-foot, 180-pounder, coming off his best offensive NHL campaign, was at his well-rounded best in Game 3.
Down 2-0 in the series after a pair of home-ice losses, Winnipeg desperately needed a spark as the series shifted to St. Louis.
Enter Tanev.
In 14:16 of ice time, the left wing recorded three shots, blocked three more, dished out one hit, had one takeaway and netted the game-winning goal in a 6-3 Winnipeg win.
"I've always tried to contribute in as many ways as possible," said Tanev, who finds himself five games shy of 200 for his NHL career. "As long as you can do something productive in a shift, whether it's being strong on the forecheck or shutting down the other team's line, that's always the bottom line."
His teammates are quite familiar with what the former Providence Friars star can deliver.
"It's a big boost, just his energy," said Adam Lowry. "He brings it every night. He's a heart-and-soul player. I think he's vital to our success."
A sentiment echoed by several other Jets players.
"He's a resilient guy," praised centre Mark Scheifele. "You see that in his game and his character. He's a big part of this team."
In last year's playoffs, Tanev made his presence known in typical fashion.
Averaging 13:17 of ice time, he scored four goals and had six points in 17 games, to go along with 44 hits and 19 blocked shots.
"It's what you always hope for, the chance to play for the Stanley Cup," offered Tanev. "Everyone brings something different to the table. You just look to do your part, play to your strengths, and work with your linemates to bring some energy to the team."
Tanev's performance in Game 3 is a perfect example of the impact he can have on game.
"Everyone who knows him knows his energy," Nikolaj Ehlers told reporters. "He gets so fired up for every single game, and it's exciting to watch and get yourself fired up. And the on-ice stuff, it speaks for itself. He goes out there and plays pretty hard every single game, every single shift."