Learning from Holtby remains perfect situation for Copley
Every day seems like Christmas when you were raised in a place called the North Pole.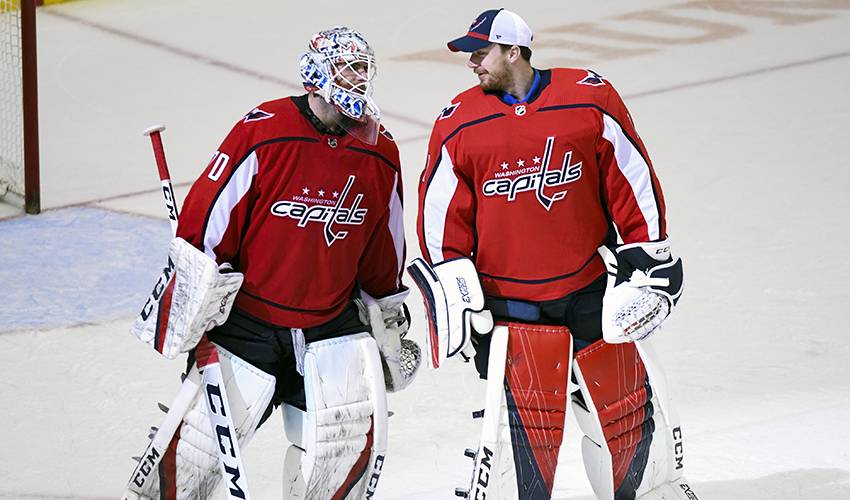 Every day seems like Christmas when you were raised in a place called the North Pole.
Just ask Washington Capitals backup goalie Pheonix Copley. He is a proud native of North Pole, Alaska and his fondness for his hometown is painted right there on the chin of his mask in the form of a couple of candy canes.
"A lot of the other goalies like to put a nickname or something like that on their chin," the 27-year-old Copley said. "I wanted to do something different. Coming from North Pole, a small tourist destination where we celebrate Christmas all year round, I wanted to do something Christmassy. That's why I came up with the candy canes."
You may think coming from a place that celebrates Christmas all year round, the week before and after December 25 would not be the most wonderful time of the year. But that has not been the case for Copley.
"I love the holidays," he said. "I know some people hate Christmas, but not me. It's normal for me to see Christmas decorations all year. Besides, it's too cold at the actual Christmas time of the year to go outside and hang lights and decorate.
"I get a lot of questions about North Pole. It's just a small town, about 2,000 people. Tourism is a big thing to the area and that's why we have Christmas all year round."
It felt like Christmas for Copley a year ago. He was shuffled back and forth between the Capitals and their American Hockey League affiliate, the Hershey Bears, near the end of the regular season for a few games to serve as backup as Washington rested starter Braden Holtby and his backup Philipp Grubauer.
Copley's first full-time tour of duty in the show came April 12, when he was promoted last spring for good and served as a black ace for the Capitals as they pursued their successful Stanley Cup run last spring.
He was to help ease the workload of Holtby and Grubauer in practice and face massive amounts of shots from the likes of Alex Ovechkin and T.J. Oshie while keeping other teammates sharp.
"It was such a cool experience," Copley remarked. "The big thing I learned was how resilient this bunch of guys were. Being around them I saw everything that went on, everything they went through to come out on top.
"It was cool to be a part of it and cool to be around a special group of guys."
Copley felt fortunate to join the Capitals special group on the ice surface in Las Vegas after they took care of the expansion Vegas Golden Knights in the final.
The Capitals brass decided to allow all the players to dress in their full equipment and join in the on-ice celebrations to individually hoist the Stanley Cup.
That was a neat experience for the North Pole native, who actually began to develop his passion for hockey in Columbus, Ohio. His parents moved the family to the Columbus suburbs when Copley was a year old.
This was a few years before the Columbus Blue Jackets were born, but there was a minor-league team there in the East Coast Hockey League Columbus Chill, and there was a Division III program at nearby Ohio University.
Copley and his older brother Navarone, a forward, started playing youth hockey near Columbus before they moved back to North Pole, when Pheonix was seven.
Pheonix, named after the Greek mythological bird but spelled differently because his parents wanted to distinguish their son, earned a scholarship to Michigan Tech University.
Capitals scout Wil Nichol, now the Golden Knights director of player development, discovered Copley. After his freshman season at Michigan Tech, Nichol informed the goalie that the Capitals were interested in him. They signed him after his second season.
But he needed five seasons in the minors to hone his craft, and in July of 2015, was then traded to the St. Louis Blues with Troy Brouwer and a third-round draft pick in exchange for Oshie. The Capitals reacquired Copley at the trade deadline in February of 2017 while also receiving Kevin Shattenkirk in exchange for Zach Sanford, Brad Malone, and a pair of draft picks from the Blues.
A roster spot opened up for Copley when Grubauer departed to join the Colorado Avalanche last summer. Copley didn't disappoint, enjoying a 16-win season. But he didn't see any action in the first round of the playoffs when the Capitals were upset in seven games by the Carolina Hurricanes in the 2019 Stanley Cup Playoffs.
"I owe a lot to Wil for having confidence in me," Copley said. "I have a perfect situation here to keep improving and learning from such an accomplished goalie like Braden."