NHL, NHLPA And Enterprise Renew Partnership
Enterprise, the NHLPA and the NHL announced a five-year renewal through the 2022-23 season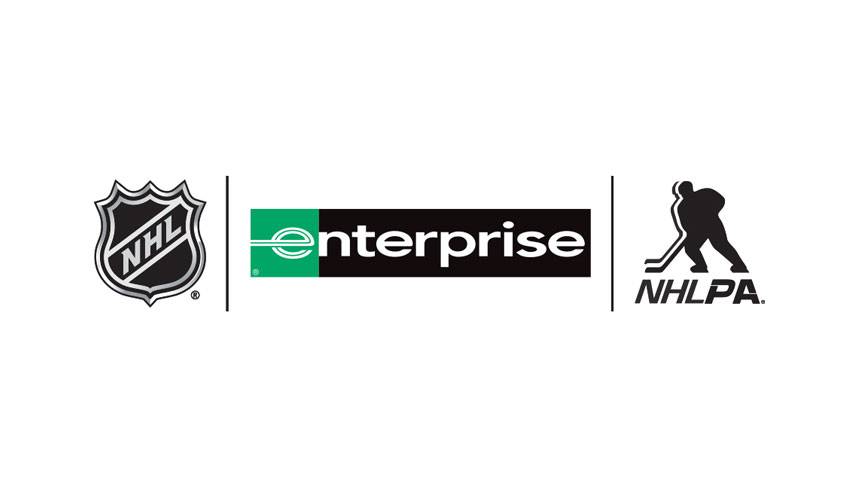 NEW YORK / TORONTO (March 15, 2019) – Enterprise, the National Hockey League Players' Association (NHLPA) and the National Hockey League (NHL®) today announced a five-year renewal of their partnerships through the 2022-23 NHL season, which date back to the 2009-10 season. Enterprise also renewed local partnerships with 30 NHL Clubs, continuing the brand's highly visible presence on a national level as well as the local level.
Key to the renewal is the expansion of Enterprise's category rights, as it continues to build out its multiple lines of business. In addition to maintaining its status as the Official Rent-A-Car of the NHL, Enterprise will now have non-exclusive rights in the ride sharing services category (to promote Enterprise RideShare) and the used vehicle sales category.
The extensive partnership features enhancements to one of the League's most successful digital platforms, NHL Hat Trick Challenge™, which in its ninth season will provide fans new ways to earn hat tricks for chances to win prizes including game tickets, $60,000 in cash prizes and NHL merchandise. Expanding its association with hat tricks, Enterprise is also sponsoring a separate socially-driven trigger promotion that celebrates every on-ice hat trick this season. In addition, for this season, through its partnership with the NHLPA, every time an on-ice hat trick is scored by a player, Enterprise donates $1,000 to the charity of that player's choice and on that player's behalf.
"Enterprise is a model partner who demonstrates their strong commitment to hockey through multi-channel activation and engaging fan initiatives," said Evin Dobson, NHL Group Vice President of Partnership Marketing. "The continued popularity of the NHL Hat Trick Challenge is just one example of how Enterprise leverages its partnerships with the NHL and NHLPA to deliver exciting opportunities for hockey fans to engage with the sport they love on a deeper level. We look forward to another five years of working with Enterprise to collaborate on unique fan experiences and offerings that will serve the needs of their evolving business."
"Our decade-long partnership with the NHL has created a strong bond between Enterprise Rent-A-Car and NHL fans, and we look forward to many more years of this partnership," said Frank Thurman, Enterprise's Vice President of Marketing. "It's important for us to highlight to NHL fans that Enterprise is more than just a rental car company and we're excited to showcase our expanded mobility offerings through custom creative, as well as have an opportunity to connect and engage with fans in unique ways, including the continuation of our successful Hat Trick Challenge program."
"The NHLPA is proud to continue and expand our partnership with Enterprise Rent-A-Car, and we are excited about the opportunity to work together for another five years" said Sandra Monteiro, NHLPA Chief of Global Business Strategies. "A key to the growth of our partnership is evident in the 'NHL Hat Trick Challenge', which through incredible support from Enterprise, connects the players, and their desire to give back, to causes and charities in communities all around the world."
This season, Enterprise debuts new NHL-themed television creative and digital extensions touting the brand's many transportation offerings and once again featuring Hockey Hall of Fame goalie Martin Brodeur as well as the highly-coveted Stanley Cup®.
Enterprise will have a national marketing presence across all League touchpoints including NBC Sports, the NHL's digital and social channels, camera-visible in-stadium inventory during games and events, and a mix of marketing rights and in-arena assets and promotion at the Club level.
# # # (3/15/19)
NHL, the NHL Shield and the word mark and image of the Stanley Cup are registered trademarks and NHL Hat Trick Challenge name and logo are trademarks of the National Hockey League. © NHL 2019. All Rights Reserved.
NHLPA, National Hockey League Players' Association and the NHLPA logo are trademarks of the NHLPA and are used under license. © NHLPA. All Rights Reserved.
About Enterprise
The Enterprise brand – which comprises Enterprise Rent-A-Car, Enterprise CarShare, Enterprise Truck Rental, Enterprise Car Sales, the Exotic Car Collection by Enterprise, Zimride by Enterprise and Commute with Enterprise – offers customers a total transportation solution. Its flagship brand, Enterprise Rent-A-Car, was founded in 1957 and is known for an extensive network of convenient locations, affordable rates and outstanding customer service. Enterprise Rent-A-Car was ranked on BusinessWeek magazine's annual list of "Customer Service Champs" for four years in a row. Enterprise operates not only as a key provider for insurance replacement, weekend getaways and special occasions, but also as a local transportation alternative. With more than 5,800 fully staffed airport and neighborhood offices located within 15 miles of 90 percent of the U.S. population, Enterprise can meet whatever transportation need customers may have – renting, buying or sharing.
About the NHL
The National Hockey League (NHL®), founded in 1917, consists of 31 Member Clubs, each reflecting the League's international makeup with players from more than 20 countries represented on team rosters, vying for the most cherished and historic trophy in professional sports – the Stanley Cup®. Every year, the NHL entertains more than 670 million fans in-arena and through its partners on national television and radio; more than 151 million followers - league, team and player accounts combined - across Facebook, Twitter, Instagram, Snapchat and YouTube; and more than 100 million fans online at NHL.com. The League broadcasts games in more than 160 countries and territories through its rightsholders including NBC/NBCSN and the NHL Network in the U.S., Sportsnet and TVA in Canada, Viasat in the Nordic Region and CCTV and Tencent in China. The NHL reaches fans worldwide with games available online in every country including via its live and on-demand streaming service NHL.TV™. Fans are engaged across the League's digital assets on mobile devices via the free NHL® App; across nine social media platforms; on SiriusXM NHL Network Radio; and on NHL.com, available in eight languages and featuring unprecedented access to player and team statistics as well as every regular-season and playoff game box score dating back to the League's inception, powered by SAP. The NHL is committed to building healthy and vibrant communities through the sport of hockey by increasing youth participation and engagement; fostering positive family experiences; promoting inclusion, positive culture and leadership; and supporting sustainable community impact.
About the National Hockey League Players' Association
The National Hockey League Players' Association (NHLPA), established in 1967, is a labour organization whose members are the players in the National Hockey League (NHL). The NHLPA works on behalf of the players in varied disciplines such as labour relations, product licensing, marketing, international hockey and community relations, all in furtherance of its efforts to promote its members and the game of hockey. In 1999, the NHLPA launched the Goals & Dreams fund as a way for the players to give something back to the game they love. Over the past 19 years, more than 70,000 deserving children in 34 countries have benefited from the players' donations of hockey equipment. NHLPA Goals & Dreams has donated more than $24 million to grassroots hockey programs, making it the largest program of its kind. For more information on the NHLPA, please visit www.nhlpa.com.