Trade to Jets brings Kevin Hayes full circle
What do the Winnipeg Jets get in acquiring Kevin Hayes? Not only do they net a serious offensive contributor, they also land a "funny, witty guy."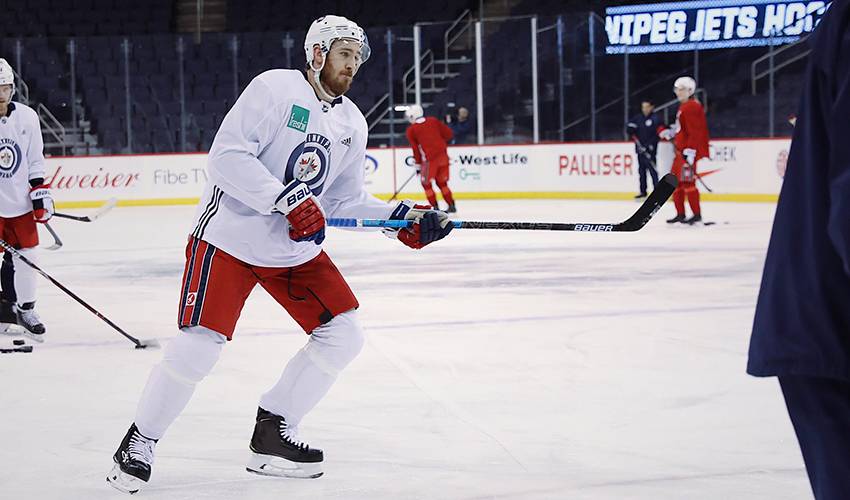 What do the Winnipeg Jets get in acquiring Kevin Hayes? Not only do they net a serious offensive contributor, they also land a "funny, witty guy."
Mike Ayers, assistant coach with Boston College's men's hockey team, knows just what the Jets can expect from the 26-year-old Hayes, who was dealt to the Western Conference club from the New York Rangers on Trade Deadline Day.
He also expects everyone – Winnipeg brass, players and fans – to be thrilled to see him in a Jets sweater.
As it turns out, it's a sweater Hayes has worn a time or two before as a youngster.
"He's got a great hockey sense," said Ayers of the fomer Boston College standout who played four seasons with the Eagles from 2010-14. "I think he can do a lot of things. He can score goals for you, he can help out the goal scorers they already have and he has really good vision. He's a good teammate, too. From a chemistry standpoint, he's going to fit in very well."
In 361 career NHL games, the Boston native has topped the 40-point mark on four occasions. Last year, he scored a big-league personal-best 25 goals with the Rangers.
During his U.S. collegiate career, Hayes recorded 132 points in 142 games. In his final season, he posted 27 goals and 65 points in 39 games playing on a line with Calgary Flames star Johnny Gaudreau, and was a First All-Hockey Team East selection.
"His ability to know where guys are really stands out," praised Ayers. "He makes great passes and he can score, but I love his vision when he has the puck and is fending off the guys. He's a big body, so he can puck protect really well down low. His ability to make those plays in tight spots is impressive."
Ayers sees Hayes making a seamless transition, both on and off the ice, with his new team.
"The guys really liked him here at Boston College," he recalled. "And I think that's a huge thing for any trade you make at a point in the season like it is now. So, that's got to be a good fit. He'll adapt and do a good job there. He's just a well-liked guy. When you make a deal like that, it's a really big piece to it. He's obviously very talented."
And Hayes is also very popular.
"He's funny and he's witty," noted Ayers. "He keeps things loose, but he knows when to buckle down and be serious. He's one of those guys you like to be around. That's always a bonus."
As for the fans that fill the seats at Bell MTS Place in Winnipeg, Ayers thinks they'll embrace Hayes the moment he takes his first shift.
"He's a hockey player and Canadian cities like those guys. I think he's going to help the team and at the end of the day, that's what it's all about. I think it's also great for Kevin to experience that side of it, to see what it's like to play in that type of environment. It will be good for a player of his caliber to have that experience."