Self-confidence, awareness growing Tuch's game
The beast from Hockey East is now an NHL monster.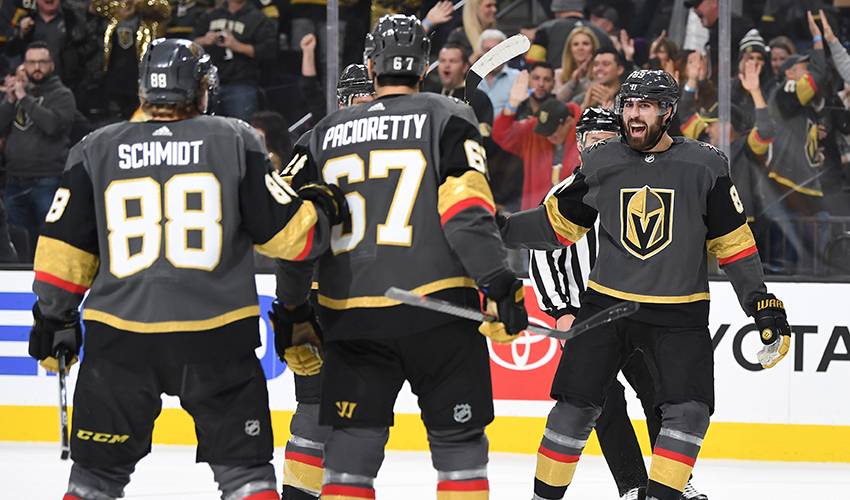 The beast from Hockey East is now an NHL monster.
Mike Ayers, the former goaltending coach with USA Hockey's National Team Development Program and a current assistant coach with Boston College, searched for the best way to describe Alex Tuch's on-ice presence.
After a few moments, he found what he was looking for.
"He's a beast, that's probably the perfect description," praised Ayers. "He's a big, strong, powerful kid. When he gets going, it's hard to slow him down and contain him."
Ayers was familiar with the right wing's talents prior to their Boston College days, when the two were part of the U.S. National Development Team that's based in Michigan.
"A great kid from a great family," started Ayers. "You always knew his capabilities. I think it took him a little bit to understand how big and strong he is. But he worked hard. I was out in Ann Arbor with him for a year before I came to Boston College. I got a pretty good understanding of his maturity and all of that."
For two seasons, from 2014-16, the strapping forward from Syracuse played an impactful role for the Boston College Eagles, scoring 14 goals in 37 games in his rookie campaign, landing him a spot on the Hockey East All-Rookie Team.
In his sophomore season, Tuch recorded 18 tallies and 34 points over 40 games, as part of the Eagles team that made it to the NCAA Frozen Four.
"He got to a spot where he realized a level he could be at every single day," recalled Ayers. "You could see it (NHL potential) in him from the first day I met him. It was just a matter of him understanding his body, how strong he is, and his natural ability. His puck possession skills are outstanding and he's got an unbelievable shot and release. He definitely had the makings to be a very good hockey player."
Drafted 18th overall by the Minnesota Wild in 2014, the six-foot-four, 222-pound Tuch landed with the Vegas Golden Knights June 21, 2017.
In 78 games last season, Tuch scored 15 goals, including his first NHL goal last October against Boston, and produced 37 points.
Less than 50 games into 2018-19, he's already eclipsed those offensive totals, while averaging .85 points per game for the Golden Knights. He's also leading his team with 40 points and 24 assists, and trails just teammate Jonathan Marchessault with 16 goals scored this season.
Those numbers include six game-winning goals, two better than his 2017-18 output.
Tuch has also seen more ice time this season, averaging two minutes more per game.
"It's all about adapting and understanding what you have to do to be successful," offered Ayers. "And that's just what Alex has done. That's been a key component to his success."
So too is confidence.
"As a professional athlete, you have to have self-confidence," said Ayers. "I think he's always had that, but for him to use that to propel him to the next level has been exceptional.
"He cares about his teammates, the coaches and he cares about winning. He's bigger than a hockey player. He's doing a lot of charity work with Vegas, a lot of things outside of the game. We're very proud of him here at Boston College."