Consummate player and teammate, Bergeron to skate in 1,000th NHL game
Patrice Bergeron, bus driver? In many ways, that's exactly what the player on the cusp of a major milestone is.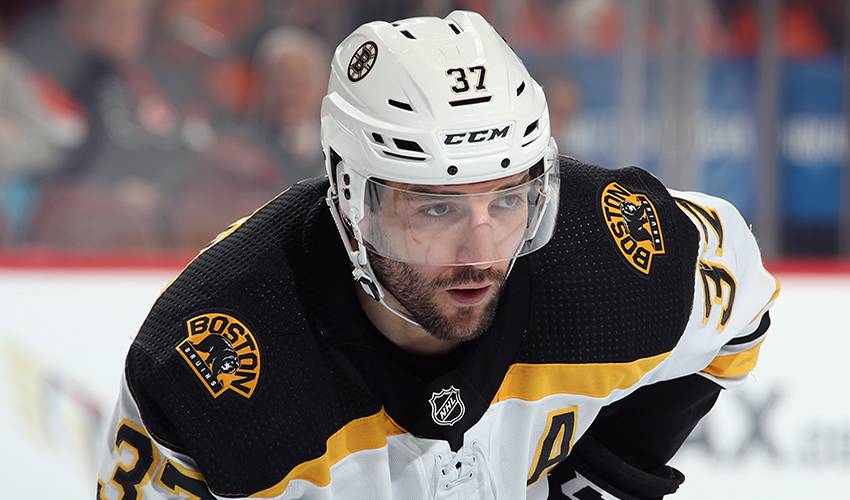 Patrice Bergeron, bus driver? In many ways, that's exactly what the player on the cusp of a major milestone is.
Tuesday night, one of hockey's greatest all-time two-way forwards will join some impressive company when he skates his in his 1,000th regular season NHL game, a home contest against the New York Islanders at TD Garden.
Boston blueliner Torey Krug is looking forward to sharing in the moment. He's grateful to call the 33-year-old veteran a teammate.
"I would hate to play against Patrice because he never gives up," Krug told NHLPA.com. "If you beat him on an initial move or pass, he returns to defend like no one I've ever seen. If you're down three goals in Game 7 of the playoffs (Boston erased a three-goal deficit and Bergeron scored in OT to beat Toronto in the 2013 Eastern Conference quarterfinals), he drives the bus and continues to play to the end. He's down but never out… that's why I would hate playing against him."
Many don't have the same luxury as Krug, who joined the Bruins in a full-time role in 2013-14.
Drafted 45th overall in 2003, Bergeron, who played 74 career games with Acadie-Bathurst of the Quebec Major Junior Hockey League, has become one of Beantown's best and most beloved athletes.
He's a Stanley Cup champion, and won gold with Team Canada at the 2004 World Championships, 2005 World Juniors (tournament MVP), 2010 and 2014 Winter Olympics. Bergeron also owns a record-tying four Selke Awards as the NHL's top defensive forward.
On June 15, 2011, he became the 26th player to join the Triple Gold Club (Olympic Gold, World Championship Gold and a Stanley Cup).
But it's not just what the player – one who'll no doubt be inducted into the Hockey Hall of Fame one day – does on the ice that has his teammates continually singing his praises.
"Patrice is the most genuine person I've ever met," offered Krug. "His drive and competitiveness shows on the ice, but what people often do not see is how much he cares off of the ice. He is so genuine, not only as a teammate, but a friend. He cares about what's going on with your game and your personal life and that's what makes him such a special teammate and leader."
It also makes the player with nine seasons of 20 goals or more the ideal role model for aspiring NHLers to emulate.
"Young players should watch video on Bergy because he is always in the right spot and thinks the game so well," noted Krug. "It's comical the number of times I have seen Patrice skating back to defend and the puck just hits him or his stick because it seems he just happens to be in the right spot at the right time. The reality of it is that he is so smart and so responsible that it is a calculated decision and he's always in the right spot."
And tonight, in front of an appreciative home crowd, Bergeron will be in his rightful spot, the centre of attention for a well-earned milestone celebration.