Your All-Star Hero: Sgt. Brewer
The tradition of sport bonding parents and their children creates a timeless bond, and NHLPA player ambassador Vinni Lettieri was thrilled to be a part of relaying some very good news to a special father and son duo.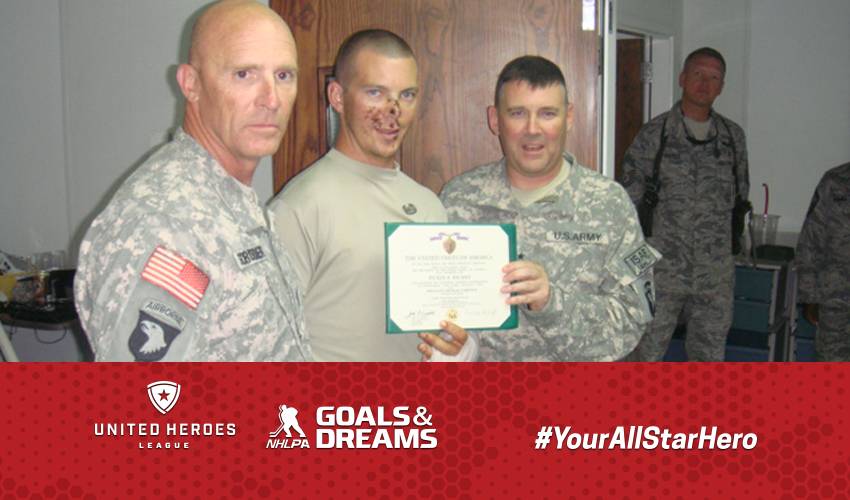 This is the last of a four-part series highlighting the NHLPA and UHL 2018-19 All-Star Hero campaign, which through the NHLPA Goals & Dreams fund, recognizes military personnel and their families for their services.
Today's story spotlights Sergeant Michael Brewer of the United States Army.
---
The tradition of sport bonding parents and their children creates a timeless bond.
So what more of a memorable experience is there for a father and son than seeing the greatest athletes in your favourite sport take to the same ice for a whole weekend?
It was that exact news for an unsuspecting Sergeant Michael Brewer, recipient of a Purple Heart as well as an Army Commendation with Valor, that NHLPA player ambassador and forward for the New York Rangers, Vinni Lettieri, was thrilled to be a part of relaying.
One of the four service members selected as part of the All-Star Hero campaign, Sgt. Brewer will take in all the action, on and off the ice, at the 2019 All-Star Weekend in San Jose. Brewer will have his son, Alex, alongside for the once-in-a-lifetime trip to California after being nominated by Jill, who calls her husband and son the two heroes of the family.
"We read your story and know your background," Lettieri explained to a stunned Sgt. Brewer over the phone. "We're very grateful for you and it's amazing how courageous you are, and military families like you guys that make such a big difference in our lives every day. We're very thankful for you guys."
"From the players and the NHLPA, we just wanted to let you know that you have won the trip to go to California for the 2019 NHL All-Star Game. It will be an unbelievable experience."
"Wow," said Brewer. "Amazing. That sounds pretty awesome. I don't know what to say, I can't even believe this."
Lettieri recalled his own All-Star experience as a youngster.
"I wish you guys the best. I hope you have an absolute blast on this All-Star trip. I remember I went as a kid with my father. I'll never forget it, it was an experience like no other."
The following is an excerpt from the All-Star Hero submission written by Brewer's wife, Jill:
"My husband Mike entered the military when he was 29. He had been to Iraq as a civilian and had seen friends of his get killed. He decided to join the fight. He deployed for 15 months to Iraq and then deployed to Afghanistan. Three months into his deployment to Afghanistan, he was out on a convoy. He was the lead driver of the convoy when they were ambushed. His truck was hit by 2 RPGs [Rocket-Propelled Grenade) and an IED (Improvised Explosive Device). One RPG came in his driver's side window, six inches from his face, and went off. He couldn't see anything due to the smoke and blood from his wounds. But even though he was severely injured, he continued to drive. He got his convoy to a safe place before stopping to assess his wounds. This resulted in there not being anyone else injured besides him and his convoy commander who was in the truck beside him.
"The second hero in our family is my 10-year-old son, Alex.
"We used to live in Georgia when my husband became medically retired from the Army. But our son, Alex wanted nothing more than to be a hockey player. He wants to one day play hockey in the Olympics. We researched everywhere to figure out where to move to make that happen for him. We decided on Lake Placid, NY. Thanks to United Heroes League, we were able to get hockey gear from him for his first season. Alex LOVED hockey. But the kids here in Lake Placid were pretty much born with skates on their feet. Alex was really behind at age 8 and never having skated before. He skated 5 days a week so he could catch up. Unfortunately, a few months into his first hockey season, Alex's knee swelled up 3x the size it normally is and he couldn't walk. It turns out he has Lyme Disease. He ended up missing some hockey his first season dealing with his Lyme. With the help of the hockey camp, Alex moved up to Squirts and was able to play a great second season. Alex worked really hard with the goal to make the A Team this year. It is a pretty big deal here. Alex skated all summer to make sure he did what he could to make the A Team. And it worked. He is a proud member of the Squirt A Team this year."

Unfortunately, due to recurring symptoms that Alex has been experiencing recently, he has not been able to take to the ice to join his teammates with six more months of antibiotics ahead of him.
Described by his mother as a "strong little boy who watches the movie 'Miracle' over and over", who also says Lyme Disease is just a minor setback for him, Alex and his father will get to enjoy a weekend free of doctor appointments and instead basking in all things hockey.
Sgt. Brewer has endured 14 surgeries to his hands and face to repair severe shrapnel damage since his return and awaits further surgeries after battling a Traumatic Brain Injury and Post-Traumatic Stress Disorder. Despite his return home, Sgt. Brewer continued to be affected by combat overseas by the loss of a friend and fellow solider.
Jill's statement continued:
"Three months after my husband was injured, his buddy was killed in the very same spot he was injured. Sgt. Brian Pedro was killed as he was driving the convoy through the area and they were ambushed in the same spot my husband was hit. Mike had the honour of being the Angel Escort when Pedro came back to the States. Mike flew to Dover to meet his buddy and escorted him back to his family in California. Mike has had a lot of guilt for Pedro being killed, but we do all we can to keep Pedro's memory alive as well as take care of his wife and mom as much as we can."

Hudella, president and founder of the UHL, was touched by the stories that he read throughout the campaign that launched in December 2018.
"We had a lot of great submissions from all of the military branches," said Hudella, who retired on June 30, 2012 at the rank of First Sergeant. "We thank everyone who shared their stories with us."
---
You can follow Sgt. Brewer's story and 2019 NHL All-Star experience on social media by following @NHLPA on Twitter or Instagram, and tracking #YourAllStarHero.