From patience to personality, Hutton grateful for Mama and Papa Hutty
Ben Hutton's initial introduction to skating was a trying time, to say the least. But thanks to his mother, he soon hit his best stride.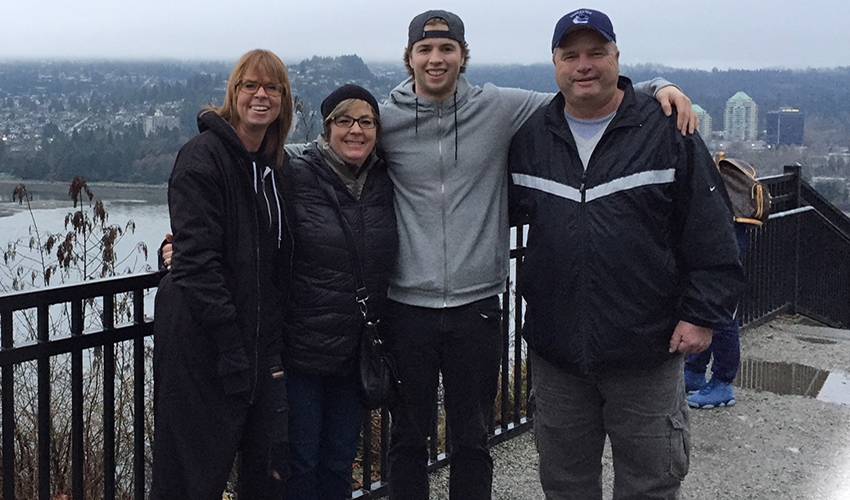 Ben Hutton's initial introduction to skating was a trying time, to say the least. But thanks to his mother, he soon hit his best stride.
He was around four or five when he first ventured onto indoor ice, a wobbly-legged kid who wasn't exactly graceful on his skates.
In fact, one of his earliest memories of learning the skill was when he wiped out – call it interference or tripping – the person who was determined to help him get better.
"My mom's the one that actually took the bull by the horns and made sure I started my hockey life by becoming a good skater," recalled Hutton. "But it wasn't easy for her. There were a couple of falls and I actually took her out a few times. But I have to give her credit. She was the one waking up early to take me skating."
It turns out, mother really does know best.
After countless games and practices, along with three seasons honing his skills – skating and otherwise – with the University of Maine, Hutton, drafted 147th overall by Vancouver in 2012, has become a key member of the Canucks blueline corps.
The 25-year-old is quick to credit his parents, Jim and Janet, for his ascent to the NHL ranks, not only for the time and effort they put in to further his career, but also in shaping him as a person.
"My dad, he gets along with anyone," said Hutton. "He's a jolly, happy-go-lucky guy, very laid-back. I think I get a lot of my personality traits from him. But at the same time, my mom is so caring, the type of person who would do anything to help anyone. She calls my buddies back home her "summer kids" because she's always taking care of them. My parents have always taken care of me too."
In 2015, the first call Hutton made after finding out he was staying with the Canucks was to his parents.
"I remember when I had the meeting and the team they told me I could get a place and I'd be sticking with the team, I called my mom right away," recalled Hutton. "I couldn't see her because it was over the phone, but I could hear her crying those tears of joy. To this day, she still reminds me of how proud she is."
Now, 250 games into his NHL career, Hutton still speaks fondly of his personal fan club and support system.
"My grandparents, they call me once a week," he noted. "They tell me how happy they are for me. You truly appreciate that. My sister, she wasn't too big of a sports fan, but now she loves hockey. She'll text me, whether it's a good game or bad game. My parents are staying up late to watch us play, probably losing sleep, but they always tune in."
He's far from the only Canucks player that's a fan of his mom and dad.
"When they come out to Vancouver, the guys on the team just love them," said Hutton. "They call my dad Papa Hutty. They love them and my parents like being around them too. It's always great when they are out here."


And there's no need to worry about any more skating mishaps between mother and son, right?
"Those days are behind us," Hutton said with a laugh. "That's a good thing for both of us."