Spurgeon standing tall on Wild's blueline
Pardon the pun, but the list of players in the NHL this season under 170 pounds is short. The list of defencemen is even shorter.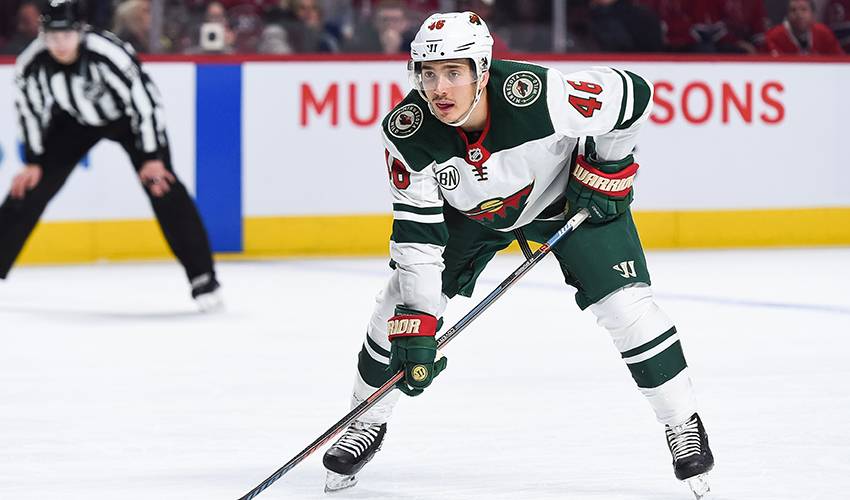 Pardon the pun, but the list of players in the NHL this season under 170 pounds is short. The list of defencemen is even shorter.
Among the 13 players listed that light, there are only three defencemen, including Jared Spurgeon of the Minnesota Wild, Sam Girard of the Colorado Avalanche and injured Washington Capitals blue-liner Christian Djoos.
While Djoos helped the Capitals win a Stanley Cup last spring and Girard has developed nicely into a two-way defenceman, no undersized d-man has been currently counted on more by his team than the Wild's five-foot-nine, 167-pound Spurgeon.
"Growing up I was never big," the 29-year-old Spurgeon said. "I was never the tall guy in atom or peewee. So I learned from a young age how to play at a smaller stature, how to use your stick and be in the right position to knock an opponent off the puck.
"It doesn't matter anymore with the way the game is played now. If you have the willingness to battle and you're not afraid to make mistakes, Just being able to skate, that's a big thing right now."
The son of Debbie and Barry Spurgeon was raised in a hockey environment in West Edmonton. Jared's grandfather had a pair of season tickets for the Oilers. He rotated games between Barry, Debbie, Jared, his older brother and sister.
"To go to those games were special nights," said Jared, who zeroed in on his favourite player, Edmonton centre Doug Weight.
Barry had played hockey at a high level. He made a backyard rink for a few winters for his children and there also was a lot of basement hockey games to play.
Jared's brother Tyler, three years older, was a good player. Check that, he still is a good player. At 32, he's performed for Innsbruck HC in Austria in the last four seasons.
The five-foot-ten, 189-pound older brother was a big inspiration to his younger sibling. In junior, he was drafted in the eighth round in 2004 by the hometown Oilers and a year later won a WHL Ed Chynoweth Cup championship with the 2004-05 Kelowna Rockets.
The brothers still find time to text each other daily despite the seven-hour time difference between Innsbruck and St. Paul, Minnesota.
"My parents have been a big influence in our work ethic," Jared said. "My Dad works hard in his [building supplies] job and so does my Mom in raising three children.
"My brother is a hard-working player and that has rubbed off on me. I wanted to follow in his footsteps and I would tag along to the gym with him. I wanted to keep up with him."
Although he never played in the NHL, Tyler scored high in the annual training camp fitness tests with the Oilers, just like Jared does with the Wild.
Jared played junior with the Spokane Chiefs. He was drafted by the New York Islanders in the sixth round (156th overall) in 2008. He met his hero, Weight, at the Islanders training camp that fall.
But the Islanders never signed Spurgeon. He had to return to Spokane for an overage season at age 20 before the Wild decided to take a chance and sign him as a free agent in 2010.
Even though he has played the last few seasons on Minnesota's top defence pairing alongside Ryan Suter, Spurgeon doesn't take his success story for granted. There were too many difficult times to overcome.
That's where his brother and close friend Tyler Ennis (who stands five-foot-nine at 161 pounds), a forward with the Toronto Maple Leafs and teammate with the Wild a year ago, comes in. They have been there for each other.
Ennis lived down the street from the Spurgeons. He and Jared were born 54 days apart and have known each other since age five.
When Ennis was overlooked in the WHL entry draft, the Spurgeons picked up his spirit. When Ennis was selected 26th overall by the Buffalo Sabres in Ottawa at the 2008 draft, he consoled his friend Jared when he stayed behind in Edmonton and wasn't taken until the sixth round the next day.
"We've worked and trained together for a long time," Jared said. "It was nice to have someone so close to you that you could bounce off things with each other. We always thought we could make it. Just having that support system with him and my brother has been huge."