Player of the Week | Mathew Barzal
Mathew Barzal came out of the holiday break on a tear with a pair of performances that helped him co-lead the week's scoring.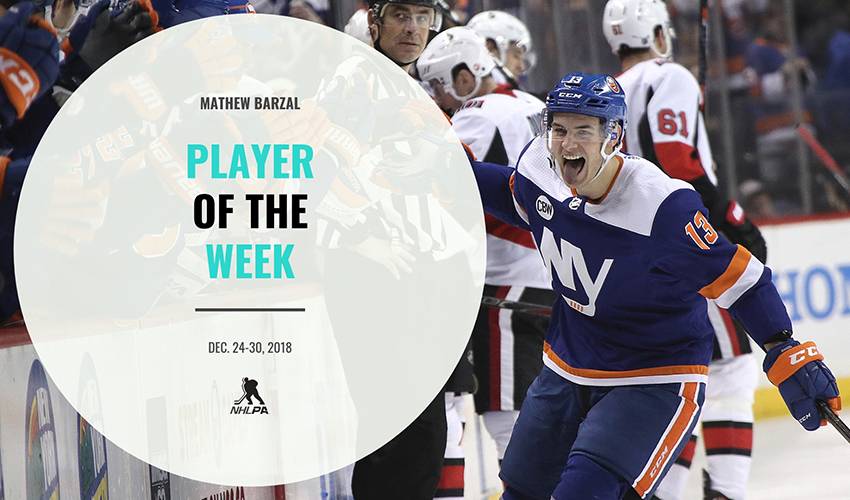 Mathew Barzal
DEC. 24-30, 2018
5-1

–

6 OVER 2 GP (CO-LED LEAGUE IN G, PTS)
NATURAL HAT TRICK
BACK-TO-BACK THREE-POINT NIGHTS
ON A FOUR-GAME POINT STREAK
---
Mathew Barzal came out of the holiday break on fire to post back-to-back, three-point outings for his eighth and ninth multi-point games of the season as the New York Islanders enjoyed a pair of wins.
Barzal, who was a key factor in both games, posted a game-winning goal and a natural hat trick in consecutive nights.
Though he's currently leading his team with 25 assists, Isles head coach Barry Trotz was happy to see the forward taking shots for himself.
"I love when he's thinking score rather than 'Let's make a pass,'" Trotz told media Friday. "When he's attacking space like he did, he's very, very effective."
Barzal also leads his team with 35 points while spearheading the powerplay with 13 of those points coming with the man-advantage.

LOOKING BACK

DEC. 28
2-1

–

3 19:50 TOI, GAME'S FIRST STAR
---
NYI 6
OTT 3
Barzal earned the game's first star Friday night at Barclays Center, where the Islanders played host to the Ottawa Senators in a 6-3 victory.
The reigning Calder Trophy winner scored the game-winning goal for his second tally of the night after earlier assisting on a goal by linemate Josh Bailey in the middle frame.

"I'm just trying to look at the net a little more," Barzal said to reporters postgame. "I only had two shots, so I'm just trying to make the right play... I've got two scoring players on my line [Bailey and Anthony Beauvillier], and they can score. I'm going to try to get them the puck; they do the same to me. The chemistry's been good lately."

DEC. 29
3-0

–

3, 5 SOG, 17:32 TOI, GAME'S FIRST STAR
---
NYI 4
TOR 0
The Islanders squared off against a familiar face Saturday night as the team played in Toronto against former captain, John Tavares.
The intensity seemingly agreed with Barzal, who scored a natural hat trick in the second period over a span of 7:44 as the team built to a 4-0 win with netminder Robin Lehner also making 36 saves.
"You could tell before the game guys were dialed in, guys were ready to go, we knew what was at stake, knew it was a big game against one of the top teams in the league," Barzal spoke of the atmosphere postgame.
Teammate and former Toronto Maple Leaf, Matt Martin, echoed Barzal's sentiment.
"You could tell he wanted this one," Martin said. "He wanted that big stage."
It was the second hat trick of Barzal's young NHL career.
LOOKING AHEAD

Barzal takes his four-game point streak to Buffalo as he and the Islanders eye a fourth straight win with Monday's puck drop at KeyBank Center (6 p.m. ET).