Player of the Week | Sergei Bobrovsky
Sergei Bobrovsky recorded a pair of shutouts to bookend a four-win week between the pipes for the Blue Jackets.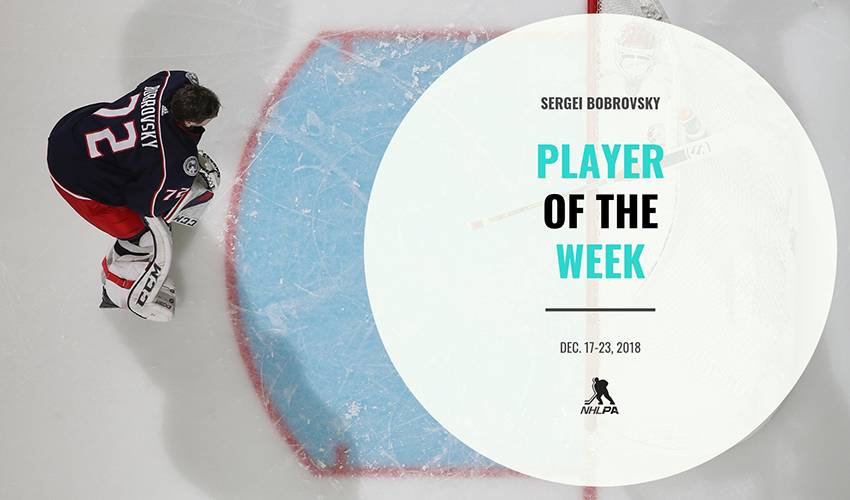 Sergei Bobrovsky
DEC. 17-23, 2018
4-0-0 OVER 4 GP
TWO SHUTOUTS
.970 SV%, 1.00 GAA
130 OF 134 SHOTS
16 WINS THIS SEASON (T-3 AMONG NETMINDERS)
---
Sergei Bobrovsky recorded a pair of shutouts to bookend a four-win week between the pipes for the Blue Jackets.
Columbus was able to sweep their week with Bobrovsky securing all four victories while the netminder earned his 25th and 26th NHL career shutouts.
LOOKING BACK

DEC. 17
W, 28-SAVE SHUTOUT, GAME'S SECOND STAR
---
CBJ 1
VGK 0
Bobrovsky started his week on the right foot with his first shutout of the season by making 28 saves Monday night against the visiting Vegas Golden Knights.
The netminder withstood 14 shots from the Golden Knights' offence in the third period, highlighted by a pad-save made on Colin Miller with just 47 seconds left in the game.
"It got a little scary there the second half of the third period," Blue Jackets head coach John Tortorella told reporters. "That's where I thought [Bobrovsky] was outstanding. He made some big saves where the first two period(s) he barely had to work."

Nick Foligno, skating in his 800th NHL career game, scored the night's only goal in the final frame for Columbus' game-winner.
DEC. 20
W, 30 SA, 29 S, GAME'S SECOND STAR
---
CBJ 2
NJD 1
Bobrovsky helped guide the Blue Jackets to their second consecutive win of the week as the team played host to the New Jersey Devils Thursday night.
No. 72 earned the game's second star with 29 saves and credited his teammates for the solid play in front of him.
"All three zones were strong," Bobrovsky said postgame. "We created some offense. Neutral zone was strong and D zone was strong."
It was the first in a pair of matchups for the teams who would later reconvene with the Blue Jackets on the road at Prudential Center Sunday night.

DEC. 22
W, 37 SA, 34 S, GAME'S THIRD STAR
---
CBJ 4
PHI 3
The Blue Jackets hit the road to Philadelphia where they extended their point streak to five in a 4-3 victory at Wells Fargo Center.
Bobrovsky made 34 saves to skate away with the game's third star, while Tortorella credited the netminder for swaying the game's outcome in the club's favour.
"We did not play that well tonight. We played in spurts. It was probably [Bobrovsky's] best game of the year."

DEC. 23
W, 39-SAVE SHUTOUT, GAME'S FIRST STAR
---
CBJ 3
NJD 0
Bobrovsky got the nod the very next night to close out the second half of the back-to-back Sunday with a rematch in New Jersey. With his sixth consecutive start, "Bob" shut the door with 39 saves to help Columbus to a 3-0 victory as they head into the team's holiday break towing a four-game winning streak.


The shutout was Bobrovsky's second of the week and the 26th of his NHL career. Notable opponents were left scratching their heads while commending Bobrovsky's consistent poise in net with it being his third career blanking against the Devils.
"People ask me who the hardest goalie to face is, and I say Bobrovsky every time," reigning Hart Trophy winner Taylor Hall said postgame. "I don't know if it's just against us that he plays like that, but you have to have perfect shots and it doesn't seem like any goal is ever his fault. He's either getting screened or it's a backdoor tap. We had some really good chances, sustained pressure, chances in tight. I don't know what more there is to do other than that."
LOOKING AHEAD
Bobrovsky and the Blue Jackets head into their holiday break on a high note with three nights separating them from Broadway, where they'll match up against the New York Rangers Thursday night (7 p.m. ET).