Golden memory shines bright for Ennis
Even though his world junior golden moment happened a decade ago, Tyler Ennis vividly remembers the drama that played out as if it was yesterday.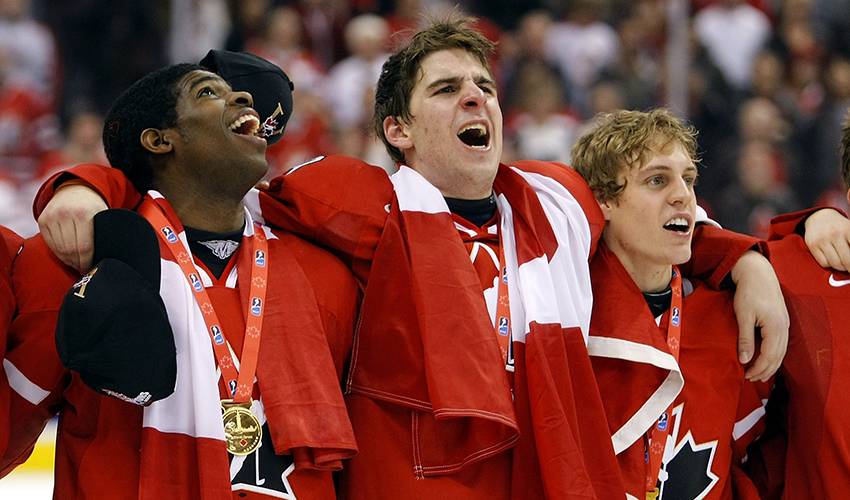 Even though his world junior golden moment happened a decade ago Toronto Maple Leafs forward Tyler Ennis vividly remembers the drama that played out as if it was yesterday.
The intensity was thick. The fervour was full throttle. The capacity crowd in Ottawa wanted another goal. The clock was ticking on the Canadian junior team that was down a goal for the first time in its semifinal against Russia.
Dmitry Klopov had scored to put Russia ahead with two minutes and 20 seconds remaining in the third period. He almost scored his third goal of the game, but instead missed the empty net with a long-range attempt because Canadian goalie Dustin Tokarski was on the bench for an extra skater. Russia was called for icing.
"We were down and it was in the final 10 seconds," said Ennis, who watched final seconds of regulation time from the bench. "[Canadian defenceman] Ryan Ellis made a good play to keep the puck in along the boards at the blue line. Johnny [Tavares] then came up with a loose puck and somehow got a backhand through to the net. Ebs [Jordan Eberle] was there to jump on it to make a nice move and tie it up."
Eberle's heroics tied the game with 5.4 seconds remaining. He and Tavares were the only successful shooters in the shootout for the incredible 6-5 win to set up a gold-medal final against Sweden. Ennis and his national team junior teammates went on to win the championship with a 5-1 victory two nights later.
"That's crazy, "Ennis said. "I can't believe it's been 10 years.
"To this day, it's still one of my fondest memories in the game. We won the gold medal in a tournament that as a kid I couldn't wait to wake up early around Christmas time and watch with my family. Now I was playing on that team, realized a dream, and we won with my family there in Ottawa."
It was the fifth gold medal in a row for Canada. When the streak began in 2005, it was a lockout year. Most of the world's best teenaged-hockey players were made available to play for their country.
Canada's roster included Sidney Crosby, Patrice Bergeron, Jeff Carter, Ryan Getzlaf, Andrew Ladd, Corey Perry, Braydon Coburn, Dion Phaneuf, Brent Seabrook and Shea Weber. It was considered the Dream Team.
But 2009 Canadian edition was no slouch with Tavares, Eberle, Ennis, Ellis, Evander Kane, Cody Hodgson, Thomas Hickey, Tyler Myers, Alex Pietrangelo and P.K. Subban.
"We had a great team," he said. "We went undefeated."
Ennis knew this was a good team. He also knew how difficult it was to win a championship, having played a pivotal role at 17 when his Medicine Hat Tigers captured the 2006-07 Ed Chynoweth Cup as WHL champions.
The 2009 Canadian junior, however, had some doubts because Benoit Groulx, the person hired to coach the team, resigned after he was hired to take over the AHL Rochester Americans. The late Pat Quinn replaced Groulx but did not have the benefit of a summer camp to get know the players because Groulx had not yet been hired by Rochester.
"[Quinn] didn't know our team that well but he was quick to assess our talent," Ennis said. "The knock on him was that he didn't coach young players that well. But he proved everybody wrong. He did a great job."
In the Maple Leafs dressing room, Tavares sits only a few seats to his left. They can chat any time about the golden success of a decade ago.
But even though Eberle now skates for the New York Islanders and Subban and Ellis play for the Nashville Predators, when members of this world junior team see each other on the ice there is a little nod between the former teammates. If they see each other in the hallway between dressing rooms they reminisce about their golden glory a decade ago.
"They say when you win together you're always going to be friends," Ennis said. "Well, I can tell you that is true.
"World junior tournaments usually have a crazy moment. It was good to be on the right end of that crazy moment. That Eberle goal gave us the boost we needed to get the job done. We all shared in a tremendous accomplishment."