International experience, perseverance shaped Jensen's game
Detroit Red Wings defenceman Nick Jensen admits facing a player named Nicklas Jensen was a little on the strange side.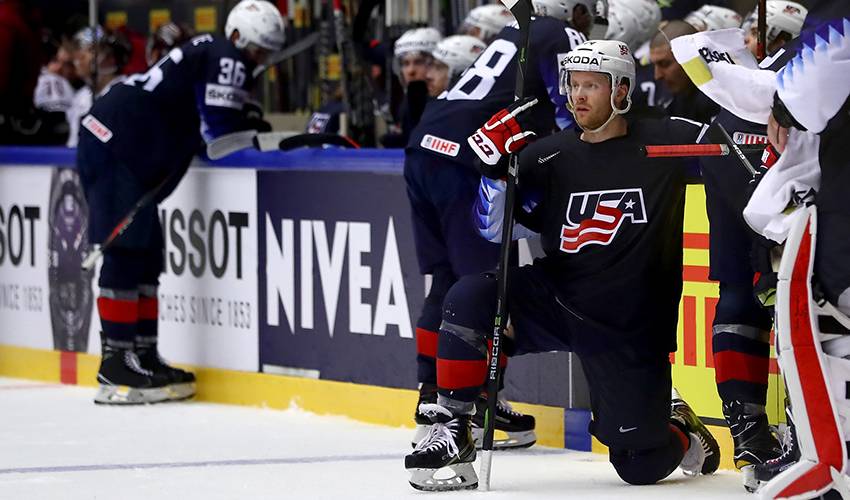 Detroit Red Wings defenceman Nick Jensen admits facing a player named Nicklas Jensen was a little on the strange side.
They first lined up against each other in the AHL Jan. 23, 2015 when Nick Jensen of St. Paul, Minnesota, played for the Grand Rapids Griffins and Nicklas Jensen of Herning, Denmark, was a member of the Utica Comets. The Griffins won 5-1 at home.
The most recent occasion was at the World Championship in Denmark last spring when Nick Jensen scored a goal and an assist in the United States' 4-0 win over Nicklas Jensen, a Vancouver Canucks draft pick, and the host country.
"There are a few Jensens out there," the 28-year-old Red Wings blueliner.
The Jensens have never met, even though Nicklas played parts of four seasons with the Canucks and New York Rangers before he returned to Europe to play for Jokerit in Helsinki, Finland.
While the 2018 World Championship was a first for Jensen, who tallied four points while playing in all 10 games, the tournament also proved to be a worthy training ground for the growth of the American defenceman. Jensen and the U.S. defeated Canada 4-1 in the bronze-medal game.
"That was such a neat experience," Jensen said. "To be able to play for your country on an international scale is something I've never done before.
"We didn't win gold, but to be able to win bronze nonetheless was super exciting. Personally, for me, I looked at the situation as I didn't know if I would ever get to play for my country again. So I jumped at the chance and made the most out of it."
Jensen was born into a hockey family. His father Jeff played four years at Lake Superior State University in the late 1970s and was selected in the 10th round at the 1978 draft by the team then known as the Colorado Rockies. Nick's uncle Steve played more than 400 NHL games with the Los Angeles Kings and Minnesota North Stars in the late 1970s and early 1980s.
"My dad brought me into the game and he started me at a young age," the younger Jensen said. "He has loved hockey his whole life and passed on that passion to me."
That was evident with Jensen in his final year at St. Cloud State University, when he was named the conference defenceman of the year and helped the school land its first spot in the 2013 Frozen Four championship in Pittsburgh.
As a fifth-round choice of the Red Wings in 2009, the six-foot, 196-pound Jensen moved to the pro game after the Frozen Four. However, he suffered a torn labrum that required shoulder surgery when he and Tyler Bertuzzi scuffled at the Red Wings development camp in July 2013.
Jensen had to wait until late November for his first pro game because of the surgery and he started on the bottom rung with the ECHL Toledo Walleyes before he was promoted to Grand Rapids.
He never lost his desire despite the difficult beginning to his pro career.
"I never doubted whether the pro game was for me or not," Jensen said. "It obviously was discouraging when you have that happen in your first year.
"You feel you missed an opportunity to show management what you're all about. So it prolonged the process for me. I felt I was a bit behind."
What kept Jensen going?
"It's character, it's perseverance," said the third-year Red Wing, who has averaged a career high of 20 minutes and one seconds a game this season, fourth most on the team.
"It's easy to get down on yourself. But you need to go out there and play like it's your last game. You can't take anything for granted and I'm still trying to get better."