Longevity, records follow Howard
During his time in the U.S. collegiate hockey ranks, goaltender Jimmy Howard set a slew of team standards for the Maine Black Bears.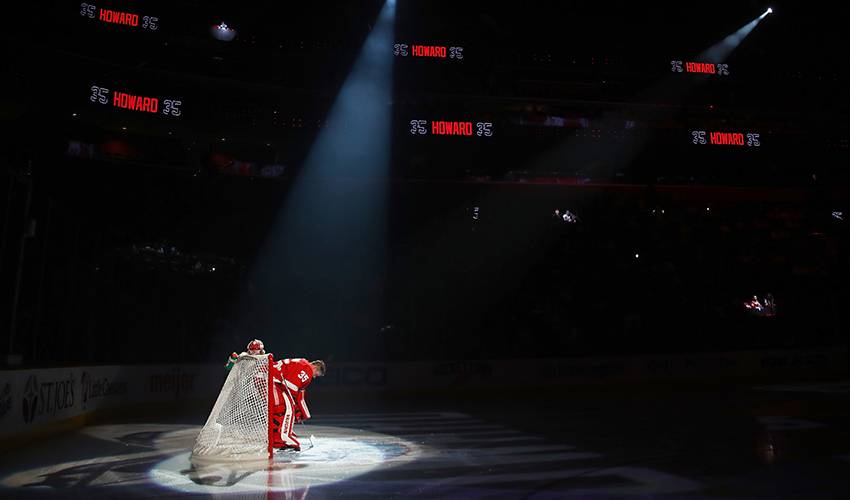 Ben Guite hasn't forgotten the man behind the mask who played a starring role for the Maine Black Bears.
During his time in the U.S. collegiate hockey ranks, goaltender Jimmy Howard set a slew of team standards, including shutouts, goals against average and save percentage.
Selected by the Detroit Red Wings in the second round (No. 64) of the 2003 NHL Draft following three outstanding seasons at Maine, Howard posted a 47-23-10 record with the Black Bears and helped lead the team to the NCAA Frozen Four as a sophomore.
For Guite, a former Maine forward who now holds the role of Associate Head Coach with the America East Conference club, seeing Howard nearing the 500-game mark at the NHL level is special for both himself and those associated with the Black Bears hockey program.
"As a goalie, he's had a lot of success, both here and the NHL," said Guite, who played four seasons at Maine and 175 NHL games with Boston, Colorado and Nashville. "During his days here, he put up some pretty impressive numbers, which speaks volumes about his talent."
Howard, who made his big-league debut with Detroit November 28, 2005, was equally revered for his character in the dressing room.
"Guys wanted to play for him," noted Guite, an NHLPA player representative from 2007-09. "He was the type of person that you want to call a teammate. He was always ready and prepared to play."
That's carried over to an NHL career that's yielded 228 wins, a trio of 35-plus win campaigns and 24 shutouts.
And Howard's done it all with one team.
"The fact he's played his whole career with the Red Wings certainly stands out for me," said Guite, who helped lead Maine to the 1999 NCAA National Championship. "I think that also is a testament to the respect he has from so many people. For us, to see him do well, it's something we are all happy for."
Although they didn't play together at Maine, the two did cross paths the odd time during their hockey careers.
"When we would see each other during the minor league days, we'd always say hello to one another," said Guite. "That's the way it is when you go to the same school, it's a fraternity and a family, just like it is with any U.S. collegiate hockey program."
During the summer months, their paths cross at Alfond Arena in Orono, Maine, home of the Black Bears.
Guite always relishes the opportunity to catch up and have a quick chat.
"Jimmy stops by in the summer and he's just great to be around," he said. "Whether it's young kids or the guys on our team, he's happy to be there and to talk with people. He's a good person."
Howard's also a model Black Bears alum.
"You never forget the guys that have made it to the NHL because their pictures are on our wall here," said Guite with a laugh. "But even if you didn't play at the same time, you build relationships with the guys and you keep tabs on how they're doing in their careers."