Reinhart's skill draws from multi-sport upbringing
Before he settled on hockey as his No. 1 sport, the 23-year-old was holding court as a hard-hitting lefty that netted his share of tennis hardware.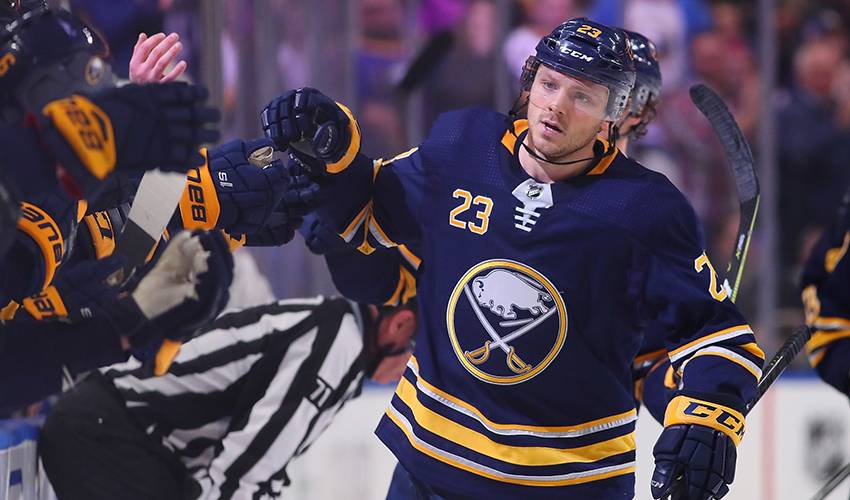 Hockey isn't the only sport that's come up aces for Sam Reinhart.
Before he settled on hockey as his No. 1 sport, Buffalo's 23-year-old centre was holding court on as a hard-hitting lefty that netted his share of hardware playing tennis.
"I always played tennis growing up," said Reinhart now in his fourth full NHL season with the Sabres. "I played with my friends and my brothers. But I haven't played as much over the past few years because it's so tough on your body."
Reinhart has plenty of reminders of his past tennis triumphs, including some impressive wins during his high school days in Vancouver.
"Especially in high school, when I'd get back from junior, those are the best memories I have of the game," said the second overall pick in 2014, whose father, Paul, played 648 NHL games as a defenceman. "Being able to play on the tennis team with my friends was great. I won a couple of provincial titles with my buddies, so that's something you'll never forget."
Tennis wasn't the only sport Reinhart excelled in.
He also played baseball, soccer and lacrosse before hockey became the primary focus.
"I played pretty much every sport you could name and I think you can draw on skills you learn from every one," said Reinhart, who was selected 15th overall by the Kootenay Ice in the 2010 Western Hockey League Bantam Draft. "For me, I wasn't pushed into playing hockey. I was never forced to play – it was just a love for the game. It was around eighth grade when I had to make up my mind. I knew that time was going to come, to have to stick with one sport that I'd hopefully excel at."
The Sabres are certainly glad he opted for hockey.
Reinhart, who made his NHL debut on October 9, 2014, against the Columbus Blue Jackets, became the sixth-youngest Sabres player in history, at 18 years, 338 days. His first NHL point, an assist, came 16 days later against the San Jose Sharks.
He scored his first NHL goal on October 17, 2015, against the Tampa Bay Lightning. In 2015-16, he scored 23 goals and joined Jack Eichel (24) as the first Sabres rookie tandem to record 20-goal campaigns since Danny Gare and Peter McNab in 1974-75.
These days, Reinhart and his teammates have their sights set on an Eastern Conference playoff spot. Buffalo's last post-season appearance came in 2010-11.
"That's the goal," said the forward who has had several memorable international hockey moments with Team Canada, including winning gold at the 2015 World Junior Championship. "We're all striving towards that."
For now, any thoughts of reliving his tennis glory days aren't on the radar.
"Maybe one day I'll get out there again," said Reinhart. "Especially with my brothers… let's just say it gets competitive when we play. Hopefully, we can get back into that some day."