Phaneuf closing in on 1,000th NHL game
Brent Sutter remembers two distinct reactions after the Red Deer Rebels selected Dion Phaneuf in the third round of the Western Hockey League Bantam Draft.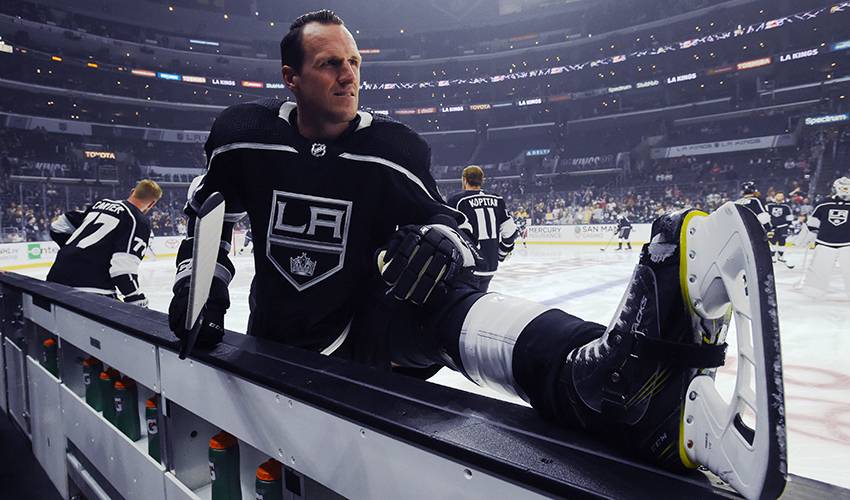 Brent Sutter remembers two distinct reactions after the Red Deer Rebels selected Dion Phaneuf in the third round of the Western Hockey League Bantam Draft: cheers at one table, groans at several others.
It was 18 years ago when Red Deer had gotten their man, a rugged defenceman with a cannon for a shot and plenty of grit.
The man behind the player selection had his eye on the hard-hitting teenager for a while.
"I remember the first time I saw Dion play, he was playing Bantam at the time," said Sutter, owner, president, head coach and GM with Red Deer. "I told our scouts at the time, 'I want to draft that player.' When they asked me where I wanted them to take him, I told them that I wanted to get him as soon as possible because he was the type of player we needed to have here. His open-ice hits were amazing. He was an agitator. I definitely followed him before we took him."
Sutter also followed rival clubs' draft plans, many of who were also looking to take Phaneuf.
"Other teams, we knew where they had him ranked," recalled Sutter, a two-time Stanley Cup winner. "I told our scouting staff at the table that we were going to have to take him sooner than later if we wanted to get him. We had an early pick in the third round and we took Dion with that. I remember when we took him there were groans in that room from other teams. They knew the player we were getting."
One year after Red Deer drafted him, Phaneuf joined the Rebels for the 2001–02 season and registered 17 points in 67 games. He also made his presence known as a no-nonsense competitor.
"They always say first impressions are really important and when he came to camp as a 15-year-old, you could tell he was going to be really close to playing for us when he was 16," said Sutter who returned to Red Deer in 2012 after coaching stints in New Jersey and Calgary. "When he came to camp at 16, it was a no-brainer. He had a great camp. He was rugged. He was getting under other people's skin and he could shoot the puck. He didn't miss a beat.
"When he was young, he had an edge to him in the room. The thing I've always admired about Dion is that he treats practices like games. Sometimes that bothers other teammates, but they adjusted to him, he didn't adjust to them. Their practice habits became higher and better because they knew they had to be that way. When he was on the ice, he played for keeps, whether it was practice or a game."
Phaneuf, who improved to 16 goals and 30 points in his sophomore campaign in 2002–03, was selected ninth overall by Calgary in the 2003 NHL Entry Draft.
In 2004-05, he recorded 56 points in 55 games to finish his junior career with 146 total points and won his second straight WHL Defenceman of the Year honours.
"He had great years with us," recalled Sutter of the Edmonton-born Phaneuf. "He was a dominant player in our league at 19. You just knew – that was the year of the (NHL) lockout – he would have been playing in 2004-05. And you knew that he'd be there the next year. He was just too good. He started out with Calgary and the rest is history."
Closing in on 1,000 NHL games, Phaneuf, who has played with Calgary, Toronto and Ottawa, is currently in his second season with Los Angeles.
For Sutter, who coached Phaneuf with the Rebels, Flames and Canada's junior team when they won gold in 2005, seeing his former standout have a long and prosperous NHL life is highly rewarding.
"He's had a helluva career," said Sutter. "He's grown over the years in different ways. He's a dad now. I'm just really, really proud of him. He's an awesome guy."