Remembrance Day Poppy Goes Digital
The NHLPA is proud to support the Royal Canadian Legion's digital Poppy campaign. Go to www.MyPoppy.ca to take part.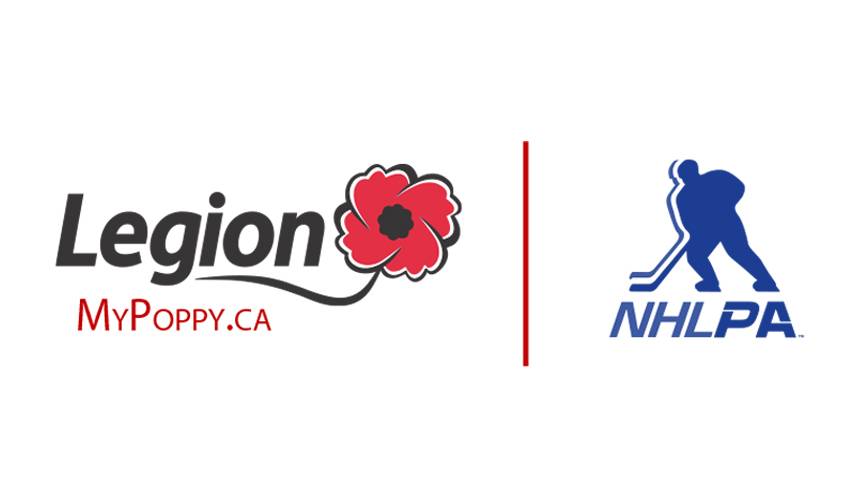 A Historic First: Canada's Remembrance Day Poppy Goes Digital
Justin Bieber, Margaret Atwood, Don Cherry, Sandra Oh, Joannie Rochette, and others join the Royal Canadian Legion in introducing Canada's new lapel Poppy partner: the "Digital Poppy"
---

OTTAWA, Oct. 22, 2018 /CNW/ - The Royal Canadian Legion's Remembrance Day Poppy just became digital today, for an online fundraising campaign that is the first of its kind in the world. To complement the traditional lapel Poppy, a new "Digital Poppy" will be available at www.MyPoppy.ca from October 26, 2018 to November 11, 2018. Canadians will be able to personalize it, dedicate it and share it online and add their own family stories and images as their pledge to never forget those who served and sacrificed for our freedom.

"For every Canadian, the bright red Poppy stands for our country's greatest values, and the debt we owe to the brave souls who put everything on the line to fight for us," said Don Cherry. "I'm dedicating my digital Poppy to my great Uncle, Sergeant Thomas William MacKenzie who died in battle four days before Armistice Day in 1918."

This first-ever 2018 digital Poppy launch is being supported by a number of leading Canadian personalities, athletes and organizations including recording artist Justin Bieber, artistic luminaries Margaret Atwood, Sandra Oh and former Mrs. Universe Ashley Callingbull and Hockey Night in Canada's Don Cherry and Ron MacLean. Several organizations including the National Hockey League Players' Association, the Teamsters Union of Canada and Ancestry.ca, are also participating. Corporately this campaign is supported by TELUS.

The Legion's 2018 National Poppy campaign was officially launched today with The Royal Canadian Legion's president, Tom Irvine, presenting the symbolic First Poppy and introducing the first "Digital Poppy" (a two-sided digital representation of the flower) to Her Excellency the Right Honourable Julie Payette, Governor General and Commander-in-Chief of Canada, at the Beechwood National Cemetery of Canada.

"Canadians have enthusiastically supported the Legion's lapel Poppy campaign for many years and the traditional 'on-street' donations will continue across the country. But in an increasingly cashless society, we wanted to give people another way to support their Veterans," said Danny Martin, deputy director of The Royal Canadian Legion. "The Legion's new digital Poppy campaign will allow people to donate online and share their remembrance in a meaningful, personalized manner."

Once downloaded, the digital Poppy can be posted on the donor's social media feeds of their choosing including: Facebook, Twitter, Instagram, and LinkedIn. Digital Poppy owners will also have the option to use their digital Poppy as their profile images as well as adding personal stories and significant photos to their postings.

Digital Poppy ambassadors are telling their own stories as they commit to sharing their digital Poppy this year. "I'm dedicating my digital Poppy to Brigadier General T.G. Gibson, my spouse Graeme's father," said Canadian literary icon Margaret Atwood. "He fought in World War Two in Italy and then through Holland and into Germany. The main street of Deventer in Holland is named after him, as he and his troops were able to liberate it without destroying it, thanks to information smuggled to him by the Resistance. There are many Canadian soldiers buried there, and the schoolchildren place white roses on their graves every Easter."

International model, actor and activist, Ashley Callingbull tells a particularly poignant story. "I'm working with ancestry.ca to re-connect with my Great Grandfather, Maxime Papin, who along with many Indigenous Canadians served with distinction in the Canadian military. My digital Poppy is dedicated to him and I'm asking my social media followers to do the same in support of our Veterans."

All funds raised from both the traditional lapel and the new digital Poppy are directed to the Legion's Poppy Fund. This is the first time that Canadians will be able to donate in such a manner, online. The Poppy Fund is a significant fundraising initiative for the Legion and supports essential programs and services for all of Canada's Veterans, including Canadian Armed Forces and RCMP, and their families.

"Donations made via www.MyPoppy.ca will be distributed to a Legion branch that is nearest the donor's address," said Danny Martin. "In this way, funds support local, community-based initiatives for Veterans."

The introduction of the digital Poppy, and the opportunity for online donations, represents a fresh, invigorated approach to the Legion's annual national Poppy campaign as it presents a new, modernized source of funding for the Legion's Poppy Fund. It is designed to reach younger audiences of potential donors who recognize and embrace the impact and power of social media-based initiatives like the digital Poppy.

About The Royal Canadian LegionFounded in 1926, the Legion is Canada's largest Veteran support and community service organization. We are a non-profit organization with a national reach across Canada as well as branches in the U.S., Europe and Mexico. With more than 275,000 members, many of whom volunteer an extraordinary amount of time to their branches, our strength is in our numbers.