Aho representing Finland well
As a coach with Finnish Elite League club Kärpät, Mikko Manner often marveled at how Sebastian Aho handled himself on and off the ice. That hasn't changed one bit.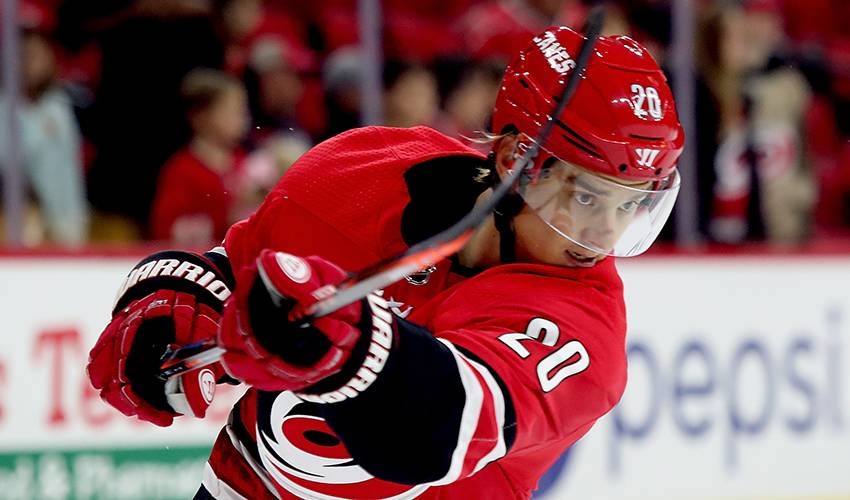 As a coach with Finnish Elite League club Oulun Kärpät, Mikko Manner often marveled at how Sebastian Aho handled himself on and off the ice. That hasn't changed one bit.
Born in Rauma, a town of nearly 40,000 people on the west coast of Finland, Aho was raised in Oulu.
From 2013-16, in his role as assistant head coach with Kärpät, Manner, now the top bench boss with the team, had plenty of reason to laud the speedy centre – the one who put up 45 points in 45 games three seasons ago.
In 2014-15 season, his first full season in Liiga, Finland's top pro league, Aho scored the game-winning goal in double overtime of Game 7 of the final to deliver Kärpät the championship.
"What makes him a special player is his ability to think the game ahead," said Manner, a former forward who played several years in Finland before his coaching career began in 2003-04. "Game vision, good speed and compete level. He is a quick learner – if you tell him something, he can adapt to it right away."
Aho has carried those traits over to a thriving NHL career, one that started in 2016-17 with the Carolina Hurricanes, the team that drafted him 35th overall three years ago. In his rookie campaign, Aho scored 24 goals and recorded 49 points in 82 games. He followed it up with 29 goals and 65 points in 78 games in his sophomore season.
No. 20 is also off to a season-opening hot streak with a franchise-best four goals and 14 points in the club's first nine games. He's already also been named the NHL's "Third Star" for the week ending Oct. 14 and matched a career-high four-point performance.
"He is always smiling, bringing positive energy around him," said Manner. "He is accountable. He respects everybody, so if you treat him like a human being, he will be really committed. The tougher situation, the better he plays. You can trust his will to win and will to compete."
It's something Manner has seen numerous times, including Aho's contributions to Finland on the international stage.
At the 2016 IIHF World Championship, Aho tied for sixth in scoring with seven points (three goals, four assists) in 10 games. Two of his helpers came in Finland's 3-1 win against Russia in the semifinals. He was named player of the game for the eventual silver medalists.
The medal is one of three Aho has earned with Finland. He was also part of Finland's silver medal-winning team at the IIHF World Under-18 Championship in 2015 and played on the gold medal-winning squad at the 2016 IIHF World Junior Championship. Though Finland did not medal at the 2018 IIHF World Championship, Aho led the tournament with nine goals and was second in points with 19, trailing only Patrick Kane of Team USA and the Chicago Blackhawks.
Manner continues to track Aho's career, NHL and internationally, one that is commanding more attention and more plaudits from the hockey world.
But his ascent to star status hasn't affected Aho's team-first mentality, in the NHL or back home.
"I am most proud that his good playing in the NHL has not affected his behaviour," praised Manner. "He is always nice to everyone, humble and ready to do his best. For example, when he is in our practices before the NHL season, he is behaving like one of the teammates on our team."