Suter family leaves American mark on NHL blueline
After joining his Uncle Gary as one of 11 U.S.-born defenceman to score 500 points, Ryan Suter will soon join him on a list of players who have skated in 1,000 NHL games.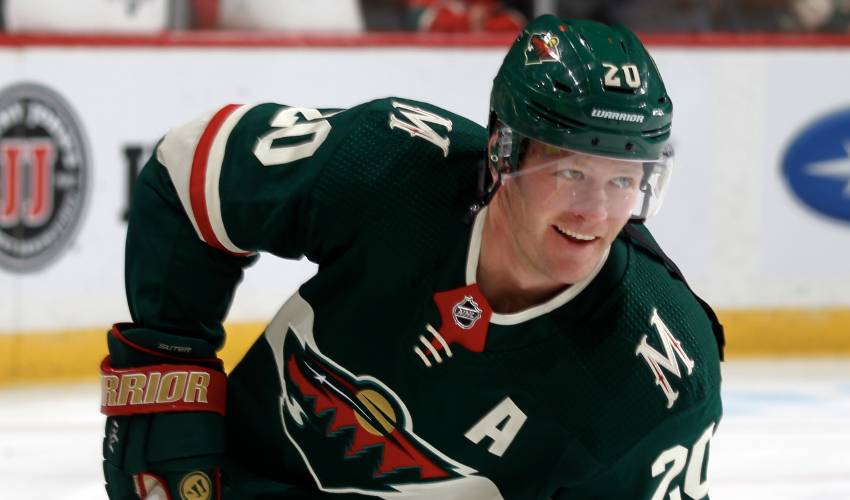 "Look at what Ryan does."
It continues to be a familiar refrain from the University of Wisconsin's men's hockey team coaching staff, five words they often use throughout the NCAA season when addressing members of the defence corps.
The man at the centre of the phrase, big-league blueliner Ryan Suter, played one season with the Badgers, in 2003-04, when he recorded three goals and 19 points in 29 games.
Although his time with the Badgers was brief, the Madison, Wisconsin native's impact on the program remains strong.
"Every time he goes over the boards, you know exactly what you'll be getting," said Wisconsin associate head coach Mark Osiecki who was the recruiting coordinator and defensive coach from 2004-10, helping UW win the NCAA title in 2006. "We tell our young guys, 'If you see Ryan Suter when he jumps on the ice, the coach knows what he's going to get, shift-to-shift, game-to-game.' If they understand that, they'll have an opportunity to do well. He's a great role model for our defenceman."
With 500 NHL points to Suter's name, Osiecki's words ring true.
Osiecki, whose connection with the Suter family dates back several years, was impressed with Ryan long before he skated in the NCAA.
"My first impression of Ryan goes way back, even before he went to the U.S. (National Development Team) program," he recalled. "I was in Green Bay, coaching in the USHL at that time, and we'd go to the central districts to watch games. We'd see him out there and say, 'Wow… this kid is a special player.' He just had a feel for the game and was so far ahead of everybody else when it came to the thought process of the game. It was fun to watch. He was calm. He was smooth. But it was his hockey sense – it was so advanced.
"He's also very genuine, something you noticed right away. The whole family is. And they love the sport and they love giving back to the game. My association with the Suter family goes back to the Madison Capitals with his dad (Bob, a defenceman who won the 1977 NCAA title with Wisconsin and Olympic gold with the U.S. in 1980) when I played there. I used to take some road trips with Bobby in his van. I also played with Gary Suter, his uncle."
Also a defenceman, Gary skated in 1,145 NHL games with Calgary, Chicago and San Jose, winning the Calder Memorial Trophy in 1986 and the Stanley Cup in 1989 with the Calgary Flames. The University of Wisconsin alum was inducted into the U.S. Hockey Hall of Fame in 2011.
Gary and Ryan will soon share in a pair of NHL milestones after the nephew joined his uncle as one of 11 U.S.-born blueliners in NHL history to record at least 500 NHL career points.
Now, Ryan, in his seventh season with the Minnesota Wild, is on the cusp of reaching the 1,000 games played mark, just one shy of the milestone, which he'll play in at home against the Los Angeles Kings October 25.
"No, it's not shocking at all," said Osiecki. "Who knows how long he's going to play? He loves to play. He'd love to play the whole 60 minutes if he could. I think he wants to play the full game without coming off the ice. His longevity is outstanding."
So, too, noted Osiecki, is the person and player who was selected seventh overall by Nashville in 2003.
"Loyal. He's very loyal, humble and a workhorse. His play obviously shows that. And then you look at his family and what they represent around Madison. Those are the things that come to mind for me."
All of which makes the 33-year-old defenceman the ideal role model for Wisconsin's blueliners.
"A lot of his game is underrated, in my opinion," said Osiecki. "There's not a lot of flash, it's just consistent all the time. Whether it's moving forward with the puck or from the red line back, he's just always consistent. You always know what you're getting with him."