Player of the Week | Auston Matthews
Auston Matthews scored his league-leading 10th goal of the season to extend a six-game point streak (10-4–14), while showing some flair away from the rink as well.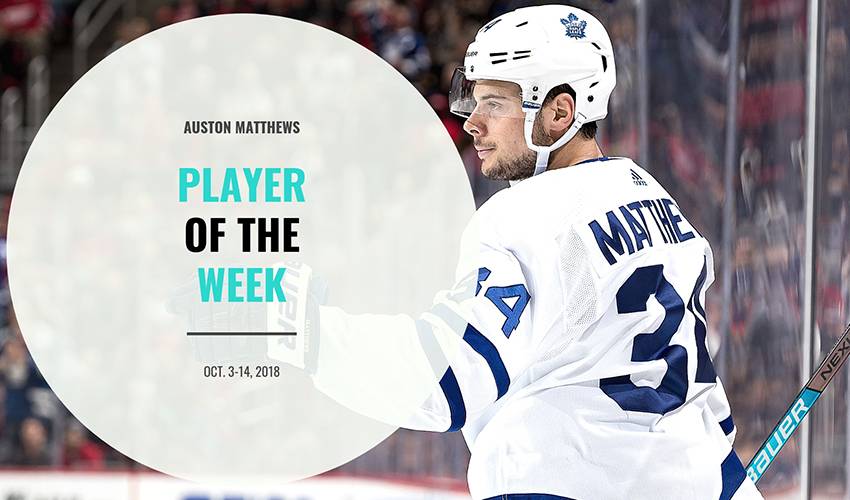 Auston Matthews
OCT. 3-14, 2018
10-4

–

14 OVER 6 GP

LEADS LEAGUE IN GOALS AND POINTS

SIX-GAME MULTI-POINT STREAK

TWO GAME-WINNING GOALS
---
What a start for Auston Matthews, who in addition to leading the league with 10 goals and 14 points to start the 2018-19 NHL season, is giving fans a glimpse of the personality that accompanies his goal-scoring prowess.
Ahead of puck drop on the Toronto Maple Leafs' season opener at newly named Scotiabank Arena, Matthews was the subject of a GQ photoshoot and feature in which he opened up about his career and his style influences.
It was the first in a pair of closeups as it wasn't too long before Sharp Magazine announced Matthews as the cover of their November 2018 issue.

Questionable jackets aside, Matthews' style on the ice left no room for such debate.

LOOKING BACK

OCT. 3
2-0

–

2, 3 SOG, 17:29 TOI
---
TOR 3
MTL 2, F/OT
Matthews opened scoring for the Maple Leafs in the first period to even a 1-1 score on the power-play after the Montreal Canadiens struck first. New teammate John Tavares didn't leave the home crowd waiting long to score his first goal in blue and white for a 2-1 lead in the middle frame, but a quick response from Andrew Shaw evened the score again. A scoreless third period meant extra minutes – but Matthews just needed 1:01 to score his first game-winner of the week to earn the game's first star.

OCT. 6
1-1

–

2, 4 SOG, 20:20 TOI
---
TOR 3
OTT 5
With their provincial rival in town, the Maple Leafs would fall in a back-and-forth game ending in a 5-3 loss with Thomas Chabot and Mark Stone scoring third-period goals for the Ottawa Senators. Though it was Toronto's first loss of the season, Matthews saw positives and opportunities while leading the game's forwards with 20:20 of ice time and picking up a goal and an assist.
"I think we played a much better game than we did opening night against Montreal," Matthews told reporters postgame. "I think at times we really had them hemmed in and couldn't capitalize on chances. We ended up making a small mistake, and they ended up capitalizing. Sometimes the little things make a big difference."

OCT. 7
2-2

–

4, 3 SOG, 16:53 TOI
---
TOR 7
CHI 6, F/OT
Matthews extended his point streak to three games with a four-point night (2-2–4) in which he assisted on Morgan Reilly's OT game-winner – the third of what's become five straight overtime games for the Chicago Blackhawks.
It was a wild 13-goal affair with plenty for a raucous United Center crowd to cheer for, but it was the ribbing in back-and-forth celebrations by Matthews and Patrick Kane that stole the show in the eventual 7-6 win for the Maple Leafs.
Auston Matthews makes it 6-5 and silences the crowd. Patrick Kane makes it 6-6 and mimics the celebration. Matthews grins on the bench pic.twitter.com/l4nTOFgCzu

—

Brady Trettenero (@BradyTrett) October 8, 2018

OCT. 9
2-0

–

2, 4 SOG, 18:30 TOI
---
TOR 7
DAL 4
In another high-scoring game, the Maple Leafs left Dallas with a 7-4 victory – in which Matthews chipped in a pair of goals to push his streak while becoming the sixth player in franchise history to score a goal in the first four games of the season.

OCT. 11
2-0

–

2, 3 SOG, 19:35 TOI
---
TOR 5
DET 3
Matthews lit the lamp twice, again, with his eighth an ninth goals of the season coming on the power-play. He earned the game's first star with his second tally coming as the game-winner. Though by the end of the night, the team's combined efforts were clear. Tavares (who had four assists on the night), Matthews, Rielly, and Mitch Marner, combined for 44 points to hold down the top four spots in overall league scoring.
"We have a lot of guys who can finish, on this team, especially when we are on the power play," No. 91 said postgame. "When I get the puck, I'm just trying to get it to an open player. If that's [Matthews], it is an automatic goal right now."
Matthews became the 12th player in league history to record multi-point performances in each of his team's first five games.

OCT. 13
1-1

–

2, 3 SOG, 18:40 TOI
---
TOR 5
DET 3
Matthews closed out his week with his 10th goal for his 14th point of the season to stay atop the categories while earning the game's first star. Matthews became just the second Maple Leafs player in franchise history to score in each of his first six games, while the the club closed out their road trip with a 4-2 win over the defending Stanley Cup Champion Washington Capitals.
It was no easy feat.
"We know coming into this building it's going to be a challenge, Matthews told reporters postgame. "Washington has been a powerhouse for years now. You know it's going to be a test for our group, and I thought we answered the bell. It was back and forth there. We made some big mistakes, but Freddie (Andersen) kept us in the game. The third period, we got back to playing our kind of game; fast, getting the puck in and playing for the most part simple, [which] allows our work ethic and skill to take over."

Looking ahead
After sweeping their four-game road trip, Toronto heads home for a Monday night matchup against the visiting Los Angeles Kings. Matthews looks to become just the fifth player in NHL history to start a season with seven consecutive multi-point games. He would be in elite company accomplishing the feat alongside Mario Lemieux (12 GP in 1992-93), Kevin Stevens (8 GP in 1992-93), Wayne Gretzky (7 GP in 1983-84) and Mike Bossy (7 GP in 1984-85).