Byron honoured to wear the 'A'
It's an honour Paul Byron never saw coming, but one that he wears proudly and humbly.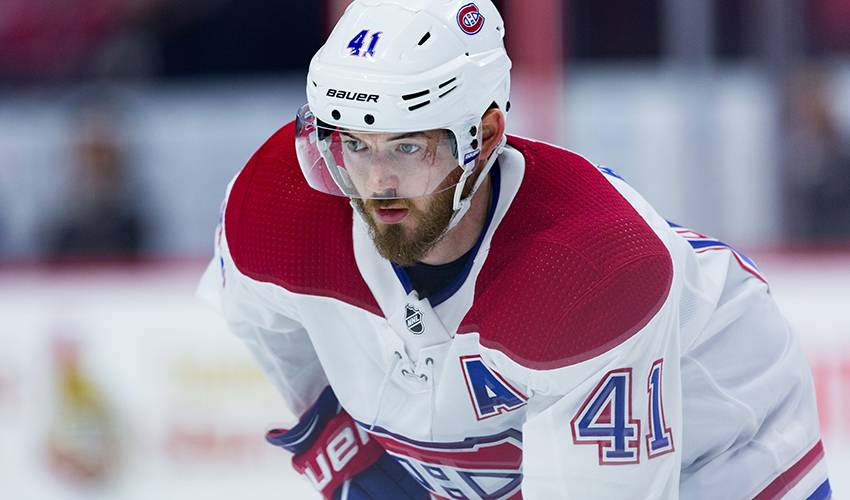 It's an honour Paul Byron never saw coming, but one that he wears proudly and humbly.
On October 1, the Montreal Canadiens named veteran defenceman Shea Weber the 30th captain in team history. The Habs also announced two alternate captains, namely, Brendan Gallagher and Byron.
Byron found himself at a loss for words when he was given the news about the 'A' being added to his sweater.
"I was surprised and happy at the same time," said the 29-year-old forward. "It's a tremendous honour and I was really caught off guard by it. I was lucky I got to wear it a little bit last season, but the first game of the year, when it's official, it's a little bit of a surreal feeling. It doesn't seem real yet."
Dozens of phone calls and text messages helped put it in perspective.
"My friends and family we're all thrilled when they found out," offered the sixth round, 179th overall selection of the Buffalo Sabres in the 2007 Entry Draft. "My friends back home decided to give me a hard time and were joking around, but a lot of people texted me a congratulations message, so it was pretty cool. It made me feel pretty good."
So, too, did signing a four-year contract extension with Montreal prior to the start of the season.
"We are very happy to have signed Paul Byron to a contract extension," said GM Marc Bergevin of the left wing who was claimed off waivers by the Canadiens (from Calgary) on October 6, 2015. "Paul is a fierce competitor, and an example of courage and will. With his speed, his play on both sides of the ice and his skills, he is a key element of our team."
In 2017-18, the speedy Byron recorded 35 points in 82 games with the Canadiens He ranked second on the team in goals and was one of four players on the team to play in all 82 games. He was also the recipient of the Jacques-Beauchamp-Molson Trophy in 2015-16 and in 2017-18 (the player who had a dominant role with the team during the regular season, without obtaining any particular honour).
The Ottawa native hasn't taken any of it – his opportunity in Montreal, alternate captaincy and a new contract – for granted.
"Life hasn't really changed for me," said Byron. "It's always a day-to-day thing. I focus on one day at a time. A lot has happened (career-wise) over the last few weeks, but when you think about it, sitting down at the dinner table, it's all very surreal. I just keep everything very simple. It's always worked for me."
Which is why his new appointment won't affect how he goes about his business on and off the ice.
"You look at some of the names of the Montreal Canadiens who have worn that letter and to see your name with theirs is an unbelievable feeling. My kids are four and five now, so to sign that contract – I'm happy we get to stay here because they love it and so do I."