White looks to build on junior international success
Several years ago, Ottawa Senators forward Colin White was forced to make an important athletic decision.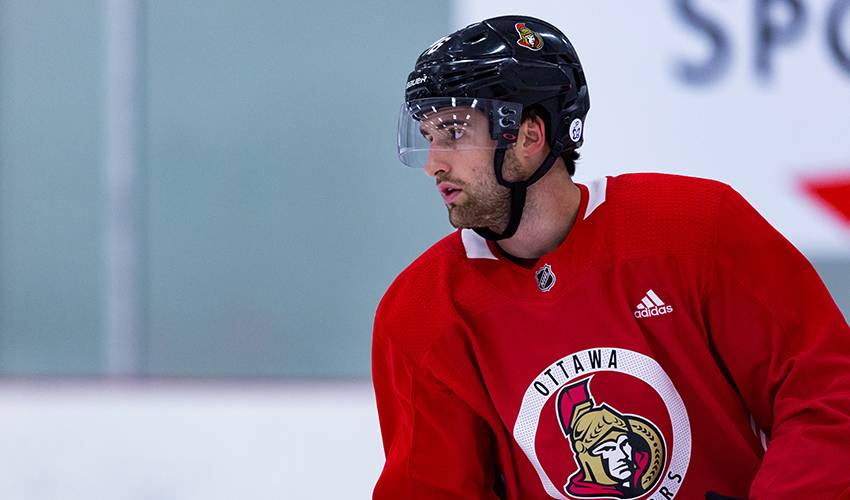 Several years ago, Ottawa Senators forward Colin White was forced to make an important athletic decision. Did the Boston native want to pursue a career as a hockey player or possibly one day chase down fly balls for the Boston Red Sox in centre field at Fenway Park?
"Not many people know this, but I played baseball, football, hockey and soccer as well when I was younger," the 21-year-old White said.
"I loved baseball and I definitely could have gone that way. But I chose hockey and it obviously was the best decision for me.
"Growing up in Boston, in order to fit in I went out and played street hockey and I fell in love with the game."
White was raised in an athletic family. His mother Christine performed for the varsity tennis team at Florida State University. His father Mark was a linebacker on the nationally-ranked Georgia Tech football team and was an all-American discus thrower. The two-sport, eight-time letterman later was inducted into the Georgia Tech Sports Hall of Fame.
White confessed that his mom can beat him at tennis.
"I can get to her shots, but she hits it harder than me," Colin said.
His dad was a big influence, especially in keeping his son in good condition.
"My father still works out every day," said Colin, whose Dad has slimmed down considerably from his 6-foot-3, 245-pound university football and track and field days.
"He had me in the basement shooting pucks, lifting weights and working on my footwork. If definitely was a big help having athletic parents. My mom and dad have been around sports all their lives. They know what it takes."
Colin has proven to be a quick study in pursuing his own athletic career. After attending New England's Noble and Greenough prep school, he joined the United States national junior development program in Ann Arbor, Michigan.
It was with the U.S. junior program he began a four-year string of medals with different national teams. He won gold medals at the 2014 World Under-17 Challenge in Sydney, Nova Scotia, and 2015 World Under-18 Championship in Switzerland. White scored the overtime winner in the gold medal final of the under-18s.
He also won a bronze medal and gold at the 2016 and 2017 world junior tournaments, respectively, while attending Boston College.
Last spring, the 21st overall selection of the 2015 NHL Draft was invited to play for the U.S. at the World championship in Denmark. White and the U.S. squad defeated Canada 4-1 in the bronze-medal game.
Performing at the world championship was a nice way for White to complete his first full pro season, which began slowly after he suffered a broken left wrist in a preseason game last September.
He wound up splitting the regular season with the Senators (21 games, two goals, four assists) and their AHL affiliate in Belleville, Ont. (47 games, 11 goals, 16 assists).
"It was a huge honour to represent the U.S. at the world championship level, playing alongside some of the best players in the league," said White, who also played alongside Matt Duchene and Mark Stone during his time in Ottawa last season.
"You learn so much from playing with great players, just getting to know them and seeing how they think the game has taught me so much."
"The world championship definitely was a confidence boost."