Raonic sees eye-to-eye with NHL players
Milos Raonic is taller than most NHL players, but the hard-hitting Canadian tennis player can certainly relate to them on a number of levels.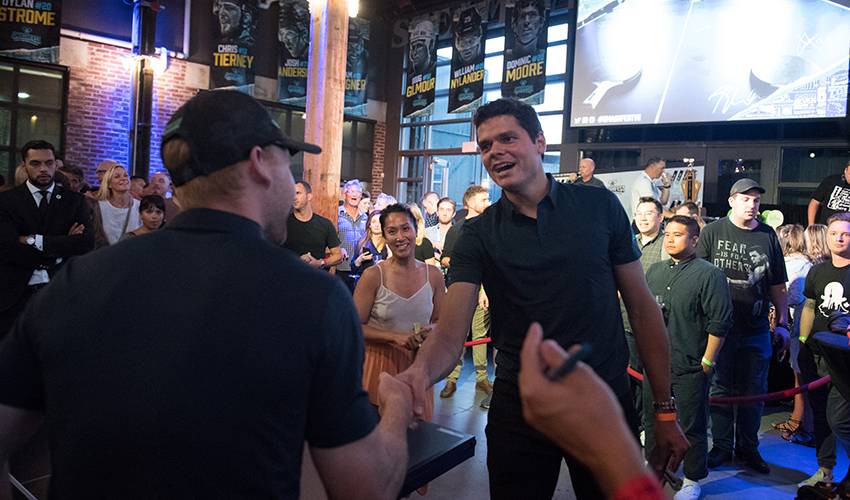 Milos Raonic is taller than most NHL players, but the hard-hitting Canadian tennis player can certainly relate to them on a number of levels.
It was hard not to miss the 6-foot-5, 216-pound Raonic during the recent seventh annual Smashfest charity ping-pong tournament. The event, hosted by Dominic Moore and supported by the NHLPA, took in a record-breaking $200,000 and has now raised over $865,000 to date for concussion and rare cancer research.
And while he didn't see eye-to-eye, literally, with the 20-plus NHLPA members, past and present, who came to support Moore, Raonic sees a great deal of similarities between tennis pros and pro hockey players.
"It's a lot of fun coming to this event," said the 27-year-old. "Every year, you run into some guys you know and then you have the opportunity to meet some new players. I've had experience over the years around the guys. A lot of them are here (Toronto) throughout the summer. You spend some time in the gym with a few different guys and have that opportunity to get to know them."

Raonic, who began playing tennis at the age of eight, recently reached the quarterfinals of the Cincinnati Masters. He won his first three matches in straight sets, before a tough three-set loss to Novak Djokovic.
On August 6, after his opening-round victory at the Canadian Open, Raonic took part in a ceremony honouring longtime Toronto tournament volunteer Anne Marie D'Amico, who died in April's van attack in Toronto. Raonic, Tennis Canada and New Balance teamed up to create an annual scholarship of $2,500, which will be awarded to a ball kid in both Toronto and Montreal to go towards higher education.
Giving back, something that is synonymous with NHL players, holds great significance for Raonic, too.
He founded the Milos Raonic Foundation in 2012, which helps disadvantaged youth become active, productive members of society. The foundation received an ATP ACES For Charity $15,000 grant in 2016, which it matched for a total of $30,000.
"Any time you can help others, you do whatever you can to lend a hand," said Raonic, who was named QMI Agency Canadian Male Athlete of the Year in 2012, Sportsnet's 2013 Canadian Athlete of the Year and the Lionel Conacher Award recipient in 2013 and 2014.
It's not the only thing that Raonic, who continues to build friendships with more and more hockey players, shares in common with those who play the game at the highest level.
"You see that hockey players work extremely hard," he said. "I think we both have that appreciation for one another. We have that reputation of extreme demands in our sport, how we approach things with incredible discipline and intensity, and you see that with these guys."
As for which NHL player Raonic would like to face-off against on the tennis court, the man with eight career titles and a runner-up finish at Wimbledon in 2016 likes the idea of a playoff-type format.
"There are a lot of NHL guys that play tennis," noted Raonic. "(Recently retired) Alex Burrows, he played it growing up and I know Sidney Crosby takes it pretty seriously. He was at Wimbledon this year. The more fun way for me would be to do a little tournament, sort of a casting call to see which guy comes out on top."