With a Hart Trophy in hand, Hall sets sight on a shorter summer
There's no doubt Taylor Hall has some serious hockey skills. His SPF skills, however, could use some work.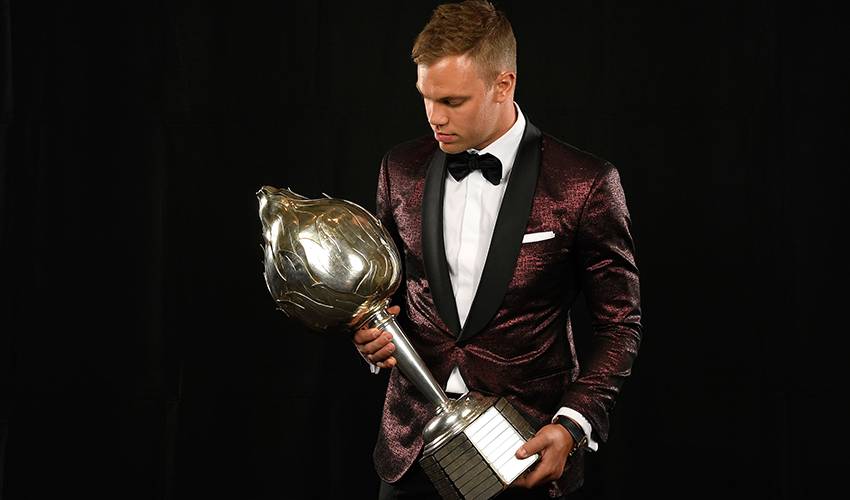 There's no doubt Taylor Hall has some serious hockey skills. His SPF skills, however, could use some work.
The 2017-18 NHL season proved to be a memorable one for the 26-year-old Hall. Aside from experiencing playoff hockey for the first time in his career, the New Jersey Devils winger was named the league's MVP and was on the shortlist for the NHLPA's Ted Lindsay Award (the player voted as most oustsanding by his NHL peers).
The No. 1 pick in the 2010 draft, Hall became the first New Jersey player to win the NHL's top individual honour in a season that saw him finish sixth overall in scoring with 93 points.
Not surprisingly, he was still smiling when he joined 20-plus fellow NHLPA members, past and present, for the 26th annual NHLPA Golf Classic held at Glen Abbey Golf Course on July 11.
"My Vegas trip to go to the awards show was great," said the Calgary native. "It was very relaxing. I spent all my time at the pool, so you can't beat that. After the season was over, I went to the Bahamas with my parents and it was really nice. We had a great time.
"I actually went there last year during bye week and it rained all the time. I was able to go this time and enjoy it a lot more. Being able to do something like that with your parents after the season is something you really value."
As it turns out, hockey hardware isn't the only thing Hall has a flair for reeling in.
"We fished one day and it was a great time," he recalled. "It was my dad, my uncle and myself. We ended up coming home with three dinners worth of food. It was awesome."
There was only one negative during his trip to Bahamas, something Hall is determined not to see happen again.
"I got a pretty nasty sunburn when we were out there," Hall said with a laugh. "It wasn't much fun. I'm not a fisherman by any means, but to catch those fish and cook them up – that was a pretty nice feeling."
Remembering to put on some extra sunscreen won't be an issue next time around.
"No it won't. Definitely not," he deadpanned.
Hall's hopeful his 2019 summer vacation plans – whatever and wherever they may be – come later on in the year.
After the Devils made the playoffs for the first time in five years in 2017-18, the alternate captain now has his sights set on going beyond the first round (New Jersey was ousted in five games by Tampa Bay in the Eastern quarterfinals).
"Once the season's done you have time to look back," Hall said. "It was definitely a successful season, but at the same time, I watched playoff hockey for a month and a half before the Cup was handed out. So we're a long way from where we want to be."