Andrej Sustr finds therapy through creating
For as long as he can remember, Andrej Sustr has had an affinity for art, whether it's viewing works of others or creating his own.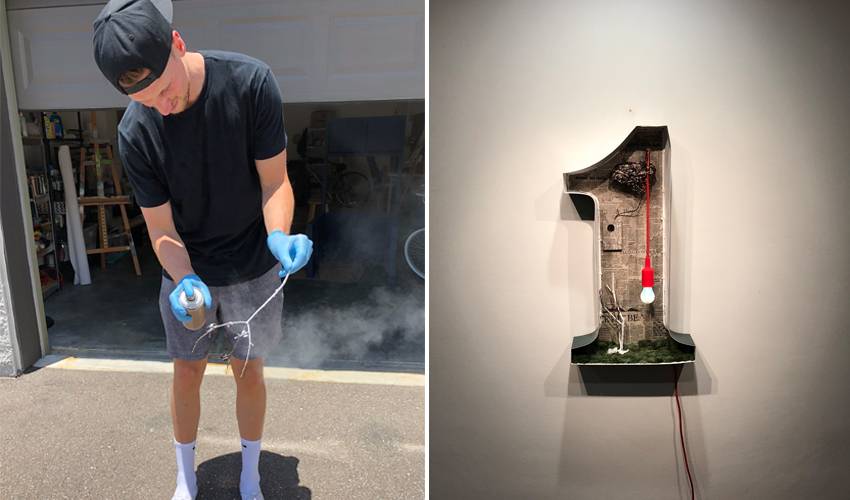 For as long as he can remember, Andrej Sustr has had an affinity for art, whether it's viewing works of others or creating his own. This past NHL season, the 27-year-old experienced it through an entirely different lens, specifically, in its power to heal.
The 2017-18 NHL season didn't play out the way the 6'7", 220-pound defenceman from Czech Republic had anticipated. Sustr appeared in only 44 regular season games for Tampa Bay and was inactive during the Lightning's playoff run.
While it wasn't what he anticipated, the towering blueliner sees it as a breakthrough season for him as a person.
"This past year, it was a little different for me," Sustr told NHLPA.com. "I wasn't playing as much as I used to. I get a lot of joy from playing hockey and with that being taken away from me, I found myself getting a little depressed, to be honest. But I was fortunate to surround myself with people who cared."
---
---
One of those people was Bianca Burrows, a local Tampa artist who Sustr met during his time in the Sunshine State.
The two struck up a friendship, one that eventually helped rekindle the defenceman's longstanding love of art.
"I come from a family – my parents have a glass business – where they do very creative stuff," Sustr said. "It's not really as artsy. It's more functional. They create things like tables, glass doors – things like that. Growing up – they started the business when I was five – I was always around them up until I was about 14. You see different buildings and you see these objects come to life from nothing. I think that was always shaping me. I've always had an appreciation for art and design.
"Then I met Bianca and we became friends. She decided to make artwork for me, just as a gift. I said to her, 'Listen, I'm going to come and help you out.' I went to her art studio and helped out, just hanging around her. All of the sudden, I remembered those days as a little kid taking art classes, in grade six, seven and eight. I always enjoyed creating things, with paper or putting something together."
The more he time he spent at the studio, the more Sustr found himself relaxed and able to put his tough hockey season into perspective.
On July 3, he took to Twitter to unveil a creation of his own, writing: Art has taught me a lot about life, but most importantly that Failure creates a path to something Extraordinary, as long as you stick with it! #satisfaction
"For me, it's a beautiful away to relax, to get away from the stress I was feeling," Sustr offered. "It was actually a shift going from feeling depressed to finding a new perspective on everything. It gave me a sense of happiness and joy. It was almost like a therapy for me.
"I didn't post it on Twitter for validation or a pat on the back. For me, it goes beyond that. Obviously, it's very nice to hear those comments and that people have taken notice. It's definitely empowering."
As for Sustr's work, it was a genuine labour of love, intricate in detail with long hours spent perfecting the piece.
"The number one represents one person, one body, one mind, however people want to interpret that themselves," Sustr noted. "There's a little mirror, it's like an old cassette that I wrapped in a paper. It kind of served like a medium, the soul of you or someone's mind, I would say. The little mirror that's circled, it's from a television series called True Detective that stars Matthew McConaughey. He has a little mirror on the wall that I was always curious about. I read about it this year and what it shows is how your brain works like hemispheres.
"The brain in the artwork, I just added that with wires I bought. It was actually relaxing at the time, piecing it all together, wiring it and weaving it through. That was enjoyable. There's also a light that comes down. I think every person has some good in them. Sometimes it's hard to find it, but I think it represents that light deep inside of you."
For the creator, the art represents a part of his past, present and future.
He's not sure where he'll hang it when he finds his new place Anaheim, the city he'll call home for the 2018-19 NHL season.
On July 5, Sustr, who has 63 career points in 318 career NHL games and two goals and three assists for five points in 46 career Stanley Cup Playoff games, signed a one-year contract with the Ducks.
"When I was struggling with some negative thoughts, turning to art really helped me," he said. "It showed me that life goes beyond hockey. It was about the process of making it, being invested emotionally. I think it helped me become a better person. I'm really excited about the start of the new season and this new opportunity."