26th annual NHLPA Golf Classic raises over $100K
The 2018 edition of the NHLPA Golf Classic was a success, contributing over $100K for player-supported charities.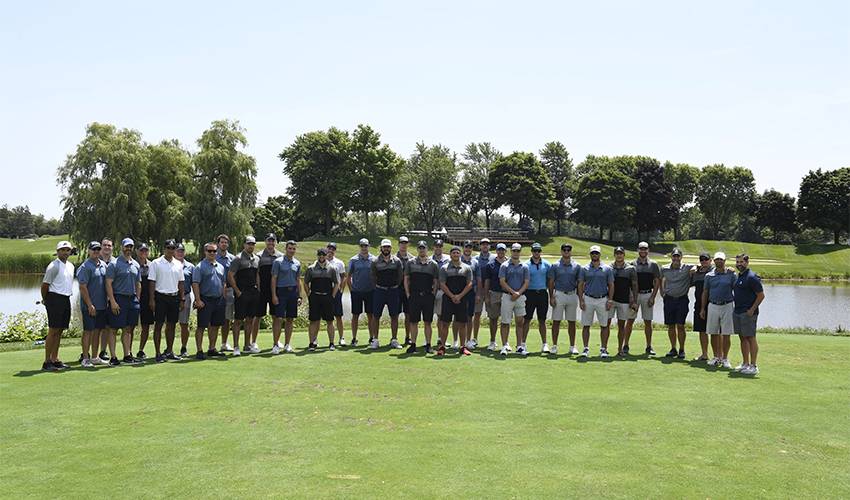 Making a difference in their communities. Lending their time and support to charitable endeavors. Strengthening long-term friendships. Meeting one another and building relationships off the ice, while teeing off at an iconic golf course. For over 25 years, all are indicative of what the NHLPA Golf Classic symbolizes.
Taking place at Glen Abbey Golf Club in Oakville, Ontario, for the second straight year, more than 20 current NHLPA members and several former members, along with corporate partners and sponsors, hit the links on Wednesday for the 26th annual tournament.
Among the NHL players taking part were Andreas Athanasiou, Andy Andreoff, Connor Brown, Casey Cizikas, Cory Conacher, Logan Couture, Adam Cracknell, Micheal Haley, Taylor Hall, Dougie Hamilton, Freddie Hamilton, Scott Harrington, Adam Henrique, Michael Hutchinson, Nazem Kadri, Scott Laughton, Josh Leivo, Brandon Manning, Brandon Montour, Dalton Prout, Tyler Seguin, Devin Shore and James van Riemsdyk.
Many former NHL players were also in attendance, including Mark Bell, Mike Gartner, Todd Harvey, Nick Kypreos, Steve Larmer, Grant Ledyard, Mark Osborne, Mike Peca and Scott Walker.
As has been the case throughout its history, the event once again focused on supporting numerous, and noteworthy, charitable causes.
Each current NHLer who attended will receive a share of the proceeds from the Golf Classic for the charity of their choice.
Taylor Hall, the 2018 Hart Memorial Trophy winner and finalist for the NHLPA's coveted Ted Lindsay Award, chose Boys & Girls Clubs of Canada as his charity for today's event.
"Any time you have the chance to give back, you're happy to do whatever you can," said Hall. "This is a day you get to enjoy playing golf and spending with your fellow players, but you also have the opportunity to shine the light on some great causes."
Anaheim forward Adam Henrique, a former teammate of Hall's in New Jersey as well as Windsor in the OHL, selected Stedman Community Hospice as his charity of choice.
"A few friends of mine back home, their families have gone through the hospice," said the 28-year-old forward. "Seeing how much it meant to them and their families, it's kind of special that we can help out in any way we can."
It's something Rob Zamuner experienced over his 798-game NHL career.
"The guys love giving back, raising money for worthwhile causes and meeting the corporate partners," said Zamuner, NHLPA Divisional Player Representative. "As a former player, giving back is a big part of the culture. The current guys are similar to us during the days we played. Any time you have a chance to do something within the community, it's great to do your part. Devin (Smith, Senior Director, Marketing & Community Relations) and his team, they do a wonderful job putting this all together."
It was a sentiment echoed by Kypreos, who played nearly 450 NHL games before taking on the role of television hockey analyst.
"I love it," said Kypreos. "It's really important to me. It's important because you recognize your history with it. As a 52-year-year-old guy who has been out of the game for over 20 years, it's great to see the relationship between the former and current guys. Every year, it's a fantastic opportunity for us to come together.
"It's not too much different from when we played, where we were competitive on the ice, but we understood that if there is a mutual respect within that competitiveness, then it's just part of the game. Being removed the game, you appreciate it even more."
Prior to the start of the 18 holes, players and guests made their way inside the Glen Abbey clubhouse for a BBQ banquet and reception that was emceed by Toronto media personality Gord Stellick. The afternoon featured a brief speech from Mathieu Schneider, NHLPA Special Assistant to the Executive Director, and a Q&A session with current and former NHLPA members.
At the end of the day, Dougie and Freddie Hamilton's foursome took home the top honours for lowest player score of the tournament at 134. Following the tournament, Cory Conacher won the Nobis Par 3 Challenge in a playoff approaching the green on hole #18 to win $6,000 in Nobis clothing, while a total of $10,000 of value in Nobis clothing was awarded to the three top finishers.
Couture, one of the league's top offensive players and alternate captain for San Jose, was back again this year.
Last year, he won the Charity Challenge, along with $25,000 for See The Line.
"I had one lucky shot that won my charity some money," said the 29-year-old, who once again chose See The Line as his charity of choice. "It was really nice to win some money for them. It was a lot of fun. You get to play a beautiful golf course and spend time with other players, meet some new ones and have a great day."
Since its inception in 1993, the tournament has raised over $3.6 million for the designated charities, including over $100,000 today.
Here's a look at some of the causes the players supported this year:
| Player | Team | Charity |
| --- | --- | --- |
| Andy Andreoff | Tampa Bay Lightning | Heart and Stroke Foundation |
| Andreas Athanasiou | Detroit Red Wings | Cystic Fibrosis Canada |
| Connor Brown | Toronto Maple Leafs | Sick Kids |
| Casey Cizikas | New York Islanders | Kids Help Phone |
| Cory Conacher | Tampa Bay Lightning | JDFR Canada |
| Logan Couture | San Jose Sharks | See The Line |
| Adam Cracknell | Toronto Maple Leafs | East Kootenay Child Development Center |
| Louis Domingue | Tampa Bay Lightning | Fondation Laurent Duverynay-Tardif |
| Micheal Haley | Florida Panthers | Noelle's Gift |
| Taylor Hall | New Jersey Devils | Boys & Girls Clubs of Canada |
| Scott Harrington | Columbus Blue Jackets | The Neuro |
| Dougie Hamilton | Carolina Hurricanes | Carolina Hurricanes Kids 'N Community |
| Freddie Hamilton | UFA | Brock Niagara Penguins |
| Adam Henrique | Anaheim Ducks | Stedman Community Hospice |
| Michael Hutchinson | Florida Panthers | SickKids |
| Nazem Kadri | Toronto Maple Leafs | Nazem Kadri Foundation |
| Scott Laughton | Philadelphia Flyers | The Claude Giroux Foundation |
| Josh Leivo | Toronto Maple Leafs | Bryan & Amanda Bickell Foundation |
| Brandon Manning | Chicago Blackhawks | The Claude Giroux Foundation |
| Brandon Montour | Anaheim Ducks | Police Athletic League |
| Dalton Prout | Calgary Flames | GM St. Clair Green Giants |
| Tyler Seguin | Dallas Stars | Dallas Stars Foundation |
| Devin Shore | Dallas Stars | Heart and Stroke Foundation |
| James van Riemsdyk | Philadelphia Flyers | Boomer Esiason Foundation |