With newfound patience, setbacks are temporary for Carr
Daniel Carr has made the most of a difficult time in his life.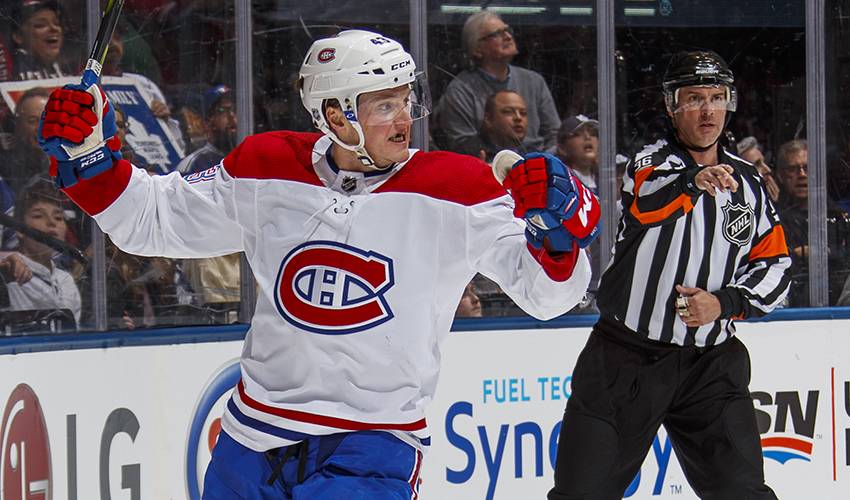 Daniel Carr has made the most of a difficult time in his life.
Nine months ago, the 26-year-old left wing arrived at his fourth Montreal Canadiens training camp, hoping to crack the roster for good.
After four years at Union College that included an NCAA Frozen Four championship in his final season, the Canadiens signed the undrafted Carr to a free-agent contract in 2014. He spent his first pro season exclusively with the AHL Hamilton Bulldogs and the next two years bouncing back and forth between the AHL and Montreal while also enduring a knee injury, elbow infection and concussion.
But Carr was placed on waivers last Sept. 30 and was demoted to start the year once again in the AHL with the Laval Rocket.
The disappointment turned into devastation when Carr was summoned home to Sherwood Park, Alberta, a few days later because his father Jim had passed away at age 65 after a brief battle with an undisclosed illness.
The elder Carr was a beloved figure in the hockey community in the Edmonton area. He had helped the University of Alberta Golden Bears capture a couple of national championships in 1976-77 and 1977-78.
He became a respected lawyer and an agent for local players like Wade Campbell, Cory Cross and Hnat Domenichelli. Jim was a mentor and friend to his sons Daniel and David, a defenceman who is two years older than Daniel.
It was at a get-together to celebrate Jim's life on Oct. 10 that Daniel ran into family friend, Perry Pearn. The latter played midget hockey against Jim. They attended the University of Alberta together and Pearn had Jim as an assistant coach when Pearn was at the helm of the powerhouse Northern Alberta Institute of Technology.
Pearn later became a reliable assistant coach in the NHL for more than 20 seasons with the Winnipeg Jets, Ottawa Senators, New York Rangers, Montreal and the Vancouver Canucks. He often enlisted Jim's services with contracts he signed with these teams.
"I saw [Pearn] when I was home," Daniel recalled. "I had some questions for him and we bounced around a few different ideas.
"He gave me some pretty good advice. He told me that I needed to approach my career as a marathon, not a sprint. I needed to be ready to go once I returned [to Laval]."
Carr did just that. He went out and scored 11 times and chipped in 19 points in his first 20 games with the Rocket, prompting the Canadiens to recall him on Nov. 30.
Upon his recall, he made an immediate impact with a five-game point streak that included two goals and five assists. This time Carr stuck with Montreal and remained with the club for the rest of the season, enduring himself to the Canadiens faithful with his work ethic on the fourth line.
"I started to learn a lot more about the pro game," said Carr, who checked in with six goals and a career-high 16 points in 38 games. "I previously had gone out and played not to make mistakes.
"Vanilla is the right word. I was too vanilla instead of going out there to accomplish things. If you're not making plays, you're not sticking around. Being generic is not going to get it done."
Back home Pearn proudly watched Carr's develop into a dependable player with the Canadiens, especially in the defensive department.
"I've always thought Daniel was a strong offensively, especially from the blue line in," said Pearn, who helped the Canadian Olympic women's team last February. "He has been strong in that part of the game at every level.
"He worked hard on his game defensively, an important part of the pro game. His two-way game was good last season. He was patient."
Carr will have to be patient this summer. The Canadiens decided not to make a qualifying offer this week, making the left wing an unrestricted free agent. It was a setback, but nothing compared to what he endured nine months ago.
Merci Montreal for giving me an opportunity to play for the most storied organization in sport. A true first class organization! pic.twitter.com/O8q8djieQQ

—

Daniel Carr (@DanCarr9) June 25, 2018