An unforgettable worlds in hometown for Nielsen
Frans Nielsen felt like a proud papa during the recently concluded 18-day 2018 IIHF World Championship contested in Denmark.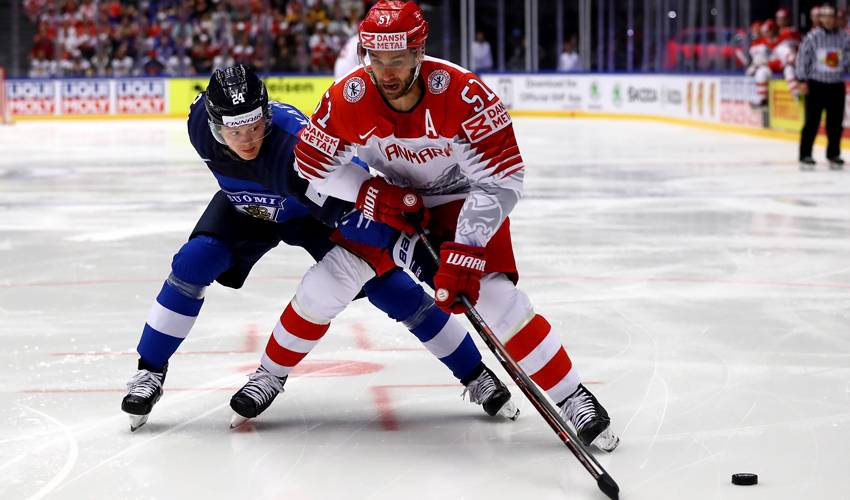 Frans Nielsen felt like a proud papa during the recently concluded 18-day 2018 IIHF World Championship contested in Denmark.
The 34-year-old Nielsen has played a massive role in the rise of hockey in Denmark over the past two decades. He was 18 when he helped his country advance from the Division I ranks to the top group of the world championship.
Still, he never thought he would see the day that Denmark would play host to the world championship tournament.
"The worlds were great for Denmark," the Detroit Red Wings veteran centre said. "I think we have gotten a lot of new fans that never watched hockey before. It got so popular they had to put our games on a [television] channel everyone in the country has."
Hockey always had more appeal for Nielsen over Denmark's two most popular sports, soccer and team handball.
You see, his father Fritz, coached the local pro team in his hometown of Herning and made it easy for Frans to fall in love with hockey. Herning played host to all of Denmark's games in the worlds.
"My dad played and coached the pro team in Herning my whole childhood," Nielsen said. "So basically I grew up in a hockey rink.
"It's a small town of about 80,000 people. But it's one of the only towns I would actually call a hockey town in Denmark. There always has been lots of hockey tradition here."
Dane goalie Frederik Andersen is also from Herning, and a close friend of Nielson's younger brother, Simon – also a goaltender.
Nielsen and his country notched wins over Germany, Finland, Norway and South Korea in their seven outings, but the heartbreaking 1-0 loss to Latvia in Denmark's tournament finale cost them a spot in the quarterfinals.
"It was something I'll never forget," Nielsen said. "I grew up a few miles from the arena we played at and never imagined as a kid we would ever get to play in the worlds in Herning.
"I don't think anyone ever saw that coming, and it's still hard to believe it actually has happened."
Sweden won gold in Denmark with a shootout win over Switzerland, while Nielsen's American Detroit Red Wings' teammates, Dylan Larkin and Nick Jensen, won the bronze-medal game against Canada.
"It's always weird to go up against teammates," said Nielsen, who led Denmark with three goals and six points in seven games. "But you try to put it aside and you don't think too much about when the game is going on. Then you go back to being friends after again. But it was nice to see they did well.
"Dylan had a great tournament and it's fun watching him taking steps every year. He's growing into a star in the NHL."
Sweden always has had a big influence on Denmark hockey because of its geographical proximity. The Øresund, a bridge that stretches eight kilometres before transitioning to a four-kilometre tunnel underneath the Flint Channel, connects Denmark's capital of Copenhagen with Malmö, Sweden. So before Nielsen dreamed of playing in the NHL, he wanted to play in Sweden.
In fact, he was performing for the Malmö Redhawks when the New York Islanders made him the fifth Dane to be drafted, and first to lace up, in the NHL. He was selected in the third round (87th overall) in the 2002 draft.
But he didn't make his NHL debut until Jan. 6, 2006, when he was promoted from the AHL Bridgeport Sound Tigers and skated in a road matchup against the Carolina Hurricanes.
He swiftly developed into one of the top two-way centres in the game and opened the door for other Danes to pursue pro careers in North America. Another 11 players from Denmark have played in the NHL since Nielsen made the jump.
Nielsen believes the world championship in Denmark will further help develop more hockey players down the road.
"To hear our national anthem with 10,000 fans singing was incredible," Nielsen said. "It was something I'll never forget. It was incredible and so much fun."