Hockey a love passed up through Rodrigues household
Hockey is a love that is usually passed down from generation to generation. For the Rodrigues family, it was the other way around.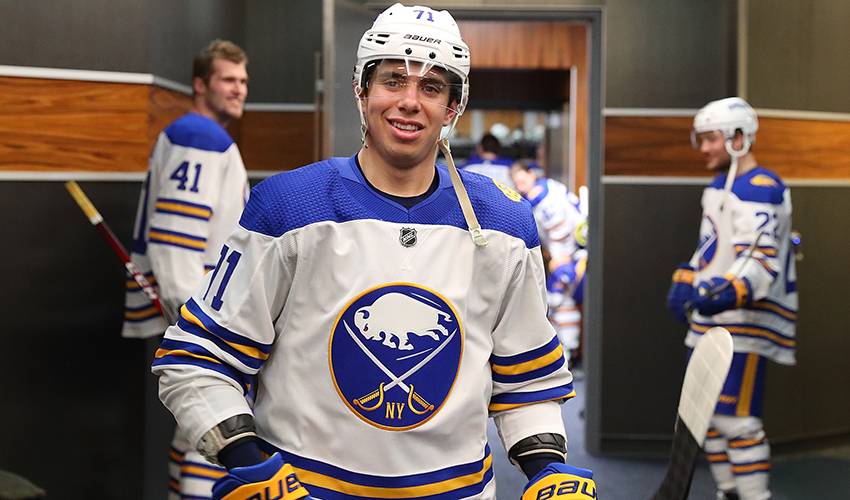 Mother's Day and other holidays always have been a special time in Evan Rodrigues' family.
It's a time for the second-year Buffalo Sabres forward and his older brothers, Ryan and Paul, to thank their parents for all the time spent driving them from game-to-game as well as the financial and emotional support to enable them to chase their dreams.
"They mean so much," 24-year-old Evan said. "They gave me a chance to be a professional hockey player. I wouldn't be where I am if it wasn't for them.
"Just think about how much time a hockey parent has to sacrifice. They would drive us all over the place. Hockey was all we knew."
Sometimes Paul or Evan can't make it home for special holidays because of their hockey. Last Saturday, the family gathered around to watch Paul and the Adirondack Thunder in the third round of the ECHL playoffs. There was a big roar in the Rodrigues family home when the Thunder defeated the Florida Everblades 3-2 in overtime to tie the East final at 1-1.
A similar occasion occurred back on Easter Sunday. Evan found himself at home in Etobicoke, just east of Toronto, because his Sabres were playing against the Toronto Maple Leafs on Monday, April 2.
After Easter dinner, the family gathered around to watch Adirondack's 6-2 victory over the Reading Royals.
"Even though Paul and I are busy with our careers we still find time to follow each other as much as we can and we lend support to each other," Evan said of his brother, who is five years older. "We watch each other's games and we talk often about how things are going."
Norbert Rodrigues and his family moved to Canada from Portugal when he was 12. He loved soccer as a kid and he is looking forward to seeing how the Portuguese will progress at the World Cup in Russia this summer.
But when Norbert became a bus driver for Mississauga transit and married Christine, a Toronto Transit Commission employee, hockey soon consumed the family when their three boys came into the world.
"With two older brothers who also played we grew up a hockey-heavy family," Evan said. "We all played hockey and they grew to love the game. There weren't too many nights when a game wasn't on television if we weren't playing."
Christine, now retired, admits that when she listens to her sons talk hockey, they might as well be speaking in a foreign language. She also still gets nervous watching them play after all these years. She sometimes covers her eyes when Paul or Evan have a good scoring opportunity or she will turn away when they are about to get hit.
Evan and Paul earned hockey scholarships and earned university degrees through hockey. Paul went to State University of New York at Oswego, winning the Sid Watson Award as the NCAA Division III player-of-the-year honours for 2012-13.
Evan attended Boston University and was a business administration and management graduate. He played on the same line as current Sabres teammate Jack Eichel at Boston University
Rodrigues wasn't drafted, but he kept improving in his four years at Boston University. So a couple months before Buffalo made Eichel the second overall selection in the 2015 draft, the Sabres signed Rodrigues to a free agent contract.
A hand injury kept him out of the lineup for the first two months of the 2017-18 campaign. He had to spend a couple weeks with the AHL Rochester Americans to get himself into game shape in mid-November, but after scoring five goals and 10 points in eight games the Sabres knew he was ready for a full-time gig in Buffalo.
"I can't thank my parents enough," Rodrigues said. "Not only were they supportive of us they taught us to work hard."