Maple Leafs and Senators to Face Off at Kraft Hockeyville 2018 Canada
The 2018 Kraft Hockeyville-winning community Lucan, Ontario, will host the Toronto Maple Leafs and Ottawa Senators in a preseason 'Battle of Ontario' matchup on Tuesday, Sept. 18, 2018.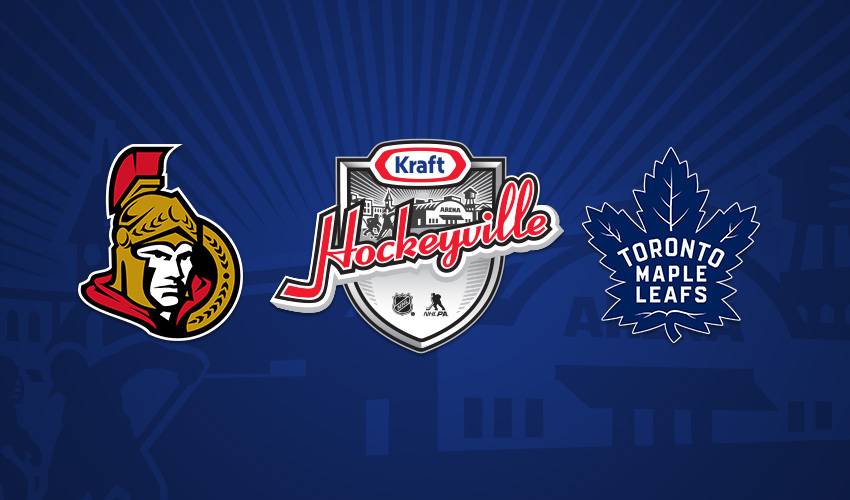 ---
TORONTO MAPLE LEAFS AND OTTAWA SENATORS TO FACE OFF AT KRAFT HOCKEYVILLE 2018 CANADA
NHL Preseason Game to be Played September 18, 2018
---
TORONTO/NEW YORK (April 19, 2018) – The 2018 Kraft Hockeyville-winning community Lucan, Ontario, will host the Toronto Maple Leafs and Ottawa Senators in a preseason 'Battle of Ontario' matchup on Tuesday, Sept. 18, 2018. The twelfth annual campaign received more than 9 million votes across the country, with the Lucan Community Memorial Centre receiving the highest number of votes as previously announced by NHL Commissioner Gary Bettman during Hockey Night in Canada on March 31, 2018.
"We're absolutely thrilled to have the Senators back and are excited to welcome the Maple Leafs who will be playing in a Kraft Hockeyville game for the first time," said Joanna Milroy, Director of Portfolio Marketing at Kraft Heinz Canada. "This will be a Kraft Hockeyville matchup Canadians will not forget!"
In addition to hosting the preseason matchup, Lucan, a southwestern Ontario town with a population of 4,500 residents, will experience a variety of programming within the community including NHL player and alumni visits, hockey clinics, and a pregame fan festival.
As previously announced, the Lucan Community Memorial Centre – a central hub for residents with structures nearly 70-years old – will receive $250,000 in arena upgrades. The arena, which supports boys and girls minor hockey and skating programs, will use the upgrade funding to replace arena seating, improve the locker rooms, and add a modern sound system.
"For the twelfth year, people across Canada continue to show the world the importance of local rinks in their community," said Brian Jennings, NHL Chief Brand Officer and Executive Vice President. "The road to the NHL starts at community rinks in places just like Lucan, Ontario. Congratulations to every community that was nominated, and to every youth hockey player, coach, hockey parent, and volunteer that can continue to call these rinks home. The League is proud to support communities that rally around their arenas so future generations have a place to play."
Lucan, Ontario will also receive $10,000 in equipment from NHLPA Goals & Dreams. The equipment donation will be distributed through the local organizing committee to a grassroots hockey program in the community to be used in the purchase of new equipment to help underserved youth play hockey. This donation continues the work of the players' charitable initiative, which for more than 18 years has assisted grassroots hockey programs all around the world.
"Players relish the opportunity to skate and play at rinks like the Lucan Community Memorial Centre, as it takes them back to their own childhood hockey experiences," said Sandra Monteiro, NHLPA Chief of Global Business Strategies. "The players from the Maple Leafs and Senators are excited to hit the ice for Kraft Hockeyville and showcase their Ontario rivalry for the passionate fans in Lucan."
Kraft Hockeyville Canada is a partnership with Kraft Heinz, the National Hockey League (NHL®), and the National Hockey League Players' Association (NHLPA) to support local rinks and community centres. Since its inception in 2006, Kraft Hockeyville has awarded more than $3.2 million to 77 communities across Canada and has celebrated 11 NHL preseason games in eight different provinces. Tickets to the preseason game are free and awarded to the winning community. Details on how to get tickets will be provided to the community closer to game day. For more information, visit krafthockeyville.ca.
###