Now on Jets' side, teammates appreciating Stastny's repertoire
A home loss to Nashville was hardly cause for celebration. The play of newly acquired Paul Stastny, however, was one big bright spot.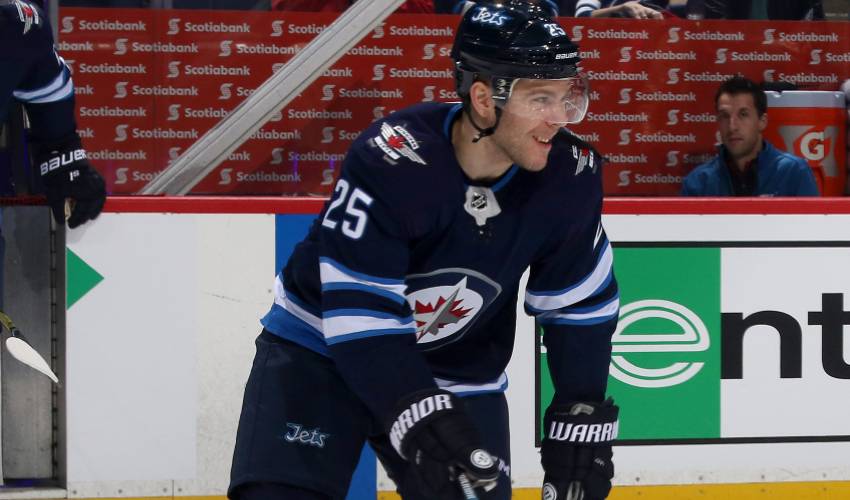 In a flash, Ben Chiarot watched as the puck blistered back from the face-off circle to where he was standing and on to the sweet spot of his stick. It unfolded exactly as he was told it would just seconds before.
Letting a two-goal lead evaporate in the third period and allowing six goals in a 6-5 home loss to Nashville on February 27 was hardly cause for celebration in the Winnipeg Jets' dressing room.
The play of newly acquired Paul Stastny, however, was one big bright spot.
Traded from the St. Louis Blues for a 2018 first-round selection, prospect Erik Foley and a conditional 2020 fourth-round pick, Stastny was simply stellar in his Winnipeg debut.
The 32-year-old centre netted a goal and an assist in his first game as a Jet, along with putting up some seriously impress stats in the faceoff circle, going 14 of 19 to produce a 73.7 win rate. He capped his evening off with Second Star honours.
It was the faceoff mastery that caught the eye of veteran Winnipeg defenceman Chiarot.
"Oh, man," started the blueliner. "You play against him and you see the offence he creates and the great plays that he makes. But when you play with him, you can truly appreciate just how great he is. He's automatic on face-offs but just so good defensively. He's always in the right spot."
And he makes sure his teammates are, too.
"It's his first game and we're in the offensive zone," started Chiarot. "I came over before the puck dropped and I say, 'Hey Paul, where do you want me, on the wall or in the middle of it? He looks at me and says, 'Stand right on the wall.' So I skate there, the players get called in for the puck drop and, boom! The puck is right back to my stick and I get a shot on net. It was unbelievable."
Since coming to Winnipeg, Stastny, who played the first 538 career games of his NHL career with Colorado before 267 games with St. Louis, has 10 points in nine games.
The 44th overall selection in the 2005 NHL Entry Draft has skated in 814 NHL games, scoring 219 goals and 643 points.
"He's a really easy guy to get to know," said Chiarot. "He's very easy to talk to. He's played in this league a long time and we're happy to have him."
And they're also happy to listen to what Stastny has to say before he skates toward the faceoff dot.
"That was amazing," offered Chiarot. "So you truly do appreciate all the little things he does. He's elite at doing the little things that have a big importance in hockey."