Patience paying off for Weegar
For those who believe the stereotype that millennials want it all and that they want it now, meet 24-year-old MacKenzie Weegar.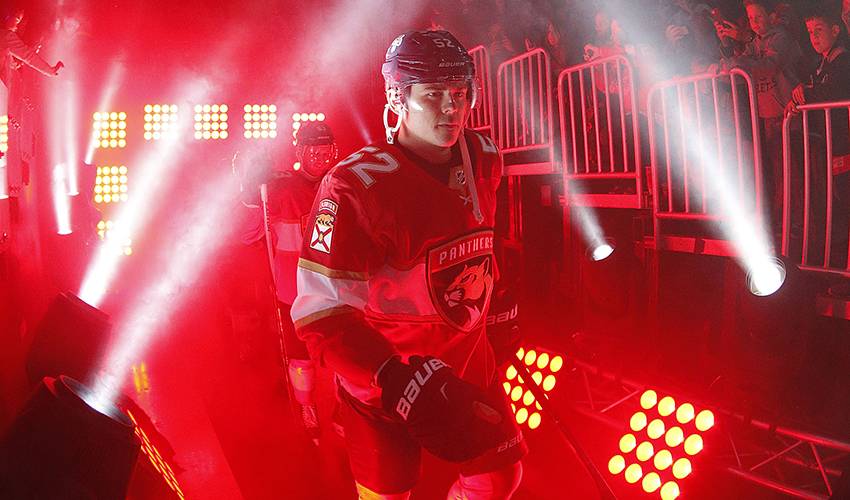 For those who believe the stereotype that millennials want it all and that they want it now, meet 24-year-old MacKenzie Weegar.
The thoughtful Florida Panthers defenceman debunks that notion. He has exhibited patience in his pursuit to find his place in the hockey world and doesn't take anything for granted now that he is three-quarters of the way through his first full NHL season.
"Patience has been a big thing for me," the six-foot, 212-pound Weegar said. "I never expected to get things right away. I knew the reality of things. I knew my chance would come and when that chance would come I would grab the opportunity."
Weegar was overlooked in junior for the Ontario Hockey League draft. So he settled in with his local tier II junior team, the Nepean Raiders.
At 17, his physique began to fill in. By the time he celebrated his 18th birthday, he was halfway through the 2011-12 season.
The Raiders, who also had current Vancouver Canucks defencemen Ben Hutton on their roster, were cruising. Eventually, they would win the Central Canada Hockey League's Bogart Cup championship in seven games against the Cornwall Colts.
Weegar played a big role in that championship. He was noticed. It also didn't hurt that his agent Matthew Ebbs was also his uncle and had a good relationship with Halifax Mooseheads general manager Cam Russell.
But because he was an Ottawa-area resident, Weegar had to be placed on waivers in the Quebec Major Junior Hockey League. When it became the Mooseheads' turn, Russell lassoed his target.
Weegar couldn't have been in a better spot. Fortified with young stars like Nathan MacKinnon, Jonathan Drouin and Martin Frk, the Mooseheads cruised to the QMJHL President's Cup championship. They also hosted and won the 2012-13 Memorial Cup.
Scouts flocked to watch the Mooseheads, including Paul Gallagher who was at the time with the Panthers and is now with the Canucks. But just a few weeks after Halifax's championship season had concluded, the Panthers didn't select Weegar until the seventh round (206th overall) with the sixth-last pick in the draft.
Weegar went back to the Mooseheads for one more season and had to play four full years in the minors before he was promoted for three games last April.
Now 40 career games later with the Panthers, he is one of only three players from the seventh round of his draft year to have played in the NHL so far. The other two are right wing Joel Vermin (24 games with the Tampa Bay Lightning) and defenceman John Gilmour (six games with the Calgary Flames).
"I enjoy every minute of hockey and I love playing the game," said Weegar, when asked what keeps him going. "I've been fortunate to have had a lot of positive people around me, a good support group and I've always been pointed in the right direction in what I need to do to get better."
Besides Ebbs and Russell, former Mooseheads coach Dominique Ducharme, who coached Canada to world junior gold last month, was a big help during their time together.
As a kid, Weegar would pick up pointers watching his cousin Craig Rivet play for the Montreal Canadiens and he would often attend games of his favourite junior team, the Ottawa 67's.
"I watched a lot of Montreal games because of my cousin, but I also went to a lot of the 67's games," Weegar said. "I looked up to a lot of those guys and it's funny now but I remember [current Panthers forward] Jamie McGinn was the captain of one of those 67's teams when I was a little guy."
In his first year of pro with the AHL San Antonio Rampage, Weegar leaned heavily on veteran defenceman Greg Zanon for advice. Zanon played 493 regular season games with the Nashville Predators, Minnesota Wild, Boston Bruins and Colorado Avalanche.
"I've was fortunate to have him there," said Weegar, who continues to work on his footwork. "He was a good leader to look up to.
"Now some of my teammates like Alex Petrovic, who was with me in the minors, have helped make me more comfortable in the NHL."