Be a Player: Rewind | Anson Carter
Originally aired January 23, 2001, then-Edmonton Oiler Anson Carter and Brett Lindros talk the music scene while cruising Whyte Avenue.
ANSON CARTER
Drafted in the 4th round by the Quebec Nordiques in 1993
Represented 8 NHL clubs (BOS, WSH, EDM, NYR, LAK, VAN, CBJ, CAR)
202 goals, 219 assists, 421 points
674 NHL GP over 10 seasons
---
The year was 2001, the host was Brett Lindros, and the player was Anson Carter.
Originally aired January 23, 2001, then-Edmonton Oiler Carter and Lindros chatted about the music scene while cruising Whyte Avenue before getting a hands on tutorial at a local show.
Then and Now
Carter eventually suited up for eight NHL teams over a career that spanned 674 games.
Amid his NHL career came a stand-out moment on the international stage. The winger scored one of the most dramatic goals in Canadian World Championship history while representing his country at the tournament in 2003.
Canada had to wait several minutes, but Carter reached national hero status with the overtime goal that took five minutes of video review to show that the puck did in fact beat Team Sweden's Mikael Tellqvist.
The moment was selected as one of the best international hockey moments by NHLPA.com earlier this year as the association celebrates its 50th anniversary, as the win handed Canada its first title in five years at the tournament.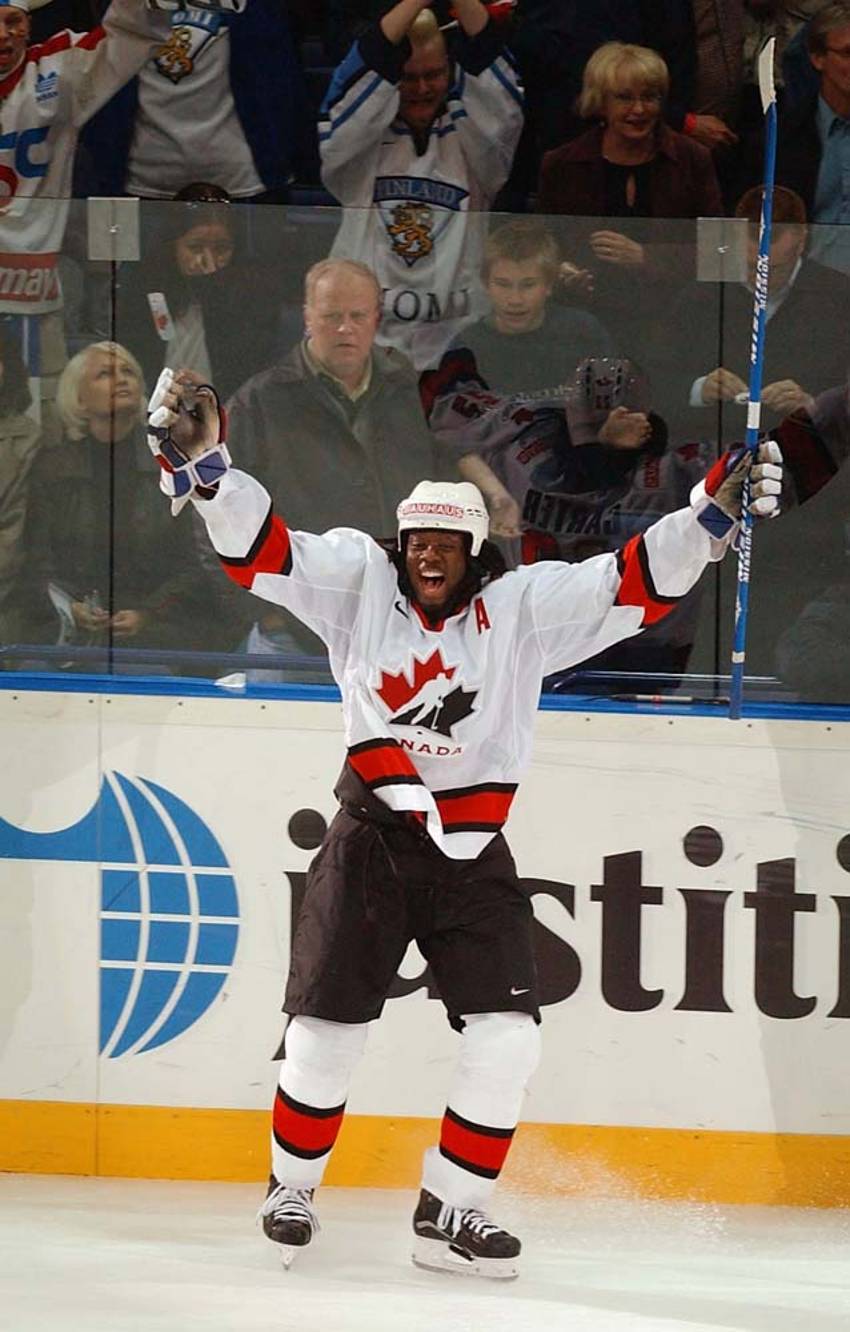 Away from the rink, Carter has found a way to make a career out of his passion for music by founding his Big Up Entertainment label in 2005, a music and television/film production company. He is also the co-founder of the clothing like Shirt Off My Back, of which proceeds go to outfitting underprivileged youth in Africa.
The Scarborough, Ontario-born Carter has served as studio analyst for MSG Network's coverage of the New York Rangers. In 2013, he joined NBC Sports Group's NHL coverage on NHL Live and NHL Overtime doing pre- and post-game shows. He also serves as an analyst on NBCSN's Notre Dame Fighting Irish college hockey coverage.