Boeser only getting better
Backhand winners. Perfect shots. Late rallies. Dane Jackson saw it all time and again from Brock Boeser. And that was just when the two faced-off in ping-pong.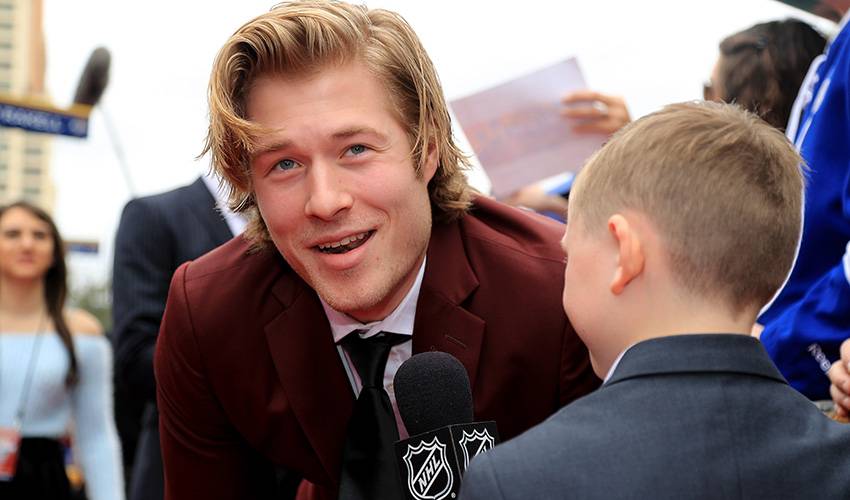 Backhand winners. Perfect shots. Late rallies. Dane Jackson saw it all time and again from Brock Boeser. And that was just when the two faced-off in ping-pong.
"Boes is pretty good with the paddle," started Jackson, associate head coach duties with the University of North Dakota's men's hockey team. "We're both pretty close. We had some really good battles. I don't know who holds the belt now, but we had a lot of fun."
Before he turned heads as one of the NHL's most electrifying young talents, Boeser, currently in his first full big-league season with the Vancouver Canucks, was doing the same in the U.S. collegiate ranks.
Jackson, who was elevated to associate head coach with North Dakota in 2015 after nine seasons as an assistant coach for his alma mater, was impressed by Boeser the moment he met the Minnesota native.
"I would say how genuine he is," said Jackson as to what first stood out. "He's very sincere and genuine. When we were recruiting him, there wasn't much back and forth about things. He said what he felt. He was a straight-up, down-to-earth, good kid."
A good kid that knew how to play the game – and play it very well.
In 2015-16, Boeser netted 27 goals and 60 points, the same season in which he helped North Dakota win the NCAA Division 1 National Championship. He missed two months of the 2016-17 campaign with a wrist injury, but still managed to record 34 points in 32 games.
His collegiate career included All-American honours, along with a lengthy list of other achievements: NCHC Rookie of the Year and Academic All-Conference Team, All-NCHC First Team and All-NCHC Rookie Team, the league's conference and overall scoring titles and University of North Dakota's Male Freshman of the Year.
"You could tell he was special," said Jackson, who played for North Dakota from 1988-92 and was selected in the third round (44th overall) by Vancouver in the 1988 NHL Entry Draft. "He had those strong hands and he could just shoot it. He wasn't one-dimensional as well. He can make a play as well as finish. Any time you see those guys that have a special ability in multiple areas, it's pretty exciting. It definitely translated from his younger years to college to now, playing at the highest level."
It wasn't just game-winning goals and precision passing that made Boeser a standout in crucial collegiate games.
"He wasn't a guy that played a lot on the penalty-kill or those type of situations," noted Jackson. "Because he does have strong hands, he's actually pretty good in the dot. We were in the (2016) national championship semis in Tampa and we were tied with Denver. Right at the end of the game, with about a minute left, we put him in the face-off dot on his good side and he won the draw. We scored a goal right off it and that put us in the national championship. We used him as a face-off man now and again on his good side because his hands are so quick and so strong."
The NHL world has found all of that out.
Selected 23rd overall by the Canucks in 2015, Boeser scored four goals in nine games with Vancouver in 2016-17. He signed his first NHL contract on March 25, 2017 and lit the lamp later that day in a 4-2 victory in Minnesota.
Things have only gotten better for Boeser since then.
The right wing became the first Vancouver rookie to net a hat trick since Trevor Linden did on December 20, 1990, when Boeser scored three goals in a 4-2 win against the Pittsburgh Penguins on November 4, 2017.
He reached the 20-goal plateau two days before Christmas and scored 25 goals in his first 44 NHL games, 11 games faster than Hockey Hall of Famer Pavel Bure.
Add the recent NHL All-Star Game target-shooting crown and MVP honours (Boeser became the first rookie to win the award since Mario Lemieux in 1985) into the equation and it all makes for a sensational start to his big-league life.
Just don't expect the 20-year-old to rest on his laurels.
"Duke and Laurie (Boeser's parents) are really good people," said Jackson, who keeps in touch with Boeser, typically through text messages when the NHL season is on. "He's a pretty down-to-earth guy. He realizes the people around him are the most important people in his life. That helps him be a feet-on-the-ground kind of guy."
And a guy who hasn't forgotten his alma mater or former coaches.
"We played lots of ping-pong and shot lots of pucks together," recalled Jackson, who also golfs with Boeser during the summer. "I helped recruit him here and we won a national championship together – there's a bond that comes with the people you've won with."