Mackinnon's Hockey Idol Turned Close Friend
MacKinnon has been unable to crack the code of what it's like to be No. 87 on the ice. But he admires this about Crosby.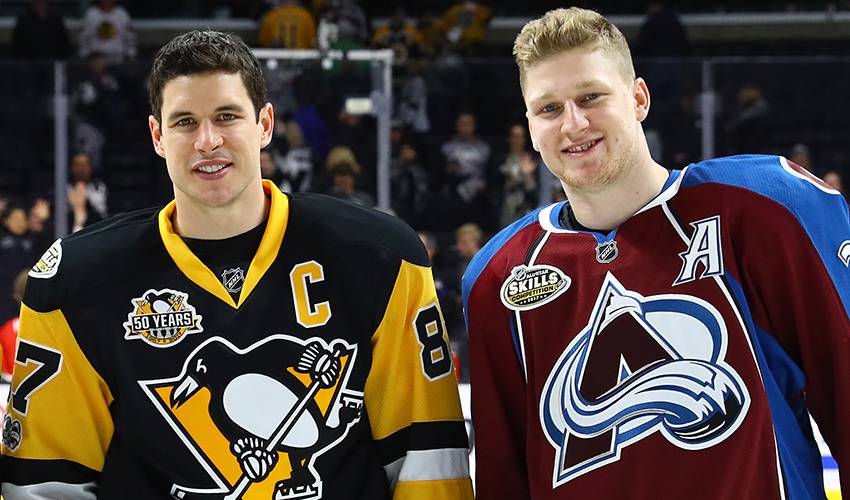 Sidney Crosby has never been one to let people inside his brilliant hockey mind.
He's a kind soul and doesn't mind sharing his fitness guru Andy O'Brien with the likes of other talented players like John Tavares, Matt Duchene, Andrew MacDonald and Nathan MacKinnon in the summer.
But to cajole him to discuss details about a key goal he scored or eye-popping play he made in his three Stanley Cups or two Olympic gold medals or even his World championship victory is another matter.
Even for MacKinnon. If anyone should know Crosby's secrets, it's MacKinnon.
He hails from the same small town of Cole Harbour, N.S. He has skated a similar path to the big leagues as Crosby, who is eight years older. They both played at Shattuck-Saint Mary's boarding school in Faribault, Minn. They both played junior in the Quebec Major Junior Hockey League before making the leap to the NHL.
They also played together on Canada's victorious 2015 World Championship team, participate in O'Brien's offseason training camps on the red sands of a Prince Edward Island beach, Los Angeles or Vail, Colorado or his weekly sessions running up Citadel Hill in Halifax.
But MacKinnon has been unable to crack the code of what it's like to be No. 87 on the ice. But MacKinnon actually admires this about Crosby and his humility.
"He's so humble," MacKinnon said. "He never talks about himself. It's hard to get information from him about his Cup runs. He truly needs to talk about himself more, which is great. He's such a good person.
"I feel like I'm just friends with him now. I stopped idolizing him a long time ago. We still joke about that, that I had posters of him in my room as a kid and now we're buddies.
"It's been fun to train with him."
The way MacKinnon has played in the last three months you would think there was a piece of wisdom Crosby whispered in his ear.
But that is not the case. It's been more a situation that MacKinnon simply has benefitted from having more ice time and more responsibility heaped on his shoulders since the Duchene trade.
Last Nov. 5, Duchene was unloaded to the Ottawa Senators in a three-way trade that also sent Kyle Turris to the Nashville Predators. In return, the Avalanche received 19-year-old defenceman Sam Girard and minor-league left wing Vladislav Kamenev from the Predators as well as from the Senators goalie Andrew Hammond, first- and third-round selections, and Boston University centre Shane Bowers, who is from Halifax.
A few hours after that trade, the Avalanche suffered a 6-4 loss on the road to Tavares and the New York Islanders. Since then Colorado has gone 19-10-3 and currently is riding a 10-game win streak, two shy of the franchise record set between Jan. 10 and Feb. 7, 1999.
The Avalanche has gone from being a last-place team a year ago to the top-10 at this point of the season.
Meanwhile, MacKinnon has rocketed up the scoring race. His 23-goal, 59-point campaign is second behind only Tampa Bay Lightning forward Nikita Kucherov's 61 points.
At 22 and in his fifth NHL season, MacKinnon is going back to his second all-star game this weekend. He now has realized the kind of dominant play he seemed destined for when he won a Memorial Cup a few months before his 18th birthday with the 2012-13 Halifax Mooseheads and the Calder Trophy as rookie of the year the following season.
"You take it for granted," MacKinnon said. "After the first year you kind of feel like it's easy, and you think you'll be in the playoffs every year no matter what. But it's a tough league and if you're not getting better other teams are."
This is something, as a player, he learned from watching Crosby.
"He never gets comfortable," MacKinnon said. "He's always trying new things to get better and working so hard. It's contagious. If a guy like that is trying to get better every day than anybody can.
"He's been doing it for 12, 13 years now, he's been the best in the league for that long. It's been really impressive."