Savard Looking For His Next Adventure In Hockey
Savard's 13-season playing career spanned 807 NHL games with four teams.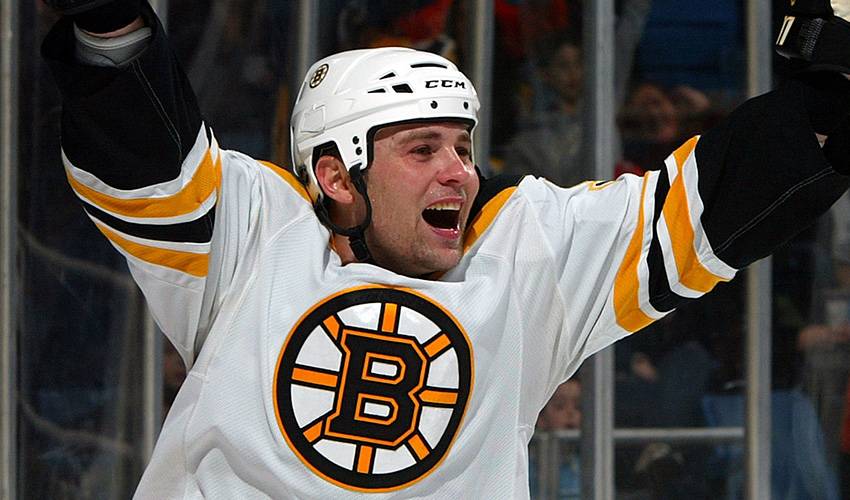 Forward Marc Savard has announced his retirement from professional hockey after playing 13 seasons and 807 games in the National Hockey League. The Ottawa native is now looking at opportunities to get back into the game in a coaching capacity.
Savard, 40, last played with the Boston Bruins during the 2010-11 season, when he skated in 25 games after suffering a second concussion on January 23, 2011. Concussion-related issues prevented him from resuming his NHL career, one that began in 1997-98. His NHL contract expired following the 2016-17 season.
The 5'10", 191-pound centre, who spent time with the New York Rangers (98 games), Calgary Flames (221 games), Atlanta Thrashers (184 games) and Bruins (304 games), felt it was the ideal time to acknowledge his retirement. His seven-year contract, which he signed with the Boston Bruins in 2009, expired at the end of last season.
"I think the biggest thing is that I'm happy where I am in my life," Savard told NHLPA.com. "I'm the healthiest I've been in a long time. I didn't want it to linger on any more. My contract is up and I wanted to get it out there and head off in a different direction to pursue a coaching career."
A fourth-round pick of the Rangers in 1995, Savard saw his first NHL action in 1997-98, playing on a New York squad that showcased a talent-laden lineup, including Wayne Gretzky, Pat LaFontaine, Adam Graves, Brian Leetch and Alex Kovalev.
"I was lucky to be around a great veteran group when I made my debut," said Savard. "There were so many great players. They made me feel loose by almost chirping me, telling me, 'Your family is all here, but don't worry about it.' They really loosened me up. I remember that to this day."
He also recalled the words of Rangers star forward, Graves.
"It's cliché, but I remember hearing it from Adam the very first time," noted Savard. "He said, 'Never let the highs get too high and never let the lows get too low.' You know the lows will come in your career and if you can bounce back from those, you can bounce back from anything."
Savard, who idolized Gretzky, couldn't have scripted the start of his big-league career any better, emulating No. 99 any way he could.
"I got to play with him for two years," said Savard. "That was pretty special for me. I got a lot of grief over the years and when I played with him because I copied everything he did – the way he wore his equipment, just everything. I took a little bit of razzing from the guys, but it was all in fun. To play with your idol, that also has to be at the top of my list of proudest moments."
There were certainly plenty more.
Savard would become one of the game's most productive performers coming out of the 2004-05 NHL owners' lockout, recording a career-high 97 points in 2005-06 with the Thrashers. He scored 96 points the following season, his first with the Bruins.
Between 2005 and 2009 his 1.12 point per game average was 11th best in the entire league (minimum 100 games played).
After a concussion forced him to the sidelines in March of 2010, Savard returned to play in the second round of the 2010 Stanley Cup Playoffs and scored the overtime-winner in his first game back – Game 1 of the Eastern Conference semifinals vs. the Philadelphia Flyers.
In 2010-11, after playing in 25 regular season games and having the misfortune of missing the playoffs due to another concussion, his name was etched on the Stanley Cup after Boston beat the Vancouver Canucks in seven games.
"A lot of mixed emotions, but really proud," offered Savard. "Obviously, I didn't play in any playoff games that year, but it was a nice gesture (by the Bruins to include Savard's name on the Cup) and something I'll never forget. That's why I still hold Boston near and dear to my heart. My kids and their kids will be able to see it and that means a lot to me."
Savard, who played his junior hockey with Oshawa, was honoured in 2016 by the Ontario Hockey League club when the Generals retired his No. 27.
He produced a franchise-best 413 points (132-281–413) in his exceptional junior career and he twice led the league in scoring (1995, 1997). In 1997, he scored the game-winning goal in overtime of Game 6 versus the Ottawa 67s to secure Oshawa's OHL title.
His jersey banner joined some of the top Generals alumni: Eric Lindros (No. 88), John Tavares (No. 91), Red Tilson (No. 9) and Bobby Orr (No. 2).
"It was a very emotional night for me, for sure," admitted Savard. "I had my wife (Valerie) and kids there, along with family and friends. I didn't think it would come out as being so emotional. I practiced my speech a thousand times. It was a really special moment in life."
Savard, who resides in Peterborough, Ontario, has enjoyed the opportunity to coach his sons' respective hockey teams, giving him the chance to put his bright hockey mind to good use. Spending this time coaching recently also opened his eyes to a potential next chapter in the game.
"I have four kids, Zach, my oldest (17), Isabella (16), Tyler (14) and Elle (4)," noted Savard. "I got to coach Zach back in the day with his Triple A team. I coached Tyler last year, which was also Triple A. I had a great time and I enjoyed giving back to the kids. Now I'm looking to move up the ranks and get into junior hockey or professional hockey overseas. I'd like people to know I'm looking."
He'd also like the fans to know how much he appreciated their support after an NHL career that yielded 706 career points (207 goals, 499 assists).
"I did have a lot of believers along the way, which helped me believe," said Savard. "That's always been my quote to myself, 'If you believe, you can achieve.' That's what I lived and died on. I'm proud to have played that long, seeing your name on the Stanley Cup and having your dreams come true.
"Thank you for supporting me all those years, being there after the games were over and asking for an autograph. I was always happy to do that. Thanks for giving me a tap or chanting my name at the (Boston) Garden when I came back from injury. Just always being there, whether I had a good or bad night. For that, I am grateful."