Pepsico, NHL And NHLPA Ink Multi-Year North American Strategic Alliance
Renewed partnership among the largest in League history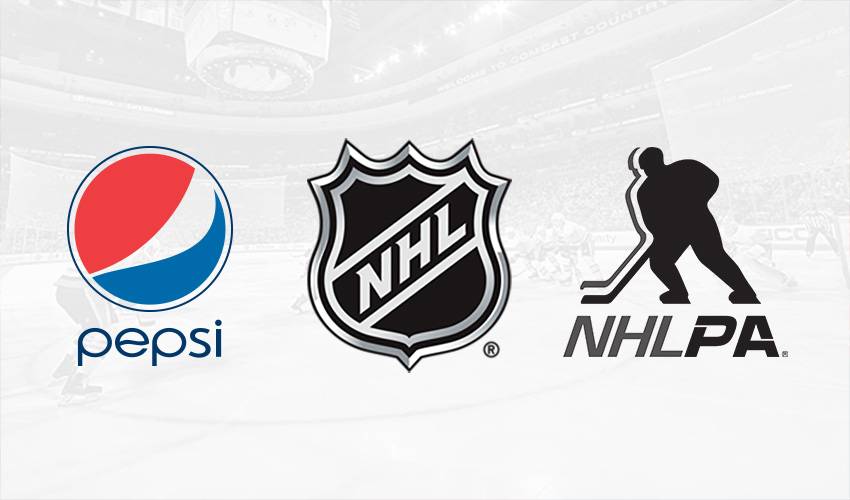 (PURCHASE, N.Y., NEW YORK and TORONTO) – Jan. 22, 2018 – PepsiCo, the National Hockey League Players' Association (NHLPA) and the National Hockey League (NHL®) today announced a multi-year extension of their North American partnership, securing its place as one of the largest partnership agreements in League history.
PepsiCo will maintain exclusive NHL North American rights in the non-alcoholic beverage, sports nutrition and savory snack categories. PepsiCo's wide portfolio of brands includes Pepsi, Pepsi Zero Sugar, Mtn Dew, Gatorade, Aquafina, LIFEWTR, Lipton iced tea, Tropicana, Naked Juice, Lay's, Tostitos, Ruffles, Doritos, Cheetos, Rold Gold and Miss Vickie's.
Through this sponsorship, PepsiCo maintains access to robust activation and heightened exclusivity around promotional opportunities. Enhanced strategic customer marketing and partnerships are an integral part of the agreement as well. During the 2018 season, Pepsi Zero Sugar will activate during the NHL Winter Classic® and NHL Stadium Series™.
"The NHL is a valued PepsiCo partner and we have a long-standing history of supporting hockey and its fans, especially in Canada," said Richard Glover, PepsiCo Beverages Canada President. "Leveraging the power of our snacks and beverages allows us to give hockey fans unmatched experiences and our customers unique promotional opportunities. This partnership renewal highlights the value of our vast product portfolio and the strength of the PepsiCo and NHL brands working together across North America."
"PepsiCo is a best-in-class brand and partner, with an exceptional ability to extend the NHL brand to fans across many channels throughout North America. Renewing our decade-long partnership is a testament to the power and reach of both brands," said Keith Wachtel, NHL Chief Revenue Officer and Executive Vice President. "We've come to expect PepsiCo's outstanding 360 degree sports marketing programs, such as their most recent successful Centennial programming, which included collectible product offers, unique branded content across multiple platforms, and tremendous retail theater and fan appreciation promotions. We look forward to continuing our partnership and working together to create more opportunities for deeper engagement and emotional connections with hockey fans, as well as celebrating our game, our future."
"We are excited to continue our strong relationship with PepsiCo through our new multi-year agreement," said Don Fehr, NHPLA Executive Director. "We look forward to building on our already successful player activations, and expanding into new opportunities with PepsiCo over the course of the next few years."
PepsiCo brands will continue to be integrated into NHL media assets, including NHL.com, NHL Network™, SiriusXM NHL Network Radio™, the NHL® App and others, in addition to having strong presence around major League event platforms, such as the NHL Scouting Combine™, NHL Draft™, NHL Winter Classic®, NHL Heritage Classic™, NHL Stadium Series™, NHL® All-Star Game, NHL Awards™ and Stanley Cup® Playoffs.
About PepsiCo
PepsiCo products are enjoyed by consumers one billion times a day in more than 200 countries and territories around the world. PepsiCo generated approximately $63 billion in net revenue in 2016, driven by a complementary food and beverage portfolio that includes Frito-Lay, Gatorade, Pepsi-Cola, Quaker and Tropicana. PepsiCo's product portfolio includes a wide range of enjoyable foods and beverages, including 22 brands that generate more than $1 billion each in estimated annual retail sales.
At the heart of PepsiCo is Performance with Purpose – our fundamental belief that the success of our company is inextricably linked to the sustainability of the world around us. We believe that continuously improving the products we sell, operating responsibly to protect our planet and empowering people around the world enable PepsiCo to run a successful global company that creates long-term value for society and our shareholders. For more information, visit www.pepsico.com.
About PepsiCo Canada
PepsiCo's businesses in Canada are organized into two business units. PepsiCo Beverages Canada includes the Pepsi, Gatorade and Tropicana businesses. PepsiCo Foods Canada includes the Frito Lay Canada and the Quaker Foods and Snacks business.
At the heart of PepsiCo is Performance with Purpose – our vision to deliver financial performance over the long term by integrating sustainability into its business strategy, leaving a positive imprint on society and the environment. We do this in part by offering a wide range of products; increasing the number of our nutritious foods and beverages; reducing our environmental impacts; and supporting our employees and the communities where we do business; all of which will help position the company for long-term sustainable growth. For more information, visit pepsico.ca.
About the NHL
The National Hockey League (NHL®), founded in 1917, consists of 31 Member Clubs, each reflecting the League's international makeup with players from more than 20 countries represented on team rosters, vying for the most cherished and historic trophy in professional sports – the Stanley Cup®. Every year, the NHL entertains more than 250 million fans in-arena and through its partners on national television and radio and more than 151 million followers - league, team and player accounts combined - across Facebook, Twitter, Instagram, Snapchat and YouTube. The League broadcasts games in more than 160 countries and territories through its rightsholders including NBC/NBCSN and the NHL Network in the U.S., Sportsnet and TVA in Canada, Viasat in the Nordic Region and CCTV and Tencent in China. The NHL reaches fans worldwide with games available online in every country including via its live and on-demand streaming service NHL.TV™. Fans are engaged across the League's digital assets on mobile devices via the free NHL® App; across nine social media platforms; on SiriusXM NHL Network Radio; and on NHL.com, available in eight languages and featuring unprecedented access to player and team statistics as well as every regular-season and playoff game box score dating back to the League's inception, powered by SAP. The NHL is committed to giving back to the community through programs including: Hockey is for Everyone™ which supports nonprofit youth hockey organizations across North America; Hockey Fights Cancer™ which raises money and awareness for hockey's most important fight; NHL Green™ which is committed to the pursuit of sustainable business practices; Declaration of Principles – developed by and for hockey stakeholders – to advance policies, programs and initiatives, while inspiring fans, players and communities to create the best possible experience for the entire hockey community; and a partnership with the You Can Play Project, which is committed to supporting the LGBT community and fighting homophobia in sports. For more information, visit NHL.com.
About the National Hockey League Players' Association
The National Hockey League Players' Association (NHLPA), established in 1967, is a labour organization whose members are the players in the National Hockey League (NHL). The NHLPA works on behalf of the players in varied disciplines such as labour relations, product licensing, marketing, international hockey and community relations, all in furtherance of its efforts to promote its members and the game of hockey. In 1999, the NHLPA launched the Goals & Dreams fund as a way for the players to give something back to the game they love. Over the past 18 years, more than 70,000 deserving children in 34 countries have benefited from the players' donations of hockey equipment. NHLPA Goals & Dreams has donated more than $24 million to grassroots hockey programs, making it the largest program of its kind. For more information on the NHLPA, please visit www.nhlpa.com.
NHL, the NHL Shield, the word mark and image of the Stanley Cup and the word mark NHL Winter Classic are registered trademarks and the NHL Winter Classic logo, NHL Stadium Series name and logo, NHL Heritage Classic name and logo, NHL Network, NHL Network Radio, NHL Scouting Combine, NHL Draft, and NHL Awards are trademarks of the National Hockey League. All Rights Reserved.
###