Panthers, Lightning, NHL, & NHLPA Build Homes Affected By Hurricane Irma in Partnership With Habitat for Humanity
In September, 2017 the Lightning, Panthers, NHL and NHLPA announced a joint donation of $2.7 million for hurricane relief to those affected across the state of Florida.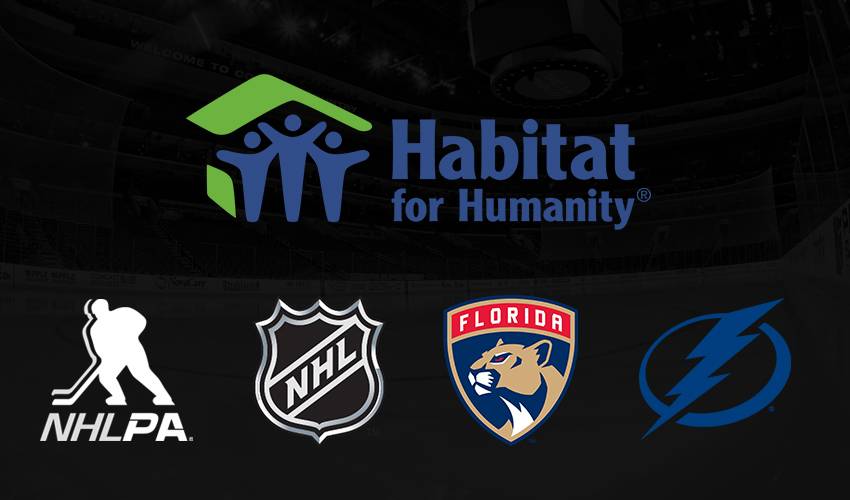 PANTHERS, LIGHTNING, NHL AND NHLPA BUILD HOMES AFFECTED BY HURRICANE IRMA IN PARTNERSHIP WITH HABITAT FOR HUMANITY TAMPA/SUNRISE/NEW YORK/TORONTO (Jan. 16, 2018) – The Florida Panthers, Tampa Bay Lightning, National Hockey League Players' Association (NHLPA) and National Hockey League (NHL) have partnered with Habitat for Humanity of Collier County ("Habitat Collier") to help restore the community of Immokalee, Fla., a rural agricultural neighborhood in Collier County that suffered severe damage during Hurricane Irma. In September, 2017 the Lightning, Panthers, NHL and NHLPA announced a joint donation of $2.7 million for hurricane relief to those affected across the state of Florida. Today, the hockey community combined efforts to use funding from this donation to help build new homes, sharing Habitat for Humanity's goal to create safe, affordable housing that is accessible to hard working families.
Outside of Habitat Collier neighborhoods, many homes in the community of Immokalee were no match for Hurricane Irma which tore roofs off or completely collapsed trailers and substandard housing. Many homes had no electricity and were flooded, destroying personal possessions and beginning a plague of black mold. This small agricultural community, known for farming tomatoes, suffered weeks of no work and no income.
"Our Florida Community is at the heart of our organization," said Florida Panthers President & CEO Matthew Caldwell. "We're so honored to stand alongside the NHL, NHLPA and Tampa Bay Lightning in our efforts to provide relief to the people of Immokalee, FL."
"We are excited to partner with the NHL, NHLPA and Florida Panthers on a great initiative with Habitat for Humanity on helping to rebuild our state after Hurricane Irma devastated Florida," Lightning CEO Steve Griggs said. "Our fans, along with our players and the Lightning organization, contributed a lot of money to the Hurricane Irma Fund this past Fall and we are looking forward as an organization to utilize their spirit and willingness to help with rebuilding South Florida."
"In the wake of Hurricane Irma and the destruction it left behind, it's a testament to these organizations that we can come together for common good to serve our communities in a meaningful way," said Kim Davis, NHL Executive Vice President, Social Impact. "This tragedy profoundly affected people in Immokalee, Fla., and we're pleased to work with Habitat for Humanity to help make their daily lives a little easier."
"In our tight-knit hockey community, the NHLPA is proud to work with the Florida Panthers, the Tampa Bay Lightning and the NHL, in partnership with Habitat for Humanity, on rebuilding efforts following the devastation of Hurricane Irma," said Mathieu Schneider, NHLPA Special Assistant to the Executive Director. "We hope that our donation and the work on the ground will provide some comfort to the community of Immokalee."
Extensive damage was caused to the entire state of Florida by the Hurricane. Negative impacts have been felt by millions of people in many different ways across the state, including Miami/Ft. Lauderdale, Naples, Lakeland, Tampa Bay and Jacksonville. Today, volunteers in Immokalee, Fla. helped to build new homes, assisting with framing walls, hanging siding, painting, and laying sod. For more information and to watch video footage from the build, visit NHLPA.com or NHL.com.
### (01/16/18)