Kraft Hockeyville USA Is Back For Its Fourth Year
THE NHL and NHLPA to rally the most spirited hockey communities nationwide. Nominations are open to name one U.S. community "Kraft Hockeyville™ USA 2018". Kraft Heinz will award winning community the opportunity to host an NHL Pre-Season Game and $150,000 in rink upgrades.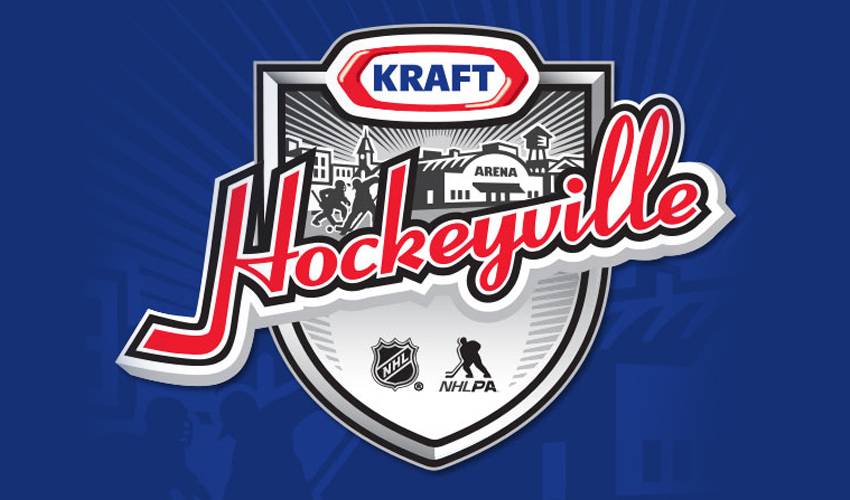 PITTSBURGH & CHICAGO – January 1, 2018 – Let's rally! Kraft Hockeyville™ USA returns for its fourth year and nominations are officially open to find America's most spirited and enthusiastic hockey communities. Towns nationwide can compete for coveted title of "Kraft Hockeyville™ USA 2018," which includes the opportunity to host an NHL® Pre-Season Game and $150,000 in rink upgrades.
"The overwhelming response we've seen from hockey communities over the years has been an inspiration," said Michelle St. Jacques, head of brand marketing and R&D. "Our Vision at Kraft Heinz is To Be the Best Food Company, Growing a Better World, and the passionate hockey towns who rally around Kraft Hockeyville™ truly bring it to life, both on and off the rink."
Longtime program ambassador Jeremy Roenick, NHL® veteran and current NHL® analyst for NBC Sports, is back for Kraft Hockeyville™ USA 2018. "This is one of the most gratifying things I've done in sports—it's not just about one person, or one story. It's about communities pitching in to nominate their rinks and show passion around hockey and youth programs," said Roenick. "This program always reminds me of the support that my local ice rink provided me when I was a young hockey player."
Kraft Hockeyville™ USA is proud to partner with the National Hockey League Players' Association (NHLPA), the National Hockey League (NHL®) and NBC Sports Group to support the search for hockey communities in the U.S. with the most inspirational stories and strongest voter participation. The 2018 program was announced live during today's NBC broadcast of the 2018 Bridgestone NHL® Winter Classic outdoor game featuring the Buffalo Sabres® against the New York Rangers® at Citi Field in New York City.
How Kraft HockeyvilleTM USA 2018 Works
Unlike previous years, the nomination application is just the first step for communities across the country to share unique stories about their local rink, teams, hockey spirit and passion. Throughout the submission process, hockey communities will be asked to bring their stories to life online to earn Rally Points by adding notes, uploading photos and videos, tweeting from the community page and interacting with the community on www.KraftHockeyville.com, where complete contest rules and how to enter are available. Finalists will be selected based on the best stories and their community's total Rally Points through three periods, like a hockey game:
Period 1 (January 1

–

March 10, 2018)

–

Local communities submit a story on why they deserve to win Kraft HockeyvilleTM USA on www.KraftHockeyville.com. Once posted, users should activate their community online to rally behind the local rink by boosting their digital Rally Points.
Period 2 (March 31, 2018

–

April 12, 2018)

–

After the judges read through each rink's stories and calculate the total Rally Points of each submission, the top four finalists will be announced on March 31, 2018. The four finalists will then have two weeks to rally their community and hockey fans nationwide in preparation for the live voting event.
Period 3 (April 13

–

14, 2018)

–

The four finalist communities will compete and rally to receive as many votes as possible. The winner of Kraft Hockeyville™ USA 2018 will be announced on April 14, 2018, during an intermission of NBCSN's Stanley Cup Playoff coverage, and will be awarded the grand prize of an opportunity to host an NHL® Pre-Season Game and $150,000 in rink upgrades from Kraft Heinz. First prize (runner-up) will receive $30,000 toward rink upgrades, and the second place rinks will each receive $10,000.
Since launching in Canada in 2006, Kraft Hockeyville™ has positively impacted more than 80 communities with over $4 million in rink upgrades across Canada and the U.S. During the program, Kraft Heinz will feature its diverse portfolio of products to unite hockey fans in their celebrations of the sport and their communities, including Planters, Kraft Natural Cheese, Maxwell House, Oscar Mayer and Kraft Macaroni & Cheese.
For complete contest rules and nomination applications, visit www.KraftHockeyville.com. Kraft HockeyvilleTM USA can also be found on Facebook (KraftHockeyvilleUSA) and Twitter (@HockeyvilleUSA). Fans can join the conversation using #HockeyvilleUSA.