Team trip makes de Haan nostalgic
"Whether you're giving gifts to friends and family or the kids we went shopping for, it's nice to see the smiles on people's faces," says Calvin de Haan. "It's pretty heartwarming."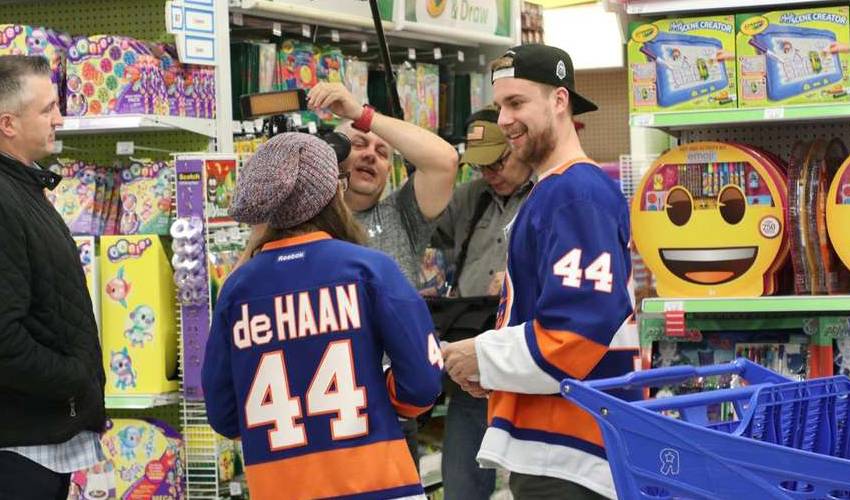 With every toy he placed in his cart, Calvin de Haan looked more forward to the moment he'd watch the kids unwrap them.
About two weeks ago, de Haan, along with his New York Islanders teammates and their respective significant others, were at a local toy store gathering up gifts to be hand-delivered by the players to children in eight local hospitals on December 18.
For the 26-year-old defenceman, it's an ideal way to give back to others during the Holiday season.
"It's fun," said de Haan. "It's a different event that we do. We get to basically choose the toys we will give to the children. Whether it's a colouring book or a remote-controlled car, it's fun for us to pick things out. It's nostalgic, too, walking through the different sections and seeing some of the toys you remember from your childhood."
Growing up in Carp, Ontario, about a half-hour drive from Ottawa, de Haan, not surprisingly, played a lot of hockey. Whether it was at the local indoor and outdoor rinks or in his parents' basement, slapshots, one-timers and stick saves were a constant throughout the year.
Come Christmastime, hockey-related gifts were always a big hit with de Haan and his brother, Evan, who plays defence for the University of Carleton.
The former 12th overall pick of the Islanders in 2009 will get a chance, albeit brief, to head home to Carp over Christmas.
He's had the date circled on his calendar for a long time.
"The favourite part of my winters growing up was playing hockey on the outdoor rink," he said. "I spent tons of time out there. If we didn't have practice for minor hockey, my buddies and I would always meet up, throw our sticks in the middle of the ice and play a game of shinny. To this day, if I have the opportunity to do that with local kids, I take advantage of that. It's nice to be back home and to remember all those fun times growing up."
It's also nice to have a big feast before the hockey season ramps up again, and the pursuit of securing a playoff spot intensifies.
"The Christmas dinner is always enjoyable," he said with a laugh. "There's a lot of food and you feel a little sluggish the next day, but it's great. It's the same for everyone: it's all about family. You look forward to seeing your aunts, uncles, cousins, grandparents, your mom and dad and siblings."
Will he go retro and strap on the pads for some throwback hockey in the basement?
"I'm sure we still have some gear around the house somewhere," said de Haan.
While he contemplates that idea, the veteran of 301 regular season NHL contests still has games to play and one special visit to make before the season takes a short break.
"Whether you're giving gifts to friends and family or the kids we went shopping for, it's nice to see the smiles on people's faces," said de Haan. "It's pretty heartwarming."
Check out the full trip and the rest of the photos, courtesy of the New York Islanders, here.