G&D: A grassroots initiative for all
NHLPA Goals & Dreams ensures the great game of hockey is available to as many children as possible, a priority to the players. Learn more about the global, grassroots program in the final instalment of this three-part series.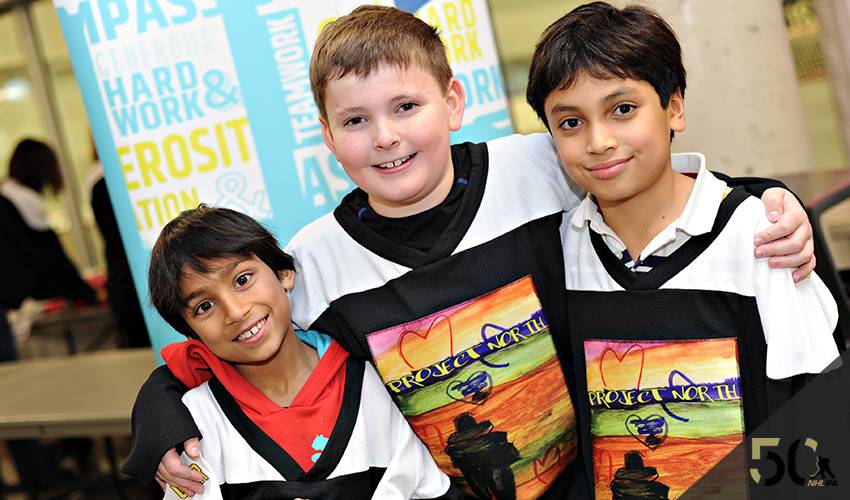 Part 3 of 3

NHLPA Goals & Dreams (G&D) prides itself as a true grassroots program that spreads hockey, and the values steeped in the game's tradition to all corners of the world. Despite socio-economic status, every child deserves the opportunity to try on a pair of hockey skates – an opportunity that star goaltender Henrik Lundqvist knows not every child is afforded.
"The Goals & Dreams Program is amazing, it gives a lot of kids the opportunity to try and play the game," said Lundqvist at the time of a 2016 donation to his hometown club. "Here in Gothenburg, there's definitely lots of kids that might want to try, but don't have the opportunity."
Location is also a non-issue for G&D. Reflective of the NHLPA membership, G&D embodies a global perspective of the game, supporting both traditional and non-traditional hockey markets across the world – from Australia to Haiti.
"The first step to being able to play is having the right equipment and G&D does a great job outfitting children in grassroots programs around the world," said Brooks Orpik, Washington Capitals defenceman and G&D amabassador. "It means a lot to give back to future generations through our NHLPA Goals & Dreams program."
Grassroots hockey program in 34 countries have received G&D donations: Algeria, Australia, Austria, Bosnia, Bulgaria, Cambodia, Canada, Costa Rica, Czech Republic, Ecuador, England, Finland, France, Germany, Greece, Hungary, Iceland, India, Ireland, Israel, Latvia, Lithuania, Malaysia, Mongolia, Netherlands, Romania, Russia, Scotland, Serbia, Slovakia, South Africa, Sweden, Ukraine and the United States of America.
In 2009, the NHLPA commemorated the 10th anniversary of G&D through a 10-day, 10-country celebration of grassroots hockey programs. The tour began in Ornskoldsvik, Sweden – home of NHL stars Henrik and Daniel Sedin, Victor Hedman, Peter Forsberg and Markus Naslund – and included stops in Finland, Russia, Slovakia and Latvia to deliver a total of 360 sets of hockey equipment valued at nearly $200,000 to local hockey programs around the world. The 10-in-10 travelling crew was joined by a number of former NHL players eager to give back to grassroots programs in their native lands. Participating players included Naslund, Jon Sim, Pavel Bure, Arturs Irbe, Graves, P.J. Stock, Jyrki Lumme, Kevin Weekes and Esa Tikkanen. A CBC film crew followed the group for a documentary, which later aired in December 2009.
The 10th anniversary tour came to a close at the Hockey Hall of Fame in Toronto in November 2009 – nearly 10 years to the day after G&D was launched there on November 19, 1999.
More recently, G&D conducted a multi-city tour with special events connecting players and grassroots hockey organizations to mark its 15th anniversary. The tour made stops in Hastings, Minnesota with United Heroes League (then known as Defending The Blue Line); Ottawa, Ontario with Sledge Hockey of Eastern Ontario; Vancouver, British Columbia with BC Minor Hockey and KidSport BC; Toronto, Ontario with Eastern Commerce Secondary School and HEROS; Los Angeles, California with Hawthorne Force Hockey and ended in Watson Lake, Yukon Territories with the Watson Lake Minor League Hockey Association.
Since G&D's inception 18 years ago, Devin Smith has seen first-hand how life changing the program is for both the players and the beneficiaries of the program.
G&D has taken him across the world, literally. From hockey hotbeds, to remote spots in the Canadian north, to economically challenged regions, to places relatively new to the game, Smith has seen hockey as few have.
"In 2000, Mike [Gartner] and I travelled to a place in Siberia called Novokuznetsk, for an equipment donation," started Smith, NHLPA Goals & Dreams Chairman. "It was a 4 ½ hour flight from Moscow to get there. What we saw the moment we arrived was something I still remember to this day: the joy and love for the game was the same you'd find anywhere else.
"Mike and I talked about that a lot during our time there. Just to see the kids smiling and having a great time the entire time they were on the ice – I think that's an important message to share. It really brings to light how unifying the game of hockey is across the world.
Gartner also recalls the trip to Siberia as one of his fondest memories from his work with G&D.
"We were bringing 150 sets of new equipment to Russia, into Siberia," started Gartner, former NHLPA Director of Business Relations. "There are were all kinds of logistics getting the equipment over there, getting it through customs and to the right places. We met with this one guy, who was kind of in charge of the application process from the Russian perspective. He's picking us up at the airport and he's a great guy."
And someone, Gartner quickly realized, who needed some serious convincing about what was about to happen.
"He's shaking his head, saying, 'You don't understand. We're going now into this arena and there are going to be hundreds of people there. The mayor is going to be there. People don't believe it.'
"I said, 'What do you mean they don't believe it? We're here and we're giving the equipment.' And he looks at me and said, 'In Russia, we have [a] saying: the free cheese is in the mousetrap only.'
"When we got there and saw the children, we watched them on the ice before they had this ceremony to get their equipment. Some kids were wearing things that were either so small, so old or so big, that you wondered how they were able to skate around or how they could be properly protected. Before this, getting new equipment was something they could only dream of."
---
This 2017-18 hockey season, the National Hockey League Players' Association (NHLPA) celebrates the 50th anniversary of when it was established by the Player Representatives in June 1967. Originally, the Players' Association was formed by Ted Lindsay (President), Doug Harvey (1st Vice President), Fern Flaman (2nd Vice President), Bill Gadsby (Treasurer) and Jim Thomson (Secretary), to promote, foster and protect the interests of players. Though the Association would initially be stifled by management, the efforts of those players laid the groundwork for the formation of the current NHLPA. In 1967, the NHLPA was formally ratified as a labour organization whose members are the players in the NHL. Learn more about the NHLPA and its storied members, both past and present, through NHLPA.com as well as your social media feeds by tracking #NHLPA50.