Bratt spent summer honing in on mental preparation
Jesper Bratt was a longshot to make the Devils, having been taken in the sixth round (162nd overall) in the 2016 NHL draft. The left wing thinks his game better nowadays because of the time he's spent honing in his mental preparation.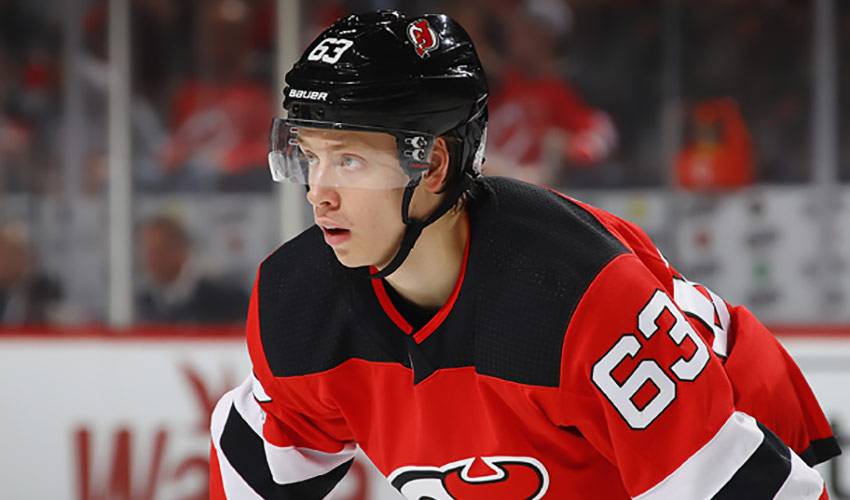 Jesper Bratt has stolen some of the thunder from his fellow New Jersey Devils rookie Nico Hischier in the early days of this brand new season.
Of course, the 18-year-old Hischier arrived on the scene this fall fresh off all the hoopla that comes with being selected first overall last June.
The 19-year-old Bratt was a longshot to make the Devils, having been taken in the sixth round (162nd overall) in the 2016 NHL draft. The left wing remained in his hometown last season to develop and play for AIK Stockholm in the Hockey Allsvenskan, the second tier loop in Sweden.
Playing against men, the teenager managed six goals and 22 points in 46 games for AIK. It was a decent season, but by no means did Bratt distinguish himself and exhibit any signs that he was ready to become a prime time player in the NHL.
Bratt wasn't even considered good enough to be among the top teenagers in Sweden and therefore failed to crack his country's under-20 roster for the 2017 World Junior Championship. But he admits he wasn't pleased with the way he performed last season.
So he went to work last summer with the mindset he was going to take a giant leap forward and crack the Devils roster.
"I knew I could do better," the 5-foot-10, 175-pound Bratt said. "I thought my year was bad. I knew I wasn't playing at my best."
Bratt particularly was concerned about his inconsistent play. Sometimes he left the rink feeling confident about his game. Other times he was down and out emotionally, wondering where his A-game had gone.
So he did two things: he sought out help from a mental coach (Andy Sward) and a skills coach (Andreas Ohgren) in Sweden to work out the kinks in his game.
"It's Andy, Andreas, my agent [Joakim Persson], my family and friends. I have had a lot of support to get to this point," Bratt said.
He also had support from the Devils scouting staff. Bratt signed a three-year entry-level contract last May, and he made quite an impression at the team's development camp last July and rookie camp last month.
That strong play has continued through his first three games. He has checked in with three goals and six points. In his first two games, his three goals and two assists were a Devils club record for most points in a player's first two career games.
Bratt also became only the fifth player in the league to register five points in his first two games in the last 17 seasons, joining Radim Vrbata (2001-02), Brent Seabrook (2005-06), Anze Kopitar (2006-07) and Vladimir Tarasenko (2012-13).
Part of Bratt's early season success has been the partnership he has formed with 27-year-old linemate Marcus Johansson. In his first season with the Devils after 501 career games with the Washington Capitals, Johansson has helped his young Swedish teammate not only on the ice but off the ice to become accustomed to North American life.
"They communicate very well with each other," Devils coach John Hynes remarked on his team's trip to Toronto this week. "They both have a high hockey IQ. Sometimes, you get those guys together and those plays just happen. They're on the same wavelength the way they think the game."
Bratt adds though he thinks his game better nowadays because of his mental preparation work with Sward, a popular mental coach who works with hockey players and elite athletes from other sports in Sweden.
"Being [mentally] prepared has made me comfortable before games," Bratt said. "I feel focused and ready to play every game. I didn't have that feeling last year.
"I don't know if I would have been here, playing for the Devils, if it had not been my work with Andy."