Crouse & Konecny share childhood connection
When the Philadelphia Flyers and Arizona Coyotes clashed in the City of Brotherly Love on Monday, childhood friends Travis Konecny and Lawson Crouse were spared another on-ice meeting.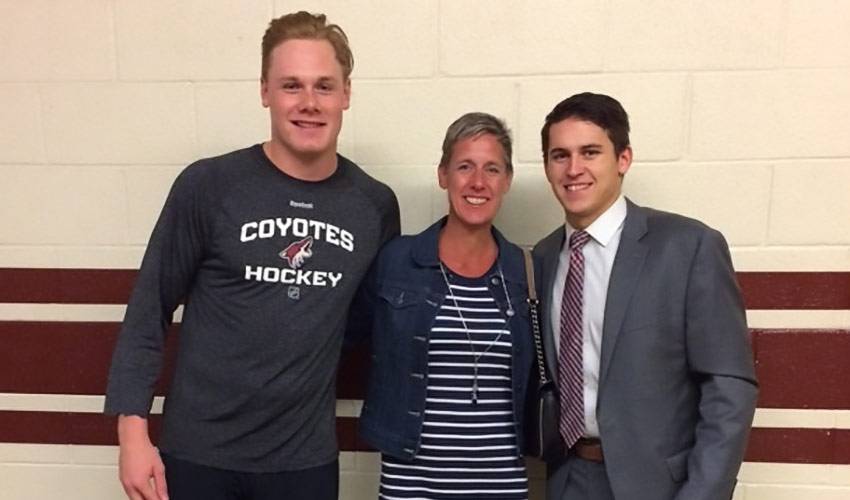 When the Philadelphia Flyers and Arizona Coyotes clashed in the City of Brotherly Love on Monday, childhood friends Travis Konecny and Lawson Crouse were spared another on-ice meeting.
The Coyotes had demoted Crouse to their AHL affiliate in Tucson five days earlier in order to get him more playing time. This was the third meeting between Philadelphia and Arizona since Konecny and Crouse cracked the Flyers' and Coyotes' lineups as rookies out of training camp 13 months ago.
In the first meeting a year ago, in a season opener, Crouse and Coyotes got the better of his pal and the Flyers with a 4-3 overtime win. The two teams met a dozen days later in Philadelphia, but Konecny was scratched from that game, a 5-4 win for the visitors.
It never has been easy for Crouse and Konecny to play against each other, even in junior when Crouse suited up for the Kingston Frontenacs and Konecny played for the rival Ottawa 67's. The two played as many as eight times a season against one another.
"There were a couple of times we lost our cool with each other out there," the 20-year-old Crouse confessed.
Konecny, also 20, remembered on one occasion with the Frontenacs winning big, Crouse took an unnecessary run at his friend.
"I asked him if he had to hit me and he apologized," said the 5-foot-10, 175-pound Konecny, who gives up 45 pounds to the bigger 6-foot-4, 220-pound Crouse.
Born 103 days apart, the older Konecny and Crouse were raised just west of London, Ont. Crouse hails from Mount Brydges and Konecny 40 minutes down Country Road No. 14 in Clachan.
They became friends at age six when they tried out for a local summer team. Konecny asked Crouse why he wasn't in his equipment for a skate and Crouse told his future teammate to "mind your own beeswax."
Konecny chuckled at the response and the next thing they knew they were best buds. There were carpools between the two families and plenty of sleepovers.
They together attended the PEAC School for Elite Athletes in London. They piled up trophies playing in the Elgin-Middlesex Chiefs system, winning back-to-back championships in their final two seasons together before they headed their separate ways in junior.
They played together on a provincial under-17 team, the Canadian under-18 team and with the 2016 Canadian World Junior team. They also worked out together in the summer and competed against each other on the golf course.
"I'd say he hits a longer ball, but his short game is kind of week," Konecny said.
The past two summers, however, Crouse has lived in downtown Toronto to workout with a dozen of other NHLers to prepare for the season, while Konecny has stayed home in Western Ontario.
"You can't take the boy out of the country," Crouse joked about his buddy staying home.
After their second of three seasons in junior, the Konecny and Crouse families headed to Sunrise, Fla. for the 2015 NHL Entry Daft. The Florida Panthers selected Crouse 11th overall and the Flyers chose Konecny 13 spots later.
Both were returned for a final season of junior and before their rookie seasons in the NHL, the Panthers traded Crouse to the Coyotes.
"It's been a lot of fun to have your best friend go through all the same things you're going through," Crouse said. "We can relate to what each other is going through, so we discuss problems and lean on each other."
Even with Crouse's disappointment of being sent down to the AHL, Konecny has been there with a supportive text or two.
They both know the next meeting between the Flyers and Coyotes is on Feb. 10 in Arizona. Crouse hopes to be back in the NHL by then and go up against his old friend once again.